Bohana: Here's What Happened After Shark Tank
It's not every day that you get to go swimming with the sharks. But marketing consultant Nadine Habayeb took the dive when she appeared on Season 11, Episode 16 of ABC's hit show "Shark Tank" to pitch Bohana, a brand she launched in 2018 with her friend and fellow co-founder Priyal Bhartiya. In the 2020 episode, Habayeb stepped onto the set to showcase a popcorn-like snack born from Indian roots. Like many, popcorn was a favorite treat of Habayeb's — until Bhartiya, who worked on the supply chain side of agriculture in India, showed her something even tastier: an Ayurvedic superfood in the form of "delicious and nutritious" popped water lily seeds.
Needless to say, Habayeb was hooked and Bohana was born. Not only are the air-popped treats a healthier alternative to their buttery counterparts, but when roasted over high heat, the novel ingredient pops just like popcorn, "but better." Called makhana, the seeds — which are derived from a giant variety of water lily plant native to India and other parts of Asia — contain 50% more protein, 67% less fat, and 20% fewer calories than traditional popcorn, according to the company.
One of the first companies to bring water lily seeds to America, the five judges — Mark Cuban, Barbara Corcoran, Kevin O'Leary, Lori Greiner, and Rohan Oza — were certainly intrigued. They munched away on three enticing flavors, Himalayan Pink Salt, Wild White Cheddar, and Soulful Spice, before popping the hard questions.
Bohana brings popped water lily seeds to Shark Tank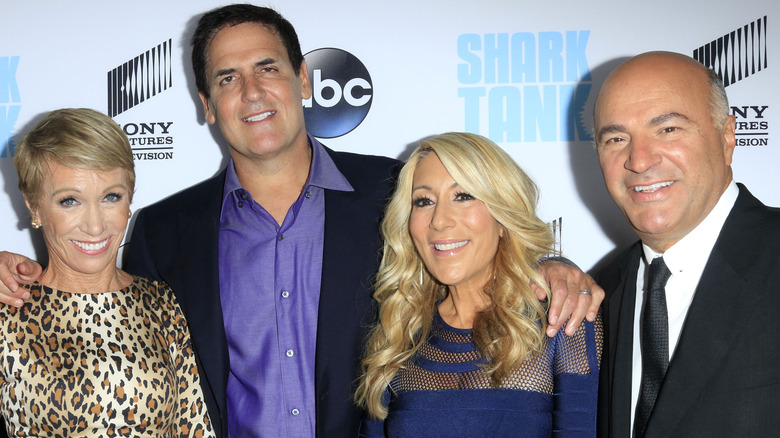 Kathy Hutchins/Shutterstock
Swimming face to face with the sharks, Habayeb sought a whopping $2 million valuation, requesting an investment of $200,000 for a 10% stake in the brand and its range of plant-based, non-GMO, low-calorie, gluten-free, and grain-free snacks. The entrepreneur revealed Bohana had made $123,000 in revenue after being in the retail space for only nine months.
Habayeb was certainly prepared to field the barrage of questions from the investors, a point which garnered praise from O'Leary — that and he appreciated her Lebanese roots. However, the shark wasn't without his doubts and probed whether the popped treats would be well-received in the U.S., a market that knew little about the Asian seed. Habayeb quelled his concern by noting that in every demo the brand held in-store, they'd completely sold out. Concerns also arose over the product's $3.99 price tag, which cost twice as much as popcorn of a similar size, and Greiner, a fan of healthy snacks, challenged the product's lack of fiber.
The sharks contemplated a potential deal, eventually opting out one by one until only two remained: Corcoran and O'Leary. The former offered $200,000 but asked for a 30% stake. But the latter's deal included a $200,000 loan, which could be paid back over three years with a 9% interest rate, for only an 8% share. In the end, the entrepreneur went with "Mr. Wonderful," noting the importance of retaining equity in the brand.
Bohana's seeds sprout after Shark Tank
As fate would have it, Bohana's "Shark Tank" episode aired on March 20, 2020, just days after the start of the coronavirus pandemic. Amid unprecedented lockdowns, which resulted in production disruptions and supply chain issues for companies worldwide, the startup still managed to forge ahead. And even O'Leary remained optimistic. "The market for healthy sustainable snack alternatives is exploding right now and although it's a tough time to be a small business, companies with a handle on direct-to-consumer distribution will continue to thrive in spite of the hit retail is taking," he told Forbes at the time.
And thrive they did. After the show aired, the founders revealed they had experienced "phenomenal growth" by a whopping 500%. The company's products aired on QVC, selling out of 4,000 units in under six minutes. Bohana also experienced significant sales in other online channels like Amazon and Walmart.com, especially as sales of shelf-stable pantry items, in general, soared during COVID-19. However, Habayeb did note that not having the element of demos or sampling amid shutdowns put a significant damper on in-store sales.
The brand also updated its packaging design to be resealable and added two sugary flavors to its lineup, Sweet Cinnamon Drizzle and Sea Salt Chocolatey Drizzle. Finger-licking flavors of Hickory BBQ and Zesty Ranch were also added, both of which are still up on the website today. 
Is Bohana still in business?
Fast forward to today, and much has changed for Bohana, whose social media channels have remained all but dormant since the summer of 2021. For starters, its two female founders are no longer at the helm. In December 2022, Habayeb revealed the news in a LinkedIn post, stating the brand had been acquired by Vimal Kansara, owner of the Texas-based distributor Boon Distribution.
"We are confident that with Bohana's new owner's infrastructure, they will continue to build on everything we have achieved so far, and carry out our mission of bringing Water Lilly Seeds to the world," she wrote. The "Shark Tank" alum, who exited the company in November 2022 and has since gone back to do marketing consulting in Dubai, noted that she and Bhartiya had moved on and were "looking forward to this next chapter in [their] own journeys." 
Bhartiya's LinkedIn doesn't appear to be up-to-date, as she's still listed as Bohana's COO. The same goes for Boon Distribution's website; its online collection of brands has yet to be updated to feature Bohana. But, despite all of the uncertainty that comes with new ownership, a sea foam green header at the top of Bohana's website provides loyal customers and fans alike a slight glimmer of hope for snacking on the delicately seasoned seeds in the future: "We are temporarily out of stock. Don't worry, we'll be back soon!"