Classic Croque Monsieur Sandwich Recipe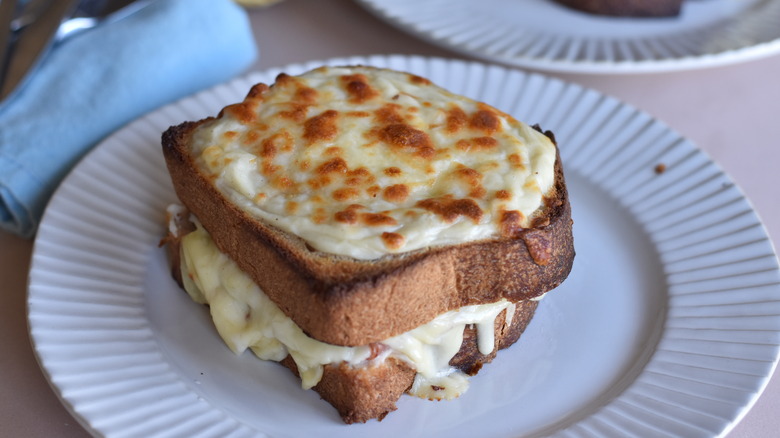 Alexander Roberts/Food Republic
Fans of a simple grilled cheese sandwich are guaranteed to like this elevated French version of the classic dish: a croque monsieur. With the addition of ham and béchamel sauce, this savory bite showcases basic ingredients in a dazzling light. While this traditional recipe has plenty of spin-offs (including the croque madame, with an), a classic croque monsieur is a must for any cheese lover's repertoire.
Recipe developer Alexander Roberts brings us the perfect recipe for this French bistro favorite that will satisfy all your cheesy desires in under half an hour. He shares, "I love making a croque monsieur when I'm craving a classic ham and cheese, but also want to make something a little more involved. It's quick, easy, and delicious!" The classic ingredients and salty flavor profile come together in this carefully executed recipe, for a hearty sandwich you'll want to serve for breakfast, brunch, lunch, and yes, even dinner.
Gather the ingredients for this classic croque monsieur
Alexander Roberts/Food Republic
To make this classic croque monsieur recipe, you'll need unsalted butter, all-purpose flour, whole milk, ground nutmeg, kosher salt, Dijon mustard, and shredded Gruyère cheese. For the assembly, cut thick slices of bread — Roberts recommends pain de mie (a soft bread) or sourdough. Then, pick up sliced deli ham and sliced Gruyère cheese. If you're having trouble sourcing the right cheese, Roberts says that "Swiss or Emmental cheese would be a great substitute for Gruyère."
Start by making the béchamel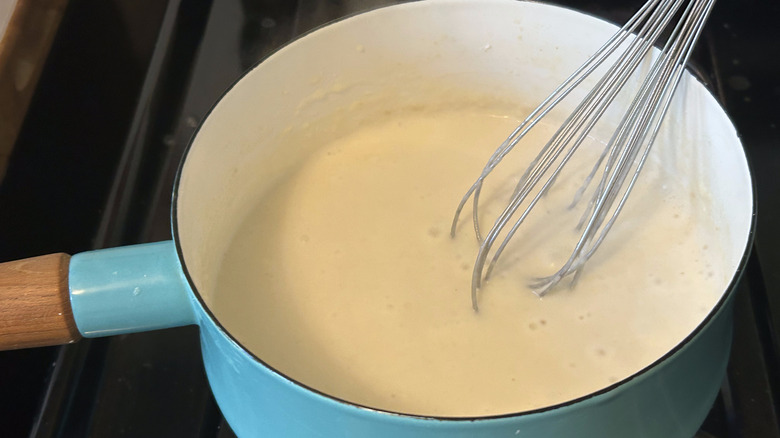 Alexander Roberts/Food Republic
Begin by preheating the oven to 425 F and placing tin foil over a small baking sheet to line it. Grease the foil lightly with cooking spray, then set the tray aside. Roberts explains that "making bechamel requires cooking a light roux first with butter and flour." Start by adding the butter to a small pot and placing it on a burner over medium heat. Melt the butter then whisk in the flour while you cook the mixture for 1 minute. 
While you keep whisking the mixture, slowly pour in the milk. Bring the contents to a low boil for 3 to 5 minutes as you continue to whisk until the consistency is very thick. At this point, remove the pot from the burner and whisk in the ground nutmeg, salt, Dijon mustard, and shredded cheese.
Assemble the sandwiches
Alexander Roberts/Food Republic
To assemble the sandwiches, place the four slices of bread on the tin foil-lined baking sheet. Spread the béchamel evenly over all the pieces, then place two slices each of ham and cheese onto two slices of bread. Top the stacks with the other pieces of toast, ensuring the béchamel side is on top. Sprinkle some extra shredded cheese over the top slices.
Bake, broil, then serve the croque monsieur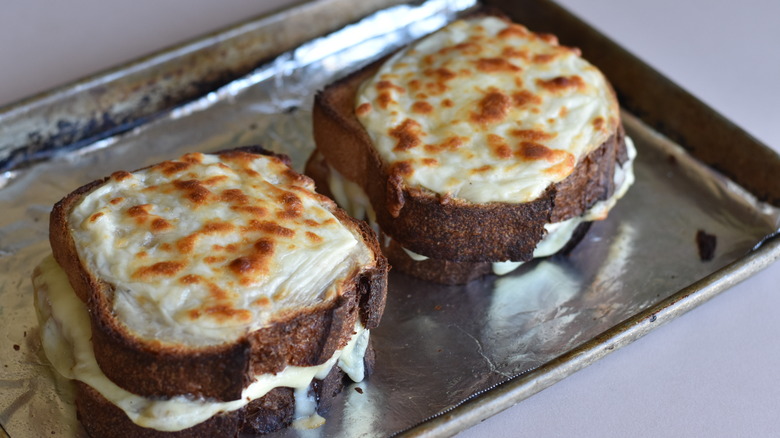 Alexander Roberts/Food Republic
Once the oven is at temperature, bake the croque monsieur sandwiches for 10 minutes to start. Turn the setting to high broil and cook for 1 to 2 minutes until the cheese is bubbly with brown spots over the surface. Serve the piping hot sandwiches immediately. 
"Croque monsieur goes perfectly with a side of lightly dressed green salad — a great counter to the rich, cheesiness of the sandwich," Roberts comments. "This sandwich should be served and eaten fresh," he adds but notes, "If you'd like to prep ahead, the béchamel can be prepared in advance and kept in the fridge until ready to assemble."
Classic Croque Monsieur Sandwich Recipe
Learn how to make this French bistro favorite, which uses simple-yet-high-quality ingredients for a truly memorable sandwich.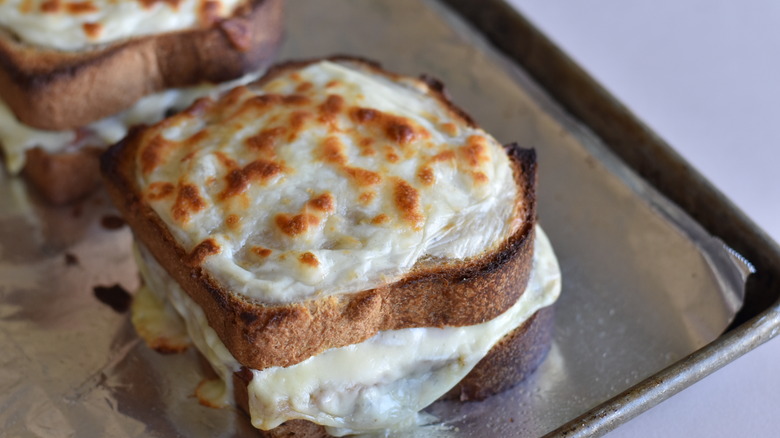 Ingredients
2 tablespoons unsalted butter
2 tablespoons all-purpose flour
1 cup whole milk
dash ground nutmeg
¼ tsp kosher salt
1 teaspoon Dijon mustard
¼ cup shredded Gruyère, plus extra for topping
4 thick slices bread (pain de mie or sourdough)
4 slices deli ham
4 slices Gruyère
Directions
Preheat the oven to 425 F.
Line a small baking sheet with aluminum foil and lightly grease with cooking spray.
Melt the butter in a small pot over medium heat.
Add flour and cook while whisking for 1 minute.
Slowly pour in the milk while still whisking.
Bring the béchamel to a low boil for about 3 to 5 minutes, whisking constantly until very thick.
Remove from heat and whisk in the ground nutmeg, salt, Dijon mustard, and ¼ cup shredded cheese.
Place the slices of bread on the prepared baking sheet and spread a generous scoop of béchamel on each piece.
Top two of the slices with two slices each of ham and cheese.
Top the loaded slices with the remaining toast with the béchamel side facing upward and sprinkle a bit of extra shredded cheese on top of each sandwich.
Bake for 10 minutes, then broil on high for 1 to 2 minutes, until the cheese is bubbling and brown spots appear on top.
Serve immediately.