McDonald's To Test New Restaurant CosMc's, Based On Retired Alien Mascot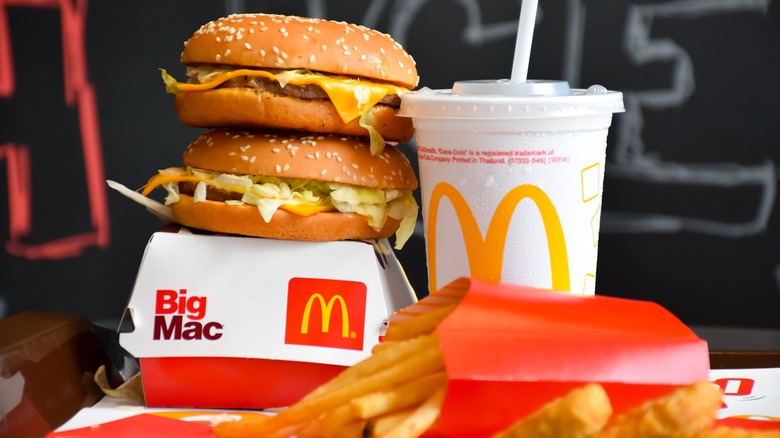 Patcharaporn Puttipon4289/Shutterstock
Move over, Ronald. There's a new character taking the spotlight at McDonald's. Coming off the heels of Grimace's comeback — not to mention the very precarious Congressional hearings on extraterrestrial activity — McDonald's is bringing back its favorite resident alien CosMc for a new restaurant concept. 
The new spinoff restaurant will also be called CosMc's, sharing the name of the chain's short-lived alien mascot from the 1980s. McDonald's reported the new launch in its second-quarter earnings call on July 27, 2023, in which President and CEO Chris Kempczinski explained that CosMc's will have "all the DNA of McDonald's, but with its own unique personality." Little is known about what CosMc's will actually entail, as of now, but it's said that the company plans on debuting the restaurant in a small number of markets as early as 2024 in a test run.
The move follows the smashing success of the fast food chain's Grimace Birthday Meal, which brought back the lovable purple monster character as an LGBTQ icon in 2023, alongside his namesake purple shake that quickly became a viral TikTok meme. The revival of the retired mascot ended up exceeding sales expectations and raked in second-quarter profits of $2.31 billion, up from $1.19 billion at the same time last year. With Grimace appearing everywhere the past few months — including 7.2 billion views on TikTok alone, there's no doubt the team behind the Golden Arches is looking to replicate the success with CosMc's.
More about CosMc and what the restaurant might offer
CosMc was a robotic extraterrestrial who first appeared in McDonald's 1987 commercial, entitled "The Story of Cosmic." He flies around in a cylindrical metal craft and often pops his head and limbs out to interact with the other characters in McDonaldland. 
In the original ad spot, CosMc trades a meal with Ronald and Grimace, who must retrieve it back from the mischievous alien. Despite these antics, Ronald and crew seemed to welcome him with open arms. CosMc also appeared in the 1992 video game M.C. Kids, in which there's a level that features CosMc's home on the moon. 
With CosMc's upcoming relaunch via the new concept restaurant, it follows McDonald's rebrand ventures, including opening small-format locations focused more on digital ordering and takeout-only service, the first of which opened in 2022 in Fort Worth, Texas. Although CosMc's was confirmed to be a smaller service restaurant, when the idea was unveiled during the company's second-quarter earnings call, it's unclear if it will replicate this exact format. 
As it is, CosMc isn't as prevalent within McDonald's lore as Grimace, who has appeared in McDonald's ads since the early 1970s and only disappeared from the public view for less than a decade, so time will only tell if the hungry alien can rake in as much of a profit. McDonald's President and CEO Chris Kempczinski stated more information will be forthcoming about the CosMc concept by the end of the year.