How Many Of Giada De Laurentiis' Restaurants Are Still Open?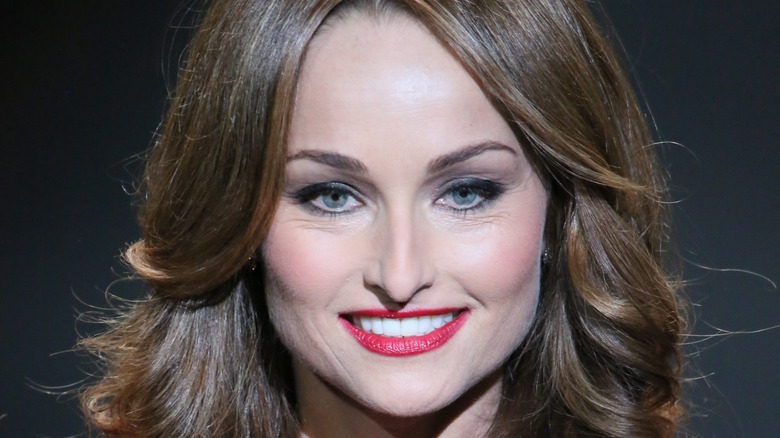 FashionStock.com/Shutterstock
Giada De Laurentiis does a lot. The Emmy award-winning star of multiple Food Network shows has now partnered with Amazon Studios for a multi-project deal. She has also authored 10 cookbooks, runs an event catering company, and manages her e-commerce and lifestyle platform, Giadzy. It should come as no surprise, then, that the Le Cordon Bleu-trained chef is also a successful restaurateur. As of July 2023, she has two restaurants that are still open and more on the horizon.
De Laurentiis has a solid claim on Sin City with both of her current eateries located on the iconic Las Vegas Strip. Her eponymous first restaurant, Giada, is inside The Cromwell Hotel, and her second restaurant, Pronto by Giada, is at the renowned Caesars Palace. As Vegas has transformed into a culinary destination in recent years, Caesars in particular has become a foodie hub. It's home to many celebrity chef restaurants you can't miss while in Las Vegas, including Gordon Ramsay's Hell's Kitchen, Bobby Flay's Amalfi, Guy Fieri's Chicken Guy, and Nobuyuki Matsuhisa's Nobu.
De Laurentiis' third restaurant, GDL Italian, opened in 2018 in the Horseshoe Casino in Baltimore but no longer serves guests. While all her properties temporarily closed during the pandemic, the two spots in Vegas eventually reopened in late 2020, though the Baltimore restaurant has remained closed. But, more are on the way. It's reported that De Laurentiis' new, high-end restaurant, Luna, as well as a second location of Pronto will open in Arizona's Caesars Republic Scottsdale in 2024.
What's on the menu at Giada at The Cromwell
Giada De Laurentiis' fine dining debut came with her eponymous spot Giada, first opened in Vegas in 2014, and featuring De Laurentiis' California-inspired Italian cooking. It's located in The Cromwell, notable for being the Strips' first boutique hotel casino. Giada opens for nightly dinner and weekend brunch and boasts one of the most stunning views in Vegas, overlooking the Bellagio's fountains, Caesars Palace, and Bally's Grand Bazaar. The space was even designed with retractable windows to take advantage of the surrounding scenery. 
In a behind-the-scenes tour for Parade, De Laurentiis explained that warm colors, imported Italian tiles, friends' artwork, movie posters from her grandfather (film producer Dino De Laurentiis), and other touches create a comfortable atmosphere where diners feel like guests in her family's home. Amenities include an antipasti bar, a wood-fired pizza oven, and chandeliers emblazoned with Giada's motto, "I eat a little bit of everything and not a lot of anything."
Serving Italian cuisine with a West Coast flair, the menu at Giada offers updated classics like veal saltimbocca, chicken marsala, cacio e pepe bucatini, lobster ravioli, orzo meatballs, and pasta with wild mushroom bolognese. The top-seller is Giada's signature lemon spaghetti, made with basil, mascarpone cheese, and shrimp, spiraled into an enticing tower of noodles. That popular dish is overshadowed only by the seafood tower, an impressive array of Maine lobster tail, king crab, shrimp cocktail, and oysters.
Pronto by Giada at Caesars Palace is a more casual affair
Also in Vegas, Pronto by Giada opened at Caesars Palace in 2018. The open-concept, casual restaurant serves grab-and-go prepared foods, fresh-made meals, and desserts. Breakfast sandwiches, paninis, salads, and gelato are enjoyed onsite or taken to-go. The location hosts a California and Italian wine bar, Counter Culture artisanal coffee, and a retail store. The space is a quick stop to have a bite to eat before heading off on the next adventure, or a place to lounge and people watch, while sampling Giada De Laurentiis' delicious dishes.
Pronto is strategically placed next to the Caesars convention center and the Garden of the Gods Pool Oasis. The restaurant is outfitted in quartz and marble counters, with chopping-block tables and custom-made Italian tile. Seating is available in the main dining area and at pub tables with bar stools.
Pronto's diverse menu starts with breakfast classics like eggs, bacon, and toast, along with upscale options like a baked provolone and sausage frittata, prosciutto and egg flatbread, and Nutella-polenta waffles. Lunch brings pizza sold by the slice, as well as a variety of pressed paninis such as Italian caprese, chicken Parmesan, roast beef, and a New Orleans-style muffaleta sandwich. For something lighter, Pronto has cobb chicken salad; a strawberry, tomato, and arugula salad; and its house Tuscan salad. Desserts also dazzle, featuring De Laurentiis' famous lemon ricotta cookies, berry mascarpone cheesecake, sorbetto, and classic cannoli to complete the experience.