Taco Bell Debuts Its Long-Awaited Take On Birria
In July 2020, a time when we all needed some comfort food, Taco Bell stepped up, introducing the Grilled Cheese Burrito. The hearty burrito, filled with meat or beans as well as rice, was loaded with warm, gooey cheese inside, while the tortilla was encased in crispy, cheesy goodness, too. The limited-time tastiness was only available for a few months, and its removal from the menu was so distressing to its devotees that a Change.org petition was started to sway the fast food chain to bring it back. In subsequent years, the grilled cheese burrito came and went from the menu until June of this year, when it became a permanent fixture.
Now, Taco Bell is adding to its grilled cheese offerings with a brand new Grilled Cheese Dipping Taco, per a press release. Styled similarly to traditional birria, it sports seasoned slow-braised beef, an ooey-gooey blend of pepper jack, mozzarella, and cheddar, as well as a creamy jalapeño sauce. Like the burrito, cheese also makes an appearance on the outside of the taco, and perhaps in a bid to prove that you can never have enough cheese, the taco also comes with a creamy nacho cheese sauce. For those who want their taco to more closely resemble birria, there's a red sauce that comes with the taco, too.
More details on the Grilled Cheese Dipping Taco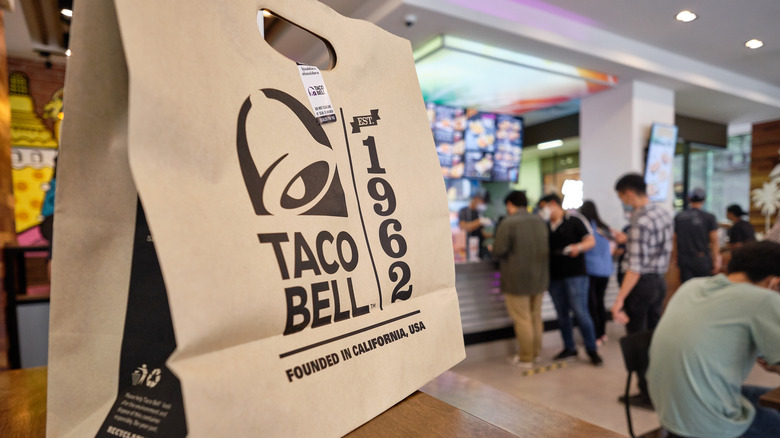 KULLAPONG PARCHERAT/Shutterstock
Taco Bell invested close to two years on recipe development for the Grilled Cheese Dipping Taco before testing it in select locations in 2022. Its introduction will mark the nationwide debut of shredded beef on the chain's menu, which has traditionally offered chicken and seasoned beef, as well as steak, as its primary proteins.
Taco Bell remarked in its press release that its tests were "incredibly successful." Some tasters of the taco during its trial period took to multiple forums on Reddit to share their opinions which were largely positive. One of the most outstanding reviews came from Redditor yoquierotacoballads who said, "This was one of my favorite items I tried at the test kitchen! It didn't taste like your normal Taco Bell beef. It tasted like something you got off a food truck. Seasoned very well and an added bonus with the dipping sauce. Crispy, cheesy, and really well done."
Fans of cheese and birria can grab the new Grilled Cheese Dipping Taco for $3.49 starting August 3. Similar to its cheesy burrito counterpart, its launch is intended to be for a limited time.