Sanaía: Here's What Happened After Shark Tank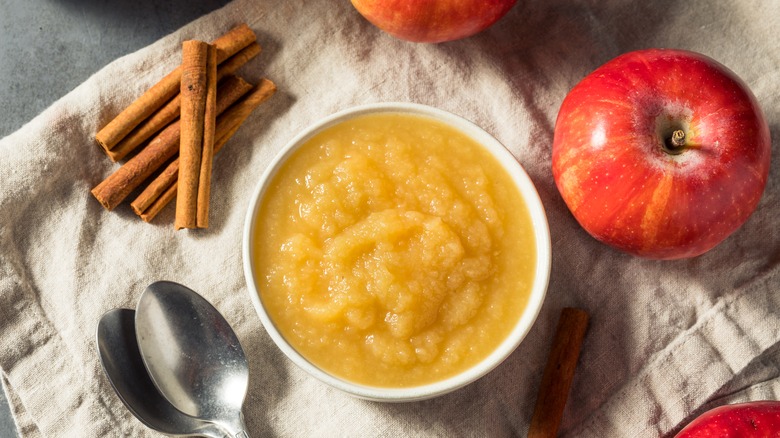 Brent Hofacker/Shutterstock
As a Bahamas native craving tropical flavors from a Caribbean childhood, Keisha Smith-Jeremie found the energy and inspiration to do something about that. Reinventing a homemade snack from her student days at the University of Virginia, this now-successful businesswoman, 20 years later, put everything on the line — for applesauce.
But it wasn't just any applesauce landing the hopeful entrepreneur on ABC's "Shark Tank" set in Season 10, episode 2. The Sanaía Applesauce version of what's normally considered a kid's food was already toddling toward the grown-up world when the show aired in 2018, primarily because of its organic, fresh green apples and island-inspired ingredients. By the time she faced infamous investors Mark Cuban, Lori Greiner, Kevin O'Leary, Barbara Corcoran, and Robert Herjavec on "Shark Tank," Smith-Jeremie had already sold $40,000 of her applesauce in direct-to-consumer test pilots. This grabbed some attention from the otherwise skeptical Sharks, especially when she doled out samples of the bright, fresh sauce in four of her six tropical flavors.
Along with the enticing flavors and nostalgic pull of applesauce, Keisha Smith-Jeremie strode onto the "Shark Tank" set with confidence born of a long business career, noting strong team-building skills from running the human relations department of a major publishing company. Whether a new twist on the old-time favorite would set this applesauce-dreamer onto newly invigorated product paths was far from a given. But two Sharks took a bite of Sanaía Applesauce, one so ravenous that it killed any chance of acceptance.
What happened to Sanaía on Shark Tank?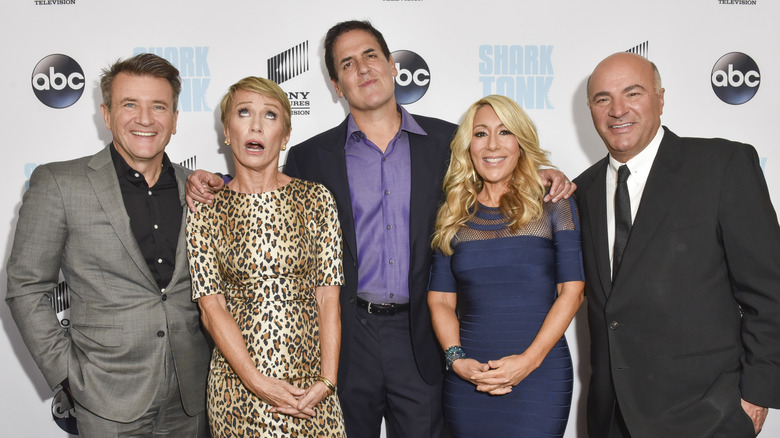 Rodin Eckenroth/Getty Images
Facing the "Shark Tank" investors, Keisha Smith-Jeremie unveiled an asking investment of $150,000 for 15% equity in Sanaía Applesauce, a product that's plant-based and appealing to adults in a way similar to yogurt. The applesauce entrepreneur stated her ability to head the new business despite simultaneously working a full-time job. This created some drama, with O'Leary opining a need to be fully hands-on with her passion project. Herjavec defended Smith-Jeremie's position, noting how he too worked full-time when starting out, due to a mortgage, a child, and "no other choice."
Concerns over product pricing arose, with the existing high-end glass jars creating a relatively steep price point for applesauce, retailing at $19.99 for a four-pack. Plans to introduce lower-priced plastic containers somewhat assuaged the doubt. Noting that she'd already invested $250,000 of her own money, with an equivalent matching amount set aside, Smith-Jeremie presented an estimated revenue projection of almost $35,000,000, mostly based on recent interest by the likes of Starbucks and Whole Foods. This brought investor comments about interest not equating to commitments.
The Sharks began "going out" of the offer process until two potential investors remained. Corcoran made an offer that even she admitted was insulting — the requested $150,000 but with a whopping 75% of the business. In the end, after an emotional scene in which Smith-Jeremie stood by an unwavering commitment to supporting her extended family with her full-time job, Cuban sealed a deal for $150,000 and 25% ownership in Sanaía.
Sanaía After Shark Tank
Though the handshake deal with Mark Cuban gave hope for strengthening the budding Sanaía Applesauce enterprise, the story took a different turn after Smith-Jeremie's "Shark Tank" appearance. Rather than moving forward with the collaboration, the deal never came to fruition.
Smith-Jeremie continued supporting her applesauce project after the show aired in 2018. A Facebook post by "She's All That — Atlanta" in September 2020 noted the availability of the applesauce through Walmart, but Smith-Jeremie decided not to restock there after complications with the manufacturer. Sanaía Applesauce was out of production as of April 2020. That's until a short comeback in 2022. The product, including its newest revealed flavors, became available on Amazon, offering the unsweetened, guava, hibiscus, and blackberry versions.
A shopping cart on the company's Shopify page still lists five Sanaía Applesauce flavors available for purchase, with images showing the original canister-style clamp-lid jars in flavors including sweet ginger, guava, lychee, tamarind, and hibiscus. Social media sites show no recent activity, and the official Sanaía Applesauce website is not currently operational as of summer 2023. The Amazon page now lists the product as being unavailable with no knowledge of when or if it will return. 
Why did Sanaía go out of business?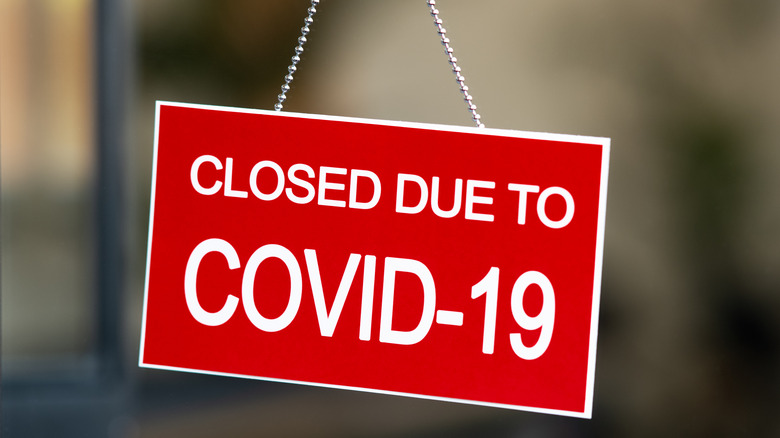 Ground Picture/Shutterstock
Businesses appearing on "Shark Tank" get a lot of attention once episodes air, which can be months after the original taping. With the Sanaía Applesauce pitch finally making its worldwide debut on the wildly popular show in late 2018, and the subsequent failure of the Cuban deal, that placed the applesauce company perilously close to the business-busting COVID-19 pandemic shutdowns of early 2020.
Like many struggling businesses, the pandemic thwarted even the most hearty efforts to stay afloat. In an interview with CNBC in 2021, Smith-Jeremie explained that the company was on track to hit the six-figure mark just before COVID hit, at which the sole focus for many companies, including hers, was just survival. The Walmart experience alone had already cost them about $600,000 in product-sampling costs at 800 Walmart stores, a blow preceding the even wider challenge of COVID. After switching the focus to online sales, they encountered problems outside their control, including financial distress from necessary production partners such as manufacturer co-packers.
What's next for Sanaía's founder?
After leaving News Corp, where she held the position of Chief Human Resources Officer, Smith-Jeremie became Chief People Officer for the fashion brand Tory Burch. She also joined the Board of Directors for Unity Software.
Deeper into the 2021 CNBC interview, which focused on Smith-Jeremie as a black female entrepreneur, she touched on the difference between being in a corporate business where you're being paid for your expertise, and being an entrepreneur where you're just figuring it out every day. It's a different kind of muscle, she noted, stressing the importance of determining whether an idea can stand as a valid business or if it should remain a hobby.
Still, she encourages young entrepreneurs not to wait until they have all the answers before starting — because you'll never have them. But do take the time to consult with someone about your business model, the financials, capital needs, and the path to profitability, she says. Hopefully, Sanaía will make a comeback soon and be back on shelves, giving us all the adult applesauce experience we crave.