The Trader Joe's Cookies Under Recall Because Of Rocks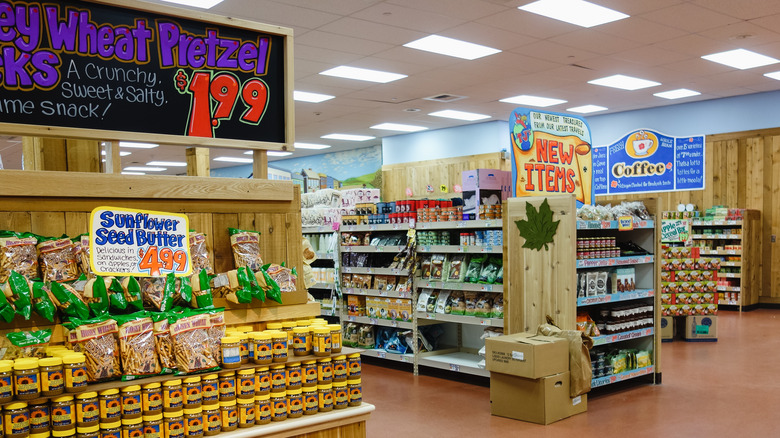 Corinna Haselmayer/Shutterstock
Trader Joe's has sold some cookies that may be hard to swallow ... literally. In an announcement on the official Trader Joe's website July 21, the popular grocery store warned customers that two different types of almond-based cookies may contain rocks. Yes, actual rocks. 
The packages of cookies in question are the Trader Joe's Almond Windmill Cookies (SKU# 98744) and Trader Joe's Dark Chocolate Chunk and Almond Cookies (SKU# 82752). The delicate Almond Windmill Cookies come in a 15-ounce rectangular plastic container and are described as buttery and tender and topped with crunchy almonds. The Dark Chocolate Chunk and Almond Cookies are packaged in a round plastic container, have a crisp texture, are made with only butter, and contain dark chocolate chunks and almond pieces.
Trader Joe's has some specific guidelines to follow if you think you may have purchased these cookies. Unfortunately, this is not their first recall of 2023, either — TJ's was one of six major grocery chains affected by a nationwide frozen fruit recall. 
What to do if you have these Trader Joe's cookies
First of all, for the sake of your teeth and your stomach, do not attempt to eat these cookies. Trader Joe's did not give details on said rocks, but it is safe to assume that a chunk of chocolate or a piece of almond may not look that different in size or scope — so, it's best not to take a chance. 
The batches to watch out for include Almond Windmill Cookies with a sell-by date between October 19, 2023 and October 21, 2023 and the Dark Chocolate Chunk and Almond Cookies with a sell-by date between October 17, 2023 and October 21, 2023.
If you did buy any of the affected items, take them back to any Trader Joe's location and your money will be fully refunded. For more information on the recall, Trader Joe's Customer Relations is available to answer your questions at (626) 599-3817 or via email on its "Product Feedback" page.