Rule Breaker Snacks: Here's What Happened After Shark Tank
In the 12th episode of Season 12 of "Shark Tank," Nancy Kalish approached the sharks hoping to garner $400k in exchange for a 10% stake in her company, Rule Breaker Snacks. The former health-focused journalist started her Brooklyn-based company in late 2014, producing baked goods that are vegan, gluten-free, all-natural, and free of GMOs, nuts, and other common allergens.
After being published in many magazines and authoring several books, Kalish was ready to branch out into a new adventure. Her love of sweet treats motivated her to find a way to use the knowledge she had acquired over the years while writing about healthy food to create a product that would be an improvement over the limited number of similar products on the market. She ultimately created a proprietary roasted chickpea and sunflower butter blend that became the base for Rule Breaker Snacks.
Initially, Kalish branded her treats under the name Pure Genius. However, after a lengthy process, her application for a patent was denied. While rebranding was a challenging process, Kalish ultimately identified more with the new name.
"Weirdly enough, I actually am not only happy about it, but I feel somehow [Rule Breaker Snacks] is more in line with my spirit as a founder and with our brand," she told Nosh in 2016.
What happened to Rule Breaker Snacks on Shark Tank?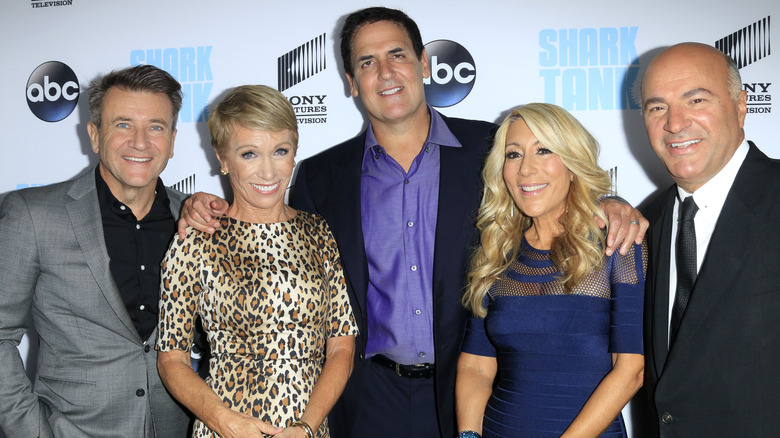 Kathy Hutchins/Shutterstock
Kalish maintained a steady smile — and what could be described as contagious positivity — throughout her pitch, which included throwing butter, sugar, and an egg at a sign with a giant "no" symbol. She also expressed her passion for her product which she explained was healthy as well as good for the planet, and demonstrated her dedication with a story about hand-delivering her cookies to multiple Whole Foods locations when the initial delivery was botched. Kalish also offered samples of her cookies to the sharks, which most enjoyed. Kevin O'Leary expressed surprise at how good the plant-based treats were, while Lori Greiner and Barbara Corcoran were vocal about how much they also liked them.
However, the positivity declined as the group delved into the company's finances. While Rule Breaker Snacks had performed well, with over $1.3 million in lifetime sales, Kalish had accrued multiple sources of debt, including an SBA loan and a home equity loan, to start and keep the business running. The company was not yet profitable, though she anticipated breaking even the following September. While John passed on the opportunity to make an offer because he wasn't a fan of the cookies' flavor, the remainder of the group bowed out due to the debt. Despite her best efforts and the fact that most of the sharks were impressed by her chickpea-based baked goods, Kalish left the tank empty-handed.
Rule Breaker Snacks After Shark Tank
When Kalish left the set, she continued to maintain her positive attitude, expressing gratitude for the opportunity to garner advice from the sharks. And even though she didn't walk away with a deal, Rule Breaker Snacks did benefit from the exposure of being on the show.
As a result of "The Shark Tank Effect" (a dramatic increase in sales after appearing on "Shark Tank"), Rule Breaker Snacks' business started booming. Then, Bimbo Ventures, which specializes in working with innovative new food producers, invested in the company. Kalish also started a crowdfunding effort in 2022 which raised over $170k, a whopping 690% of her minimum goal. By the end of 2022, Rule Breaker Snacks was forecasted to be in nearly 5,000 stores and was available for sale on Amazon as well. The company also predicted that its sales would exceed $2 million for the same year, far outpacing the $1.7 million that she had told the sharks she would need in sales to break even.
Is Rule Breaker Snacks still in business?
Rule Breaker Snacks remains in business in 2023. While the company's Amazon store still features the original treats that Kalish presented during her "Shark Tank" pitch in flavors that include chocolate brownie, birthday cake, chocolate chip, and chocolate chunk blondie, there are other products as well.
Rule Breaker Snacks has introduced a line of Bites which are smaller versions of the original cookies in the same flavors and limited edition varieties that include pumpkin spice, mint chocolate brownie, blueberry lemonade, and strawberry shortcake. The brand has also rolled out a Junior line, which features similar flavors in a smaller size for little ones (or those that just want a smaller snack). Additionally, there are various sizes of the different products, and variety packs, too.
While the snacks can be found in grocery stores, they're offered by other online retailers outside of Amazon as well. Edible Arrangements and SmartBox both carry the brand. Additionally, the product has also been featured in the Vegancuts subscription box.
What's next for Rule Breaker Snacks and Nancy Kalish?
Rule Breaker Snacks has been in business for almost nine years and looks like it will remain in operation for the foreseeable future. Kalish also appears to be still working to attract more investors. Earlier in 2023, Kalish told Vegpreneur, "We're growing like crazy, but like all companies in a growth phase, we need money to fund that growth so we can continue getting our delicious vegan, allergen-free, gluten-free snacks into the hands of people who want them."
In the same interview, Kalish expressed her gratitude for the support she's received and mentioned her willingness to lend her expertise to other entrepreneurs, particularly vegan brands. She specifically notes that she's open to sharing her experience with crowdfunding, something she's demonstrated proficiency at through her company's success.
While Kalish is eager to help fellow entrepreneurs, she has already used her success to help others philanthropically. In 2020, Rule Breaker Snacks announced it was joining the Spokin Cares Campaign by donating a portion of its proceeds from Amazon sales to the Food Equality Initiative, an organization that aims to help those with food allergies who are also in need. Then, in May of 2021, 2022, and 2023, Rule Breaker Snacks ran a #besweetandgive campaign, also benefiting food-allergic families struggling with food insecurity through either food or monetary donations.