Crunchy Coconut Shrimp Recipe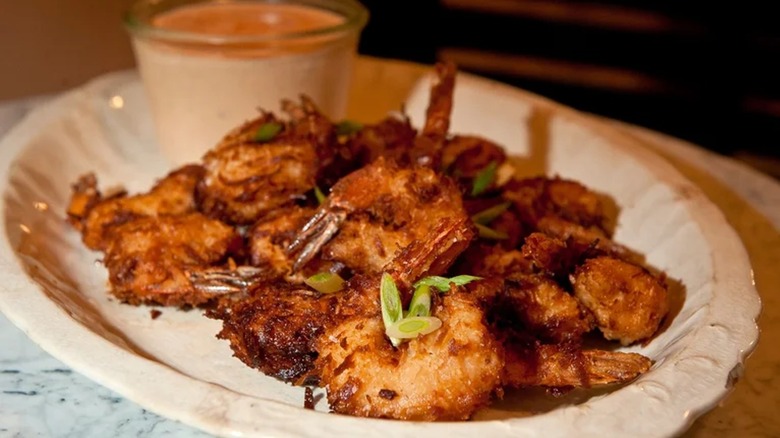 Gabi Porter/Food Republic
Coconut shrimp are ubiquitous in restaurant chains and steakhouses, but 9 times out of 10 they are frozen, then deep-fried and served with a cloyingly sweet sauce. More people should make them at home, as they are so easy to execute, and they're a sure crowd pleaser. We use a classic beer batter and up the sweetness with a little sugar. The secret is to mix sweet coconut with unsweetened coconut to get a nice balanced coating. Served with a spicy chili garlic sauce, they are a knockout.
Molly Quirk is executive chef and owner of Sips & Bites Catering.
Crunchy Coconut Shrimp Recipe
These coconut shrimp go through a traditional dry-wet-dry dredge before hitting the oil, resulting in an ultra-crispy bite.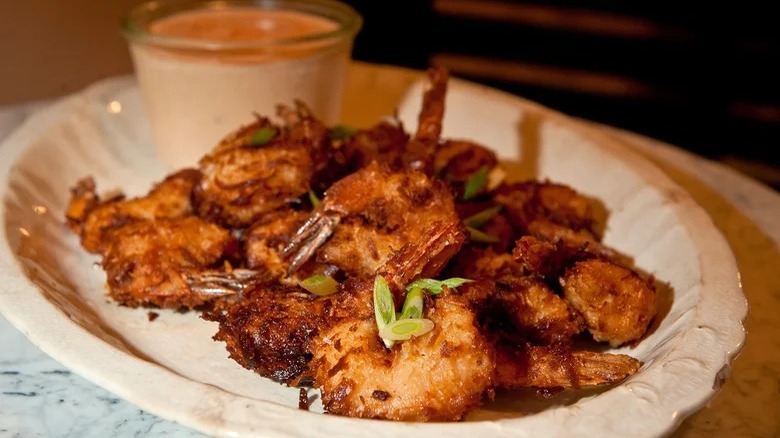 Ingredients
1 cup mayonnaise
3 tablespoons sambal oelek
Juice of 1 lime
1 (12-ounce) bottle of beer (we used Corona)
1 ½ cups flour, divided
3 tablespoons melted butter
1 egg
¼ cup sugar
1 tablespoon salt
1 tablespoon pepper
2 cups sweetened baking coconut
1 cup desiccated unsweetened coconut
2 pounds extra-large shrimp (peeled and deveined, tails left on)
2 cups canola oil
Directions
For the sauce, combine the mayonnaise, sambal oelek, and lime juice in a bowl. Cover and refrigerate until ready to serve.
Mix the beer, ½ cup flour, butter, egg, sugar, salt, and pepper in another bowl.
Put 1 cup of all purpose flour in another bowl and mix the coconut (both types) in a third bowl.
One at a time, holding by the tail, dredge the shrimp into the flour and pat off excess. Dip into the batter and then roll in the coconut pressing down lightly to adhere. Place on a baking sheet and repeat until all the shrimp are covered.
Heat 2 cups of canola oil in a 12-inch frying pan, preferably cast iron, over medium-high heat. Test the oil using the end of a wooden spoon — when it bubbles, it's ready.
One at a time, carefully lay the shrimp into the oil and fry in batches until golden brown turning once, about 2 minutes per side. The shrimp will be tightly curled when fully cooked.
Drain on layers of paper towel, and serve immediately with the sauce.
Nutrition
| | |
| --- | --- |
| Calories per Serving | 1,464 |
| Total Fat | 128.0 g |
| Saturated Fat | 29.8 g |
| Trans Fat | 0.3 g |
| Cholesterol | 300.4 mg |
| | |
| --- | --- |
| Total Carbohydrates | 43.8 g |
| Dietary Fiber | 6.2 g |
| Total Sugars | 11.5 g |
| Sodium | 1,000.7 mg |
| Protein | 36.9 g |