The Dairy Pioneers Imagining A Better American Cheese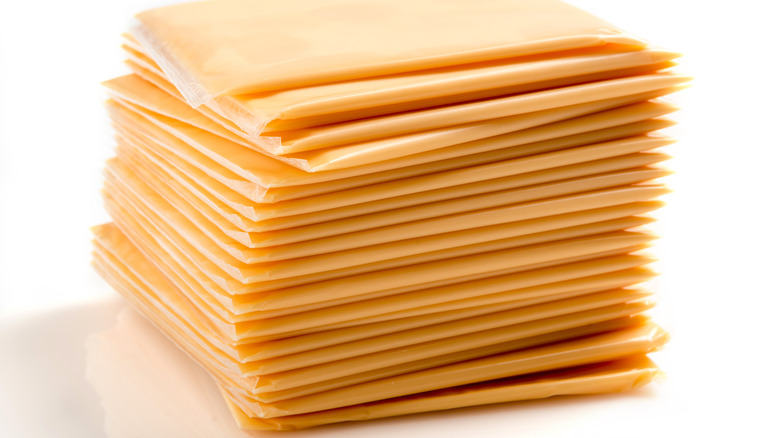 Juanmonino/Getty Images
Is there anything more American than single, wrapped slices of American cheese? Though it was invented in 1911 in Switzerland by Walter Gerber and Fritz Stettler who experimented with heating up emmental and adding preservatives to make it last longer, this early type of cheese was then patented in the States by entrepreneur James Lewis Kraft in 1916. Over the next century, it developed a reputation as the go-to for all-American cheeseburgers, grilled cheese sandwiches, and anything else that required something melty and reliably shelf-stable.
Though versatile and widely beloved, recent generations have largely turned away from processed foods, and American cheese has fallen to the culinary wayside, so to speak. But, there are a few innovators hoping to change that, by reinventing it from scratch and using more natural ingredients. Key players in this movement like Eric Greenspan and Alan Leavitt of New School, as well as Kevin Walker Garrett of Long Island Bar in New York, are working hard to develop a "better" American cheese than the one we've long known and loved.
American cheese has always been about the ingredients
ER_09/Shutterstock
Over time, there have been notable manufacturers like Kraft and Velveeta that have held a significant place in the American cheese market, thanks to brand recognition and a hint of nostalgia. Yet, as greater public interest in ingredient sourcing continues to influence shopping decisions, many people have steered away from purchasing these types of foods, largely because of the questionable and unpronounceable additives in the ingredient lists. Today's consumer wants farm-to-table, not factory-to-plastic sleeve.
In Kraft Singles American Sliced Cheese, as one example, the ingredient list is intimidating. Beyond traditional cheddar, skim milk, and milk fats, there's also whey, calcium phosphate, sodium phosphate, food starch, lactic acid, and natamycin (a mold inhibitor), among other ingredients.
On the flipside, there are brands like Boar's Head and Organic Valley that have picked up some of this slack with more "natural" options. Boar's Head American cheese contains only milk, cream, sodium phosphates, paprika, the coloring agent annatto, and salt. Meanwhile, Organic Valley's American cheese is even more simplified, made with milk, water, butter, sodium citrate, and salt.
But, even beyond these big national brands that are relying on less processed ingredients, there are some artisan makers coming to market who are even further revamping American cheese.
Small batch American cheese may be better
The not-so-subtly named New School, a company created by chef Eric Greenspan (also author of "The Great Grilled Cheese Book") and friend Alan Leavitt, has figured out a way to make American cheese using high-end products. The two spent a long time (and went through a lot of cheese) before coming up with a formula made from quality cheddar, cream (instead of skim milk, like Kraft uses), and as few preservatives as possible. The result is a creamy, dreamy cheese with a mild flavor and perfect meltability. While not currently widely available, the company is working with select restaurants in New York and Los Angeles to promote their new product.
Other attempts to recreate American cheese have largely come from chefs in-house, like Kevin Walker Garrett of Long Island Bar, who created a custom American cheese made from cheddar, morbier, sodium citrate, and gelatin to top on the bar's aged beef burger. 
The movement is still small and highly personal, but perhaps that's what needs to happen to bring American cheese to the same state of intimate, bespoke production expected from other quality cheeses.