Alton Brown's Favorite Non-Alcoholic Spirits For Creative Cocktails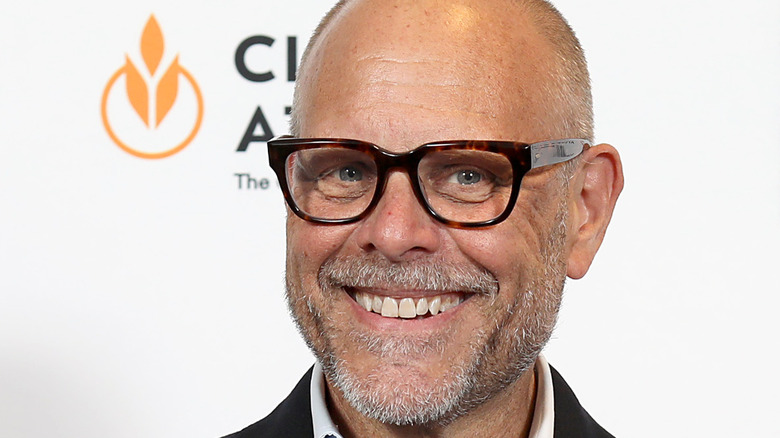 Kelly Sullivan/Getty Images
Nothing beats the satisfaction of learning to make your own classic cocktails at home, to enjoy yourself or even impress friends. But, if you're looking to go dry or cut down on drinking, the good news is there are plenty of grown-up, alcohol-free alternatives to partake in when you want a good swap.
The mocktail market is a fast-growing trend, with creative, cocktail-inspired drinks at the plenty, meaning you no longer have to stick to countless juices, sugary sodas, or boring old water. According to the Adult Non-Alcoholic Beverage Association, non-alcoholic spirits grew 113.4% between 2020 and 2021, with the non-alcoholic drinks category expected to grow to $30 billion by 2025.
Culinary personality Alton Brown is among those who sometimes wants an evening without overindulging. As such, the creator of "Good Eats" and host of "Iron Chef America" has taken to Instagram to share his favorite non-alcoholic spirits he recommends for making fun mocktails for any occasion.
Alton Brown's top recommendations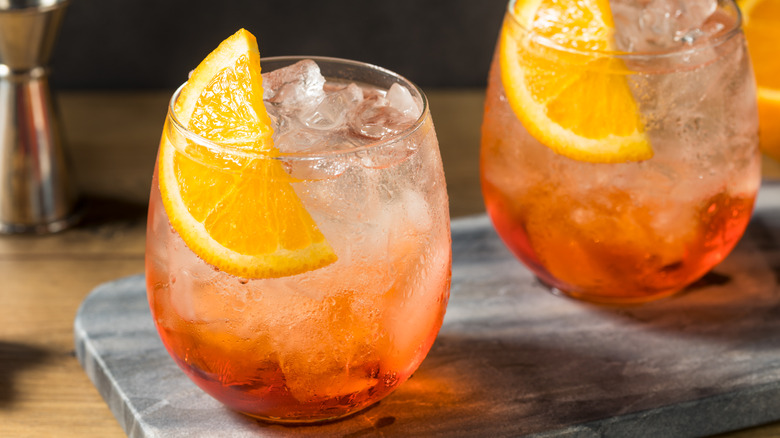 Bhofack2/Getty Images
Alton Brown posted on Instagram, "@elizabethingramstudio and I don't always go #alcoholfree but when we do, these are the liquids we reach for," and shared a colorful selection of bottles that he recommends when you want all of the flavor of a cocktail but less alcohol content. His picks include everything from non-alcoholic apéritifs to botanical drinks and alcohol-free wines to enjoy when you want an aromatic nightcap.
Brown is a big fan of Lyre's Italian Spritz, a vibrant orange-red colored bittersweet spritz-style apéritif, which would make a good alternative to a traditional Aperol Spritz or Campari and soda. The premium mix combines the sweet flavor of orange with the astringent notes of rhubarb for a dry and refreshing finish. It can be mixed simply with soda water or tonic water and garnished with citrus slices to create the non-alcoholic Lyre's Amalfi Spritz.
Another one Brown enjoys is Cali Amaro from The Bitter Optimist. Citrusy, woodsy, herbal, and bitter, it contains botanicals of orange, pink grapefruit, mandarin orange, bay laurel, sage, wormwood, gentian, and dandelion root. The deep colored mixer can be sipped straight over ice, or served with a splash of club soda. Or, you can use it as a base for more complex cocktails if you want to get creative.
Make an alcohol-free Old Fashioned or highball cocktail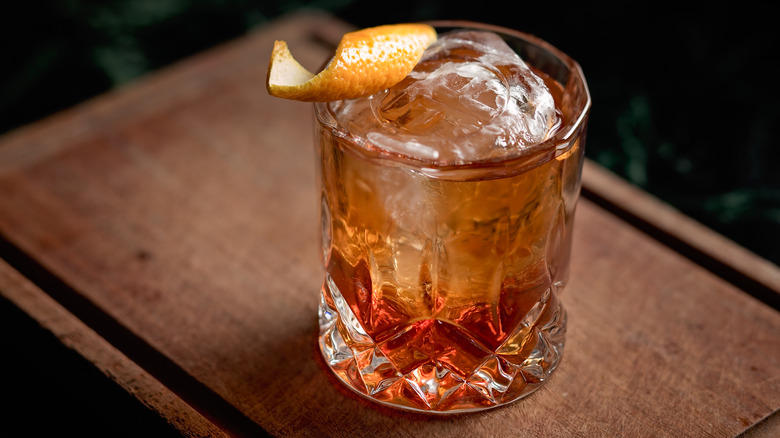 Chris Gora/Getty Images
When it comes to a non-alcoholic drink to relax and unwind at the end of the evening, Alton Brown turns to Three Spirit Nightcap, made with tree saps, aromatic plants, and ancient remedies. Fully vegan, with botanicals of lemon balm, turmeric root, ashwagandha, white willow bark, vanilla, licorice root, ginger, and sleep-inducing valerian, it's great on the rocks with a lemon slice, or you can also use it as the base to make a booze-free Old Fashioned by adding a few drops of Angostura bitters. Try it for a highball cocktail, too, by mixing with chamomile cordial and soda.
As well as apéritifs and sipping cocktails, Brown recommends two alcohol-free wine alternatives that would be perfect to serve either on their own or with a meal. The Proxies brand blends wine grapes, fruits, teas, spices, and ferments to capture the acidity, body, and tannin of wine, but without the alcohol. Brown in particular enjoys Proxies Tart, a fragrant, sparkling rosé that would pair well with anything from blue cheese salad to frangipane tart. Proxies Blanc Slate, meanwhile, is a white varietal that combines zesty citrus, stone fruit, and a hint of chili, and goes great with seafood platters or spicy Thai takeout.
From an apéritif to start your evening to a new spin on a classic cocktail to end it, there's an alcohol-free alternative every step of the way. And no hangover in sight.