Amazon Fresh Is Planning Some Serious Grocery Deals For Prime Day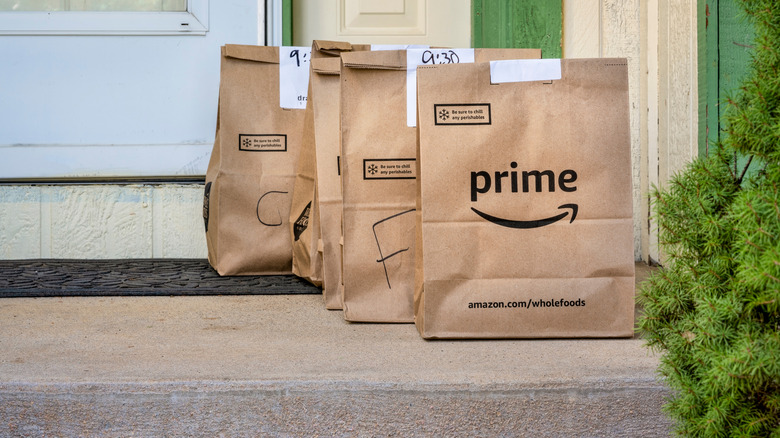 marekuliasz/Shutterstock
Amazon Prime Day is here! On Tuesday, July 11 and Wednesday, July 12, a slew of deals are to be had, but the shopping event isn't just about clicking through the site to find deals on décor and devices — you can find some serious savings on groceries, too.
Prime members can access deals on a number of non-perishables like drinks, snacks, spices, coffees, and teas. However, there are a number of even bigger ways to take advantage of Prime Day by doing so in person. Some of the most significant Prime Day savings can be found at Amazon Fresh locations around the U.S. where Prime members can save up to 25% on purchases of $50 or more. 
In addition, Prime Visa cardholders can reap 6% cash back rewards on purchases made July 11-12 at Amazon Fresh, which is a 1% increase over the typical 5% cash back enjoyed the other 363 days of the year. Additionally, Prime members who opt for delivery from Amazon Fresh can save $20 on Prime Day deliveries over $100, as well as $20 off on a future delivery in August for an order of $100 or more by using the code "FRESHSAVE20" when checking out.
However, if you don't live near one of the 44 brick-and-mortar Amazon Fresh locations in the U.S., there are other ways to save on groceries, too.
Get more Prime Day deals at Amazon Go and Whole Foods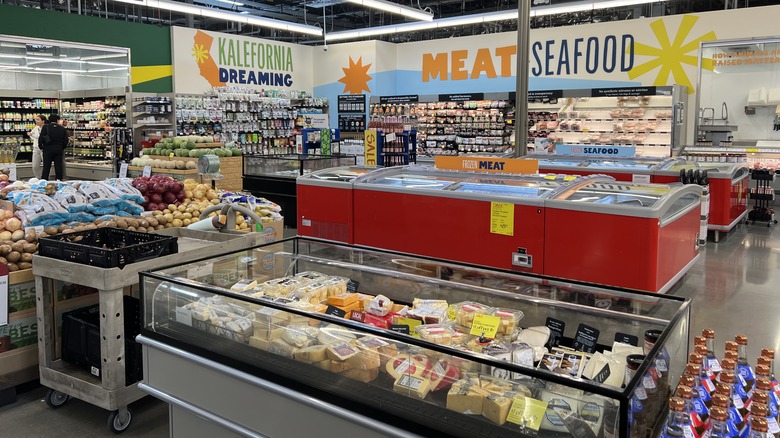 Smith Collection/gado/Getty Images
In addition to the Prime Day deals to be had shopping at Amazon Fresh (if you can find a location in your region), Amazon Go is also getting in on the game. Prime members who shop at the high-tech convenience store will get a voucher for $5 off their next visit when spending at least $10 July 11-12 (exclusive of tax and alcohol purchases).
Amazon's subsidiary, Whole Foods Market, is also offering Amazon Fresh's same 6% cash back reward on Prime Day purchases and is cutting the prices on a wide variety of items by 10%. As well, Whole Foods is also offering deeper discounts on select products for an extended time, through July 18. For example, buyers can find ice cream and frozen dessert prices slashed by 35%, and hot dogs in the meat department reduced by 25%. Whole Foods is also offering a two-pack of organic strawberries for $7 as well as sustainable wild-caught sockeye salmon for $11.69 a pound.
And, finally, if you don't already have a Prime Visa card, you can score not only the cash back rewards, but also a $200 gift card if you sign up by July 26.
Competitors are also running deals on groceries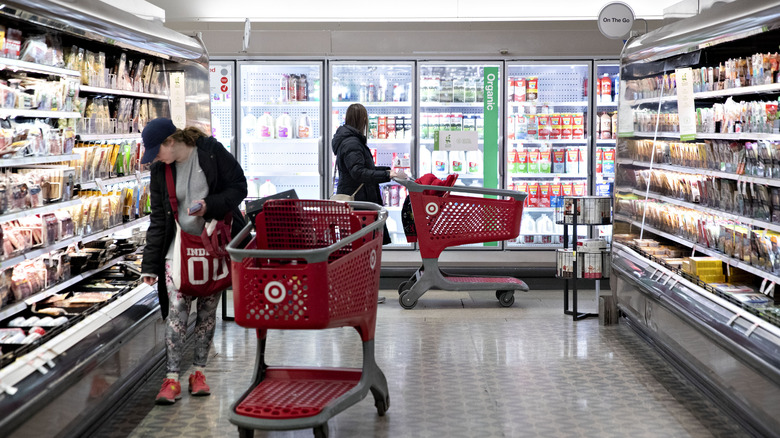 Bloomberg/Getty Images
Not an Amazon Prime member? No problem. If you're looking for other great deals on groceries, several of Amazon's main competitors are also getting in on the discount bandwagon in order to attract shoppers that have typically enjoyed Prime Day, logging a record-breaking amount of $1.7 billion dollars saved in 2022 alone.
At Target, from July 9-15, Circle members can take advantage of numerous price-drops at the store with discounts to be hand on sodas, seltzers, bottled teas, and snacks. The offers range from $1 off some items (almond milk) to 20% off goods like breakfast cereal, oat milk, and yogurt, for example. There's also 20% off deals on shredded cheese, organic produce, nuts, frozen dinners, hummus, ground beef, eggs, frozen pizzas, and bread. Other staples like frozen veggies and meatballs, as well as canned foods and jarred pasta sauces, are discounted with varying amounts. If you're not a Target Circle member yet, it's free to sign up and take advantage of the year-round deals.
Walmart+ Week is another direct play on Prime Day, which also runs Tuesday, July 11 through July 13 at 7 p.m. (Walmart Plus members were able to start their discounted shopping a day earlier on Monday, July 10). Shop here if you want to spruce up your kitchen to cook all of the food you scored, with deals on air fryers, stand mixers, microwaves, cookware, and more.