Giada De Laurentiis' Crispy Potatoes Are Literally Swimming In Cheese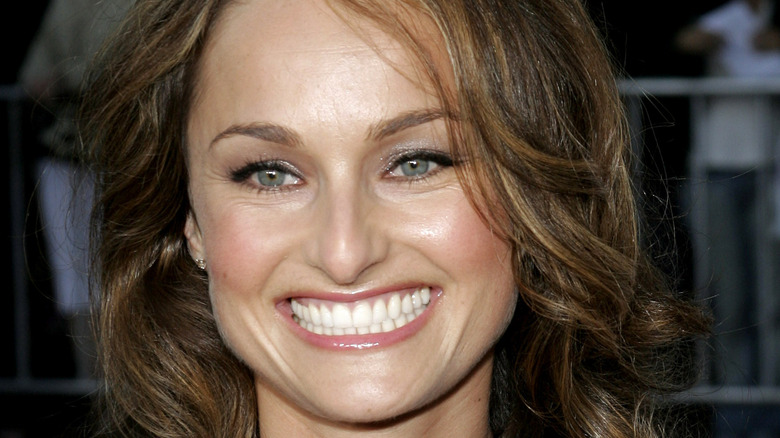 Tinseltown/Shutterstock
Potatoes are the ultimate side dish. Whether they're served mashed with plenty of butter, or simply baked with lots of sour cream, the humble potato brings comfort and joy to most meals, from family favorites to special occasion feasts. Yet, one type of potato reigns supreme: the crispy potato. 
With a crunchy bite and soft fluffy center, there's no better way to get your carb fix. It's no wonder social media and online blogs are overflowing with tips, tricks, and awesome potato recipes to help us take our crispy potatoes to the next level. So how to do you improve on what's already a pretty perfect creation? Add cheese, of course, and plenty of it. Not just any cheese, either, but Parmesan — the cow's milk hard cheese from Italy with its unbeatable umami flavor. 
It's a trend that has been taking off on TikTok for some time now, and celebrity chef Giada De Laurentiis has even got in on the act, sharing a video of her version of the drool-worthy dish with her nearly million followers.
These crispy potatoes are all about the texture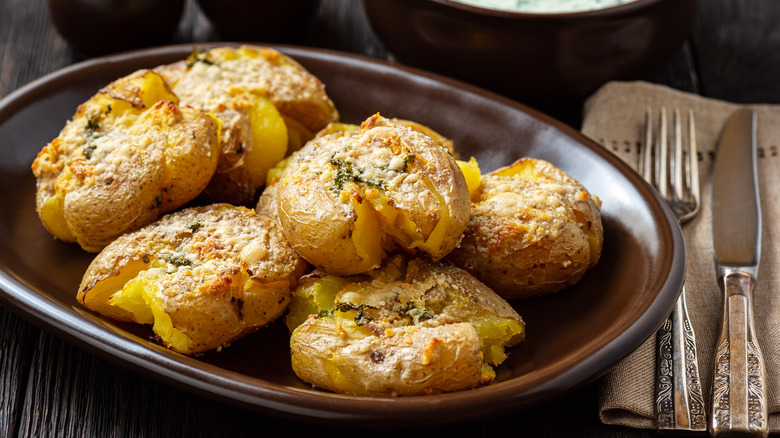 Cesarz/Shutterstock
Giada De Laurentiis has long been a fan of this potato and Parmesan combo, often sharing recipes for a variety of dishes like Parmesan potato pancakes, smashed Parmesan potatoes, and baked Parmesan mashed potatoes with breadcrumbs, which also includes mozzarella in the mix. 
Crispy Parmesan potatoes having been going viral on TikTok for the past couple years, with many people making the dish with several variations. Some keep the seasonings simple, while others add extra flavors such as onion powder, garlic powder, or paprika to enhance the dish. Others score the halved potatoes in a criss-cross pattern with a knife before baking them, or use an air fryer to get the crispiest results. 
Although De Laurentiis doesn't provide the specific recipe for her version of crispy Parmesan potatoes in her TikTok post, the video is simple enough to follow along, and it's a process which looks easy enough to get incredible results. "It's all about that crispy bite at the end," she writes in the caption, smiling happily in the video as she enjoys a golden mouthful of cheesy potatoes. 
How to make Giada's crispy Parmesan potatoes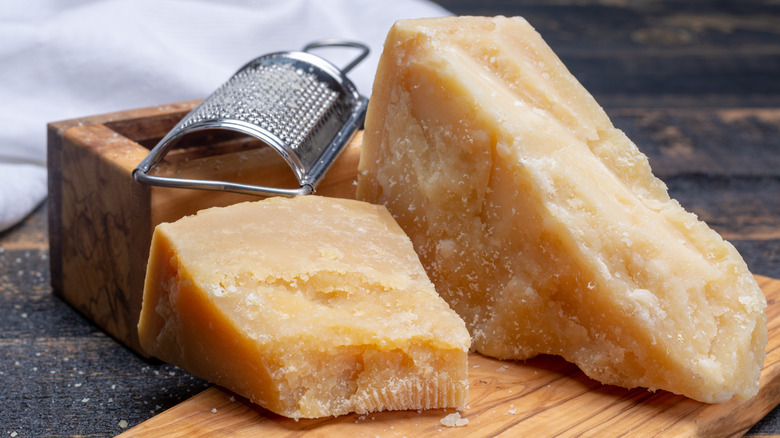 barmalini/Shutterstock
For Giada De Laurentiis' version of crispy Parmesan potatoes, the Italian-American chef combines melted butter with finely-grated Parmesan cheese, fresh lemon zest to keep things light and fresh, and some black pepper, and then she spreads the mixture out evenly on a baking sheet lined with parchment paper. De Laurentiis then places halved potatoes, cut side down. on the bed of grated cheese mix, and bakes it in the oven until the potatoes turn crisp and golden with the Parmesan melted.
Fans have been quick to praise the results, with replies on the TikTok video including, "These look amazing!!" as well as, "OMG I'm in heaven," and "G for the win yet again." Another person said, "We started making our potatoes this way, now we can't go back."
Could De Laurentiis' cheesy concoction be the ultimate crispy Parmesan potato side dish? There's only one way to find out. Try it for yourself, and see if it really is all about that crispy bite.