Aldi Controversially Discontinues A Popular Frozen Dessert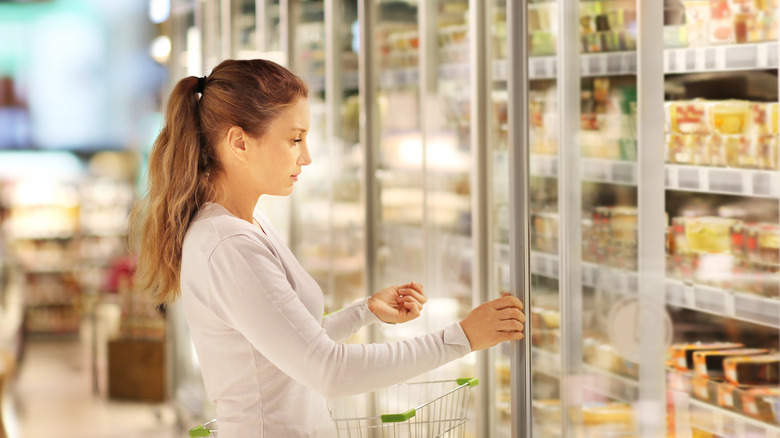 LADO/Shutterstock
Aldi has developed what some might call a cult following among shoppers. While much of the devotion to Aldi can be attributed to the low prices, buyers are also often attracted to specific items, and at the top of that list is Aldi's gluten-free line of foods. Introduced in May of 2014, Aldi's liveGfree brand offers shoppers the opportunity to purchase a variety of gluten-free foods from chicken nuggets, wraps, bagels, and crackers, to macaroni and cheese, pasta, and baking mixes for brownies and pancakes.
Just over a month ago, Aldi upset some of its fanbase by discontinuing its beloved gluten-free bagels. Now, gluten-free and sweet-loving consumers are just as disappointed that their freezer section shelves are no longer stocked with the liveGfree brand cheesecake.
The eight-slice sampler-style cheesecake was available in the frozen aisle and featured flavors that included chocolate chip, lemon swirl, New York style, and raspberry swirl. Each slice clocked in at around 400 calories.
What did fans have to say about the cheesecake?
The liveGfree cheesecake had a devoted following, with fans professing their love on social media regularly. One fan on Instagram posted, "My family and I shared one slice of each flavor and were blown away! Supreme is right! We thoroughly enjoyed all four flavors: Chocolate Chip, Lemon Swirl, New York Style, and Raspberry Swirl. The cheesecake was super creamy and the flavors were spot on!"
Plenty of Redditors around the globe were enthusiastic about the sweet frozen sampler, too — expressing gratitude to a poster who had shared they'd found it on the shelves after the product's seasonal hiatus.
In the wake of the cheesecake's discontinuation there's a fair amount of disappointment as well, particularly in light of the fact that this discontinuation is occurring less than a month after May's Celiac Awareness month. However, not all hope is lost. When one user tweeted to Aldi regarding her disappointment about not being able to find the cheesecake, the retailer took the time to respond that though it is currently out of stock, they hope to have it again in the future.