Alton Brown's Secret Weapon Ingredient For Fried Food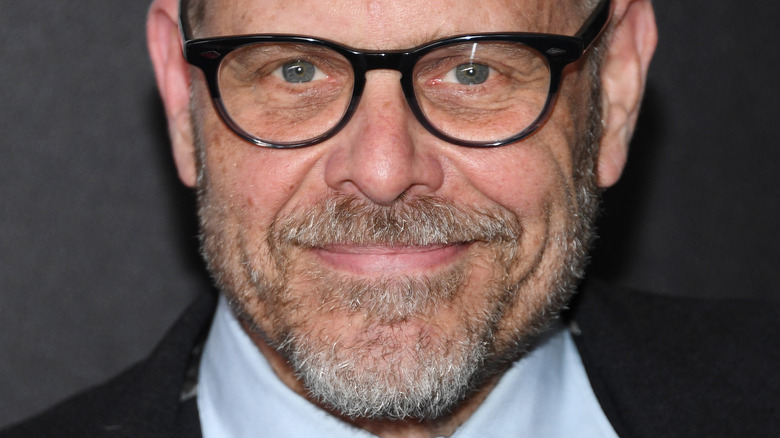 Dimitrios Kambouris/Getty Images
Anything that you could possibly make, Alton Brown has a way to make it even better. Whether that's using stainless steel bowls to pop some corn kernels or adding a teaspoon of mayo for ultra-creamy scrambled eggs, the Food Network star-slash-culinary wizard has secret weapons hiding all over his kitchen. When it comes to time to fry up some food, however, it's the spice rack that Brown turns to. In his 2016 cookbook "EveryDayCook," Brown states that sumac is his secret ingredient in recipes that involve fried food. The spice's citrusy flavor, he says, can cut through the richness of oil — but without the use of citrus fruit like lemon.
It may seem peculiar to add a tangy spice like sumac to greasy fried foods like wings, fries, nuggets, or onion rings for example but this isn't the first time that Brown has vouched for the humble sumac. The red-colored spice originally caught the author's eye when he studied the history of hummus — and sumac has become the secret in his arsenal ever since.
What is sumac?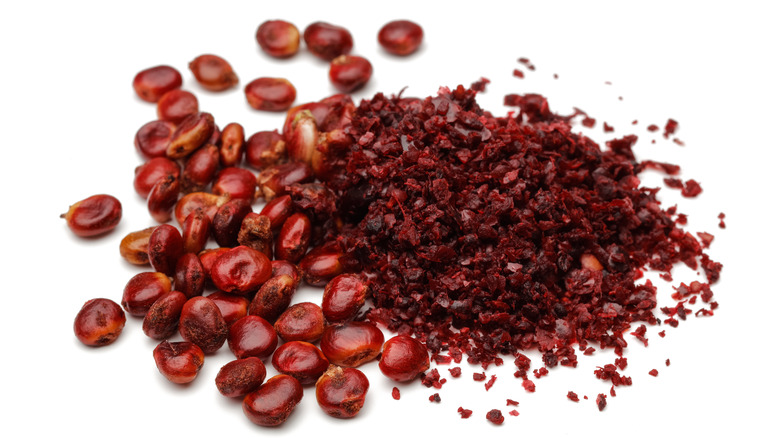 Mahirates/Getty Images
The dark red sumac spice comes from the berries of the sumac bush – or Rhus coriaria — which grows in the Middle East and Mediterranean regions including Turkey, Sicily, and Iran. These berries are harvested once ripened, then dried and ground into a coarse powder, which is used as a source of acid in Arabic and Lebanese cuisines in particular, as well as in Africa and North America.
Sumac is an old spice that has been used for at least 2,000 years for both its distinct flavor and nutritional value. The spice may resemble chili powder in appearance, but it packs a sour and astringent punch that is similar to that of citrus fruits like lemon, as well as tamarind and even vinegar. In fact, sumac is also a good substitute for lemon juice and lemon zest in dishes that could do with the brightness of its subtle berry-like sweetness as well as tart and tangy flavors.
Popular in Mediterranean and Middle Eastern cooking, sumac is used in everything from grilled meats and kebabs to salads, dips, and refreshing beverages. It is an essential ingredient in the za'atar spice blend, and it instantly brings color and flavor to any dish when used as a garnish. But it is sumac's acidity that makes it a popular spice, and it may also be why Brown uses it in his fried recipes.
Sumac's acidity may be its best quality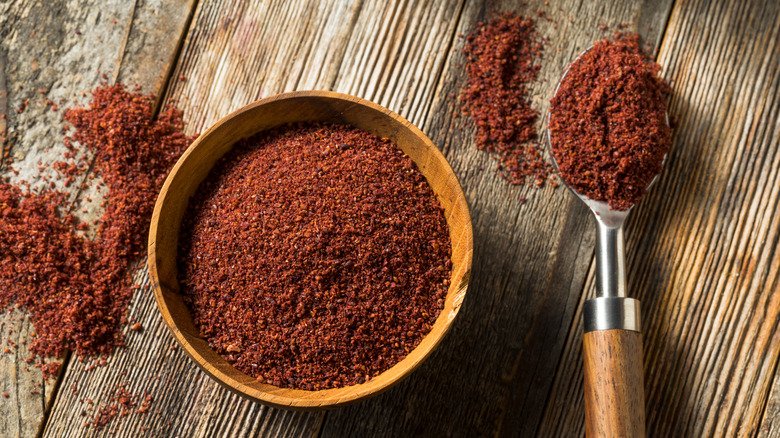 Bhofack2/Getty Images
While Brown recommends using sumac in fried foods in his cookbook, it's not the first time that sumac has been brandished as his secret weapon. Brown declared sumac his "official spice of 2012 (drum roll)" on Twitter over a decade ago, and the tart spice popped up once again when Food Network asked 50 chefs for their secret weapons. The "Good Eats" host told the network that he used sumac to "add depth to anything starchy: beans, potatoes, rice, etc."
Sumac, it turns out, does more than add some tartness to food. It also contains an enzyme that can be an excellent tenderizer for soft and juicy meats, which might be also why sumac is so often paired with meat. Additionally, much like a squeeze of lemon juice adds some necessary brightness to rich meats or greasy fried foods, the acidity of sumac too brings the same contrast and balance. But where liquid lemon juice would make crisp and airy fried food damp and soggy, sumac brings the same sour bite but in a dry and powdered form. So the next time you make some fried fish, chips, or chicken, consider adding a pinch of sumac too; as a bonus, sumac will even add a nice pop of red to all that golden-brown, fried deliciousness!