Here's How The USDA Will Label Lab-Grown Chicken In Grocery Stores
Currently, the only country in the world that allows lab-grown meat to be sold commercially is Singapore, but with the United States Department of Agriculture's (USDA) most recent decision on labeling, it looks like American consumers are one step closer to seeing lab-grown meat on store shelves and in restaurants.
While there are companies around the globe working on creating lab-grown meat (also commonly called cultured meat or cultivated meat), two makers — Eat Just and UPSIDE Foods — have been actively seeking approval for products to be sold in the United States. One of the major hurdles has been determining how to label the proteins in a way that would be transparent for consumers. After a long process that has included debate and public feedback, the USDA has ruled that the lab-grown chicken will be labeled "cell-cultivated".
The labeling decision currently applies solely to Eat Just and UPSIDE Foods, but a broader ruling could come in the latter part of this year. 
"The USDA's approval of our label marks a major step forward towards our goal of creating a more humane and sustainable food system," said Dr. Uma Valeti, CEO and Founder of UPSIDE Foods, in a press release about the decision.
The advantages of lab-grown meat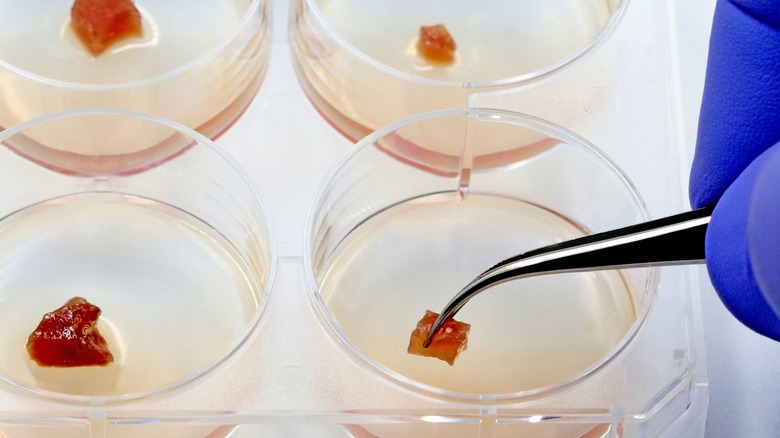 TopMicrobialStock/Shutterstock
Lab-grown meat is made by humanely extracting stem cells from an animal. Then, the cells are cultivated in a solution composed of the types of nutrients the animals would normally feed on for nourishment. The process takes place within a couple of weeks, then the resulting product is removed from the bioreactor and formed into meat.
Advocates praise the process as a sustainable way to continue to feed the population and avoid inhumanely slaughtering animals. They also point to positive effects on climate change, reducing the amount of greenhouse gas emissions created by animal agriculture.
There is also enthusiasm about lab-grown meat from a number of those within the food industry. In 2021, Chef José Andrés — who is passionate about innovation that creates sustainability and positively impacts the environment — joined the Board of Directors of GOOD Meats, a subsidiary of Eat Just. Meanwhile, Chef Marcus Samuelsson is collaborating with Aleph Farms, another maker of cultivated meat, as an investor, culinary advisor, and launch partner
In a press release about the partnership, Samuelsson said, "It's essential that we look for new ways to feed our planet sustainably, which is why I was attracted to the mission of Aleph Farms and being part, both as a chef and as an investor, in bringing delicious, cultivated meat to the table."