Frozen Fruit Sold At Walmart & Costco Recalled Over Hepatitis A Risk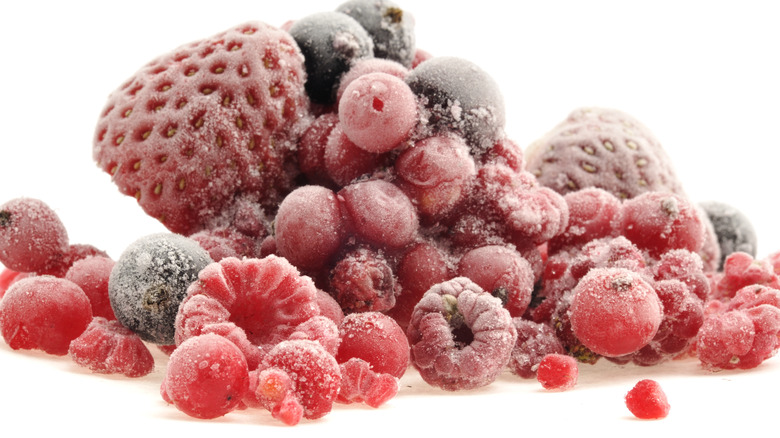 Alasdairjames/Getty Images
On June 13, the Food and Drug Administration published an announcement by Willamette Valley Fruit Co. in Salem, Oregon, detailing the voluntary recall of frozen fruit products distributed to Walmart, Costco, and HEB stores. The recall pertains to frozen strawberries and frozen fruit blends containing them sold under the brand names of Great Value and Rader Farms, which may be contaminated with Hepatitis A.
At Walmart, bags of frozen Great Value Sliced Strawberries, Great Value Mixed Fruit, and Great Value Antioxidant Blends distributed to stores in 32 states from January 24, 2023, to June 8, 2023, have been recalled. At Costco stores, Rader Farms Organic Fresh Start Smoothie Blends, distributed to stores in Colorado, Texas, California, and Arizona between October 3, 2022, and June 8, 2023, are also affected. Rader Farms Organic Berry Trio, distributed between July 18, 2022, and June 8, 2023, to HEB stores in Texas, is also part of the recall.
What is Hepatitis A, and how can you check if you have contaminated fruit?
While there have been no reports of illness, Willamette Valley Fruit Co.'s announcement encourages anyone who may have consumed the potentially contaminated fruit to contact their healthcare provider to assess the need for vaccination.
Hepatitis A is a highly contagious virus that causes inflammation of the liver. It can take two to four weeks for symptoms such as fever, appetite loss, gastrointestinal disturbances, dark urine, and jaundice to appear. Infected individuals are contagious during the incubation period. The recovery time for the majority of people who contract Hepatitis A is three to six months. However, immune-compromised individuals may experience complications, including liver damage or liver failure.
Consumers concerned about contamination should check the recall announcement for specific lot numbers to check if bags of fruit in their freezers are part of the recall. If you have further questions, you can contact Willamette Valley Fruit Co. by calling 800-518-9865 Monday through Friday 8am-5pm PST.