Chef Sean Sherman Opens Indigenous Ingredient Food Lab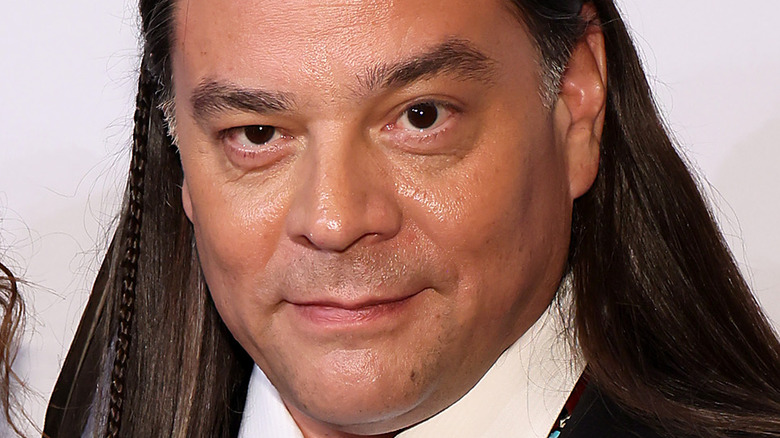 Jemal Countess/Getty Images
The chef behind Minneapolis' James Beard award-winning Owamni restaurant and Tatanka Truck, the city's first Native American food truck, has opened Indigenous Food Lab (IFL) in the Midtown Global Food Market, per Native News Online. Sean Sherman is a 30-year veteran of the culinary world and has spent his career shedding light on and revitalizing Native food systems and ancient domestic ingredients. Indigenous Food Lab is operated by Sherman's nonprofit organization, North American Traditional Indigenous Food Systems, which promotes education about and expands access to indigenous foods.
Minneapolis' Midtown Global Market is a public market featuring international-themed food, arts, and crafts and IFL is the latest purveyor to join the large group of vendors which offer food and goods inspired by places like Morocco, Venezuela, and India, among many others. Like his other eateries, Sherman's IFL hot bar menu includes foods entirely void of ingredients that are not distinctly native, so don't expect pork, chicken, wheat flour, or dairy products. Instead, diners are treated to gorgeous grain bowls, tacos, and salads with foods like American bison, turkey, whitefish, squash, mushrooms, and corn. They can also relax at a tea bar sipping on unique teas expertly blended by an herbal specialist.
But the culinary sector is just one element of IFL; Sherman intends that the stall will also act as an education center and retail market which features 100% indigenous products from across the country.
More than a food destination
As the name hints at, Indigenous Food Lab is, at its core, a place of exploration and discovery of all things related to Native American history and culture. As an education center, Sherman and others on his team will teach on subjects such as food preservation, language, crafts, and (of course) Native culinary arts. The products and gift items here feature local, Native vendors who make and produce such goods as honey, dried pantry items like corn and wild rice, tortillas, teas, sauces and frozen meats, all entirely produced on Native land from Native ingredients.
On the non-food side, there is jewelry, clothing, books, and dishware available for purchase. Sherman has no intention of slowing down what he's started. He told Native News Online, "We want to get Indigenous food products all over the place, so, this little market has big plans." His vision is to set up more IFL's in multiple parts of the country to reach his ultimate goal of strengthening ancient Native traditions to rebuild the welfare of Indigenous people.