Giada De Laurentiis' Tip For Zesting Lemons Changes The Whole Game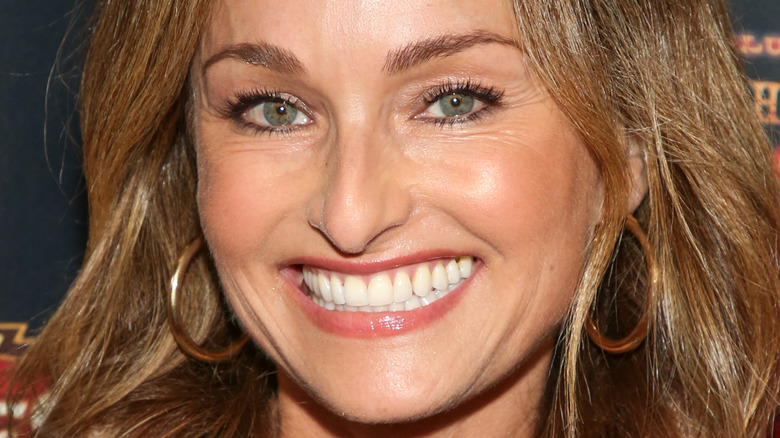 Paul Archuleta/Getty Images
One thing is crystal clear: Giada De Laurentiis, who's created Italian-inspired recipes from Sorrento Lemon Spaghetti to Lemon Torta Caprese to even a Lemon Grilled Cheese, truly loves her lemons. You'll even find the little yellow citrus fruit as the star of the Giadzy logo, Giada's food and lifestyle platform.
With such an impressive arsenal of lemon-led dinners, sides, and desserts, you better believe that the lemon-loving De Laurentiis has zested countless lemons in her lifetime. And as a successful cookbook author who's constantly developing delicious recipes, she's got an array of insightful tricks worth considering for your own lemon-centric recipes.
One such trick involves a zester, a lemon, and one very simple tip that'll take your zesting game to a whole new level. Thanks to a TikTok video from Giada herself, we know the trick to easy-squeezy lemon zesting — and it all comes down to a quick flip of the wrist.
How to correctly zest a lemon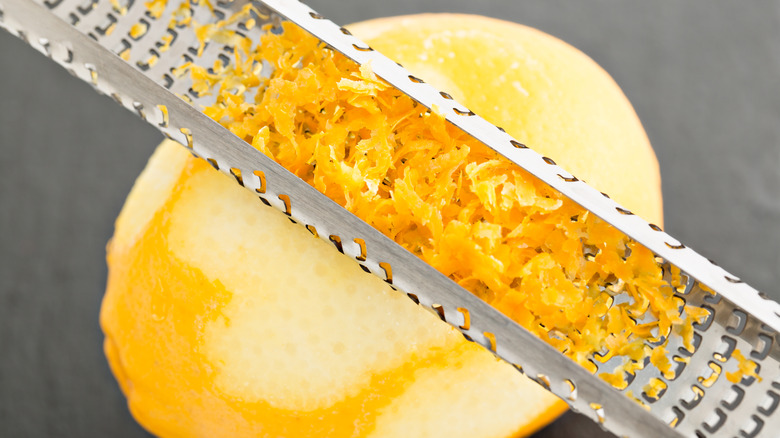 Debbismirnoff/Getty Images
Many of us assume that zesting a lemon means holding the zester right side up and moving the lemon back and forth on top of it, letting the zest sprinkle down as you go. But as Giada tells us in her TikTok video, "you've been doing it wrong... and so have I, actually."
She goes on to explain that the correct way to zest a lemon is to flip the zester upside down and place the lemon under it, grating it from below. This way, you can see and measure exactly how much lemon you've zested — and rather than the zest falling everywhere and potentially missing your bowl, it gathers neatly on the zester and stays put.
By simply flipping the zester upside down, you gain more control and create less mess. No matter what fruit you're zesting, you won't make the same mistake again.
More tips to perfect your zesting game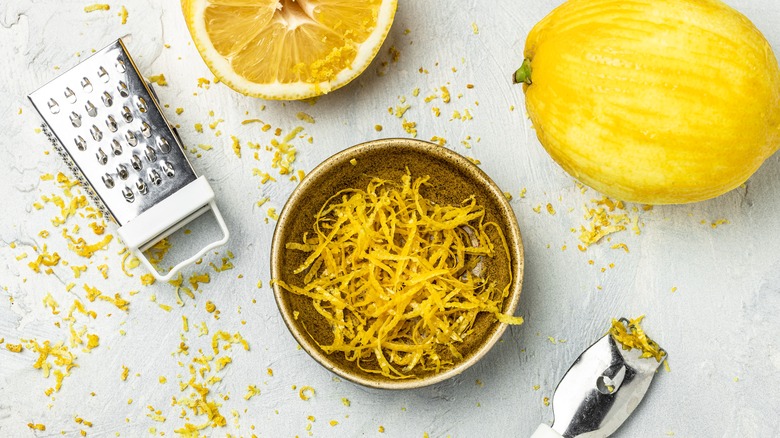 sweet marshmallow/Shutterstock
As easy as it seems to zest a lemon, an orange, a lime, or anything else, it's just as easy to get it wrong. Using your zester the correct way is crucial, but there's a wealth of additional tips to explore. Drawing from the wisdom of fellow chefs, we can ensure our zesting skills are up to snuff.
When zesting, it's crucial to avoid grating too much of the skin; you should stop when you reach the white pith underneath. As Gordon Ramsay explains in a lemon zesting YouTube short, the bitter part of the fruit will diminish the bright flavor of the zest. He suggests that the trick to zesting any fruit is to grate it in long, smooth strokes and twist it as you go.
If you don't have a zester or a microplane, there are other ways to zest effectively. Ramsay uses the zesting section on a box grater, but you can also use a serrated knife. Executive Chef Elias Popa of Oti in New York City tells Martha Stewart that the key to releasing the oil, and thus the delicious flavor, of the rind is to agitate the skin with abrasion or scratching. This is why zesters do the job so nicely, and also why something that's serrated will be effective as well.