9 Great Things To Eat And Drink In Savannah, Georgia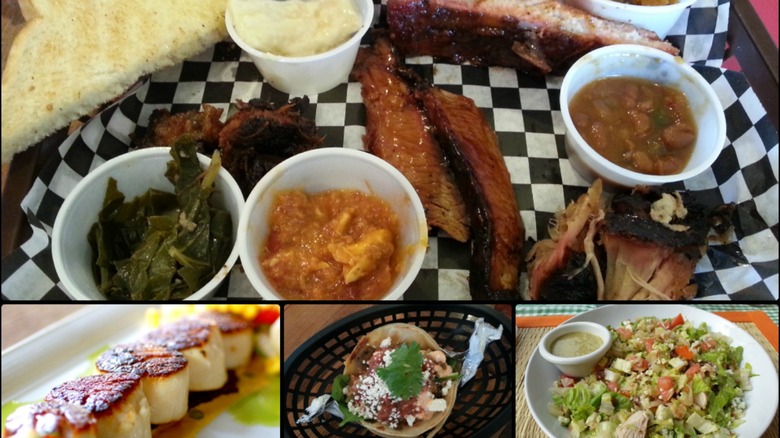 As contemporary New Southern stereotyping goes, Charleston, South Carolina is good for food, Atlanta is good for housewives and Savannah is good for fashion. Certainly part of this is true. With the looming hyper-creative presence of the Savannah College of Arts and Design (more on this later), Savannah has become a little like the West Village in NYC: quaint streets belie extremely urbane taste. But there's more than that too.
One of the many reasons why Paula Deen, a Savannah native, is an evil y'all-saying demon (a LOT more on this later), is that for many people she represents Savannah cooking. But what she serves is a deep fried diversion. Savannah cuisine is a rich mix of exotic influences, brought both by the Seven Seas spice trade and the more insidious slave trade. The kitchen bears influences from geechees, slaves who settled from the Savannah River south, Gullahs, from the Carolina Low Country, mixed with Scots, Moravians, Germans and French.
Today, those influences are still felt. But as SCAD expands its footprint, a native market for upscale farm-to-table restaurants is growing as well that in some cases conflicts with traditional soul food. But Savannah has always been about incorporating the newly arrived into its recombinant delicious dining scene.
[Note: I've tried to avoid fussy Old Southern haute cuisine here, like Elizabeth's on 37 and the Mansion on Forsyth, both of which are exceedingly tasty but a bit too Southern Mannerist for my taste.]
1. Crab Stew from Narobia's Gravy and Grits
Narobia's occupies a squat cinderblock building on a rough patch of Habersham Street. It is the most rudimentary type of restaurant. A banquette on one side of the wall, a few high tables scattered throughout the room and along the lefthand side, a griddle and fry station. The menu is written on the wall and includes a whole bunch of fried food, including of course, chicken. But the thing to get is crab stew. Crabs — deviled crabs, fresh crabs, she-crabs, stewed crabs — have long been a staple of Savannah cuisine, but crab stew is hard to find. Here it's best eaten as breakfast, when the thick stew comes atop a mess of cheesy grits with a side of eggs. The stew itself contains generous fresh crab meat in a peppery "smothered" sauce with shrimp studded throughout. 2019 Habersham St., 912-231-0563
2. "Peas and Carrots" from A.lure Lowcountry
Leery as I am of restaurants with typographic puns in them, A.lure, which just opened in downtown Savannah, gets a pass mostly because of a dish called "peas and carrots." The sweet peas come two ways: whole and as a coulis. The carrots are both buttery in batonettes and made into a ginger carrot reduction. A.lure, however, focuses on fresh local seafood — get it? — which is present here in perfectly prepared seared scallops. The whole thing comes on Carolina gold risotto. Chef Charles Zeran is certainly a rising Savannah star; there are even hints of David Chang in his proclivity for pork belly and a dessert that includes bottom-of-the-cereal-bowl ice cream. 309 West Congress Street, 912-233-2111, A.lure Lowcountry
3. BBQ Brisket and Ribs from Wiley's Championship BBQ
Wiley's Championship BBQ is a 15-minute ride from downtown Savannah on Whitemarsh Island (it's pronounced Witmarsh.). Don't try to bike there. You'll probably die on East President, a road with no shoulder and many fast cars. Wiley's is in a strip mall, which is not promising, but the way you judge a barbeque place isn't by the front; it's by the back. Here, there are two Southern Pride smokers and wood piles of hickory and oak. Wiley McCrary, a gruff old cigar-smoking man with a wonderful accent, and his wife, Janet, a former school teacher from New England, started off as professional barbecue competitors before they came to Savannah in 2005 and "retired" by opening Wiley's in 2008. They've won about every BBQ prize in the state and their brisket, exceedingly tender, brushed with a mildly sweet tomato-and-molasses sauce with a touch of mustard, shows why. Georgia's BBQ culture is pretty diverse, incorporating other regional styles, but since the McCrary competed in the Kansas City–style, their ribs are ridiculous too. 4700 US Highway 80 East, 912-201-3259, Wiley's Championship BBQ
4. Chopped salad from Café Florie
Yeah, it's stupid to get a chopped salad in Savannah. It's like going to Tuscany and ordering falafel. But trust me, you're going to want a chopped salad at some point and at that point you should go to Café Florie. It's small, bright, perky and orange. I went one morning when I needed a detox. The coffee is strong, from a local roaster called Cup a Cup. The salad, which came with 10 different dressing options (get the sweet potato), is made with produce from the local farmer's market at Forsyth Park. Everything about it was good: it was fresh, chopped, diverse, crunchy and big. Oh, you should probably get the fried chicken at Café Florie too. 715 Barnard Street, 912-236-3354
5. Espresso and Kolache from Foxy Loxy
Foxy Loxy is maybe seven steps above the generic college town café. This has to do with a few things. The tinga de pollo tacos are one, moist with the right amount of spice. That it feels like a very cool living room is also a plus. The coffee — the city's only properly made macchiato is to be found here — plays a major part in bringing it up to code. But for me, it's that they have homemade kolache, fried dough balls from the Czech Texan diaspora which are stuffed with things either savory (ham, cheese, ham and cheese) or sweet (cinnamon, raisins) and a little placard to alert you to what they are. Any place that serves annotated food from the Czech Texan diaspora gets an automatic recommendation. 1919 Bull St., 912-401-0543, Foxy Loxy
6. Le Parisien from Papillote
Savannah is a city with 24 squares parks, each of which begs for picnicking. The best place to pick up provisions is Papillote, a café on Broughton helmed by Hervé Didailler, who worked in eight Michelin-starred restaurants before moving to Savannah. The most popular sandwich is Le Parisien: ham, brie, Swiss cheese, a mandolined apple, served on a fresh ciabatta. They also have daily macarons, "spelled correctly" as the menu notes, including a caramel and sea salt one that made me happy. There's even a proper French temperament here. A sign on the counter warns, "Do not be condescending to our employees or you will be asked to leave." 218 West Broughton St., 912-232-1881, Papillote
7. Fried Chicken Sandwich from Bobbie's Diner
I went to NYU, where our dining options were limited to poorly administered dining halls that served slop. SCAD, however, has restored two diners to their former glory. These are cheap and beautiful, in that retro-diner way, and even better, don't feel gimmicky or ironic. Bobby's Diner, started by a former SCAD employee, serves maybe the city's best fried chicken sandwich and orangeade. Appropriately crispy, free-range and only $7.99, it puts any hipster Brooklyn faux-Southern fried chicken sandwich to shame. I also witnessed the aforementioned sandwich modified with the addition of bacon and swiss, and eaten by an extremely attractive raven-haired girl reading On the Road. 1402 Habersham St., 912-525-6640, Bobbie's Diner
8. Seared scallops from Local IITen
Local IITen is that restaurant you take your parents when they come to town. It's more expensive than most but with a chef that justifies the prices. Chef Brandy Williamson was one of the first chefs to reach out to local farmers about supplying high quality produce for her use, and she still commands a great deal of respect among local farmers, many of whom set up shop at the Forsyth Farmers Market. The menu changes regularly, but these sea scallops, served with fennel puree, grilled apple, pomegranate coulis and watercress, are a constant boon. As a bonus, above the restaurant is Perch, which serves perhaps the city's best Manhattan, here made with Wathen's bourbon, Cocchi americano aperitif, triple sec and peach bitters. 1110 Bull Street, 912-790-9000, Local IITen
9. Cheeseburger from The Public Kitchen and Bar
The Public, not to be confused with New York's Public or Chicago's Public Hotel, opened a few weeks ago. It's chef Brandy Williamson's downscale café, but the approach is basically the same: use local high quality ingredients and don't mess them up too much. The place is casual but sceney. [Upon checking in, guests are texted to say they'll be texted when their table is ready. Then they're texted. Then they'red texted to say they've been texted.] Go for some sort of sandwich here. There are many and they're all very good. I chose the cheeseburger, which is the second best* in Savannah. 1 W. Liberty St. 912-200-4045
*Sorry, you'll have to check back on Food Republic tomorrow to find out which is the best.
More Traveling and Eating on Food Republic:
21 Great Things To Eat and Drink in Nashville
Minneapolis: 10 Things To Eat and Drink Now
10 Things To Eat and Drink In Boston