10 Places To Eat Pani Puri In America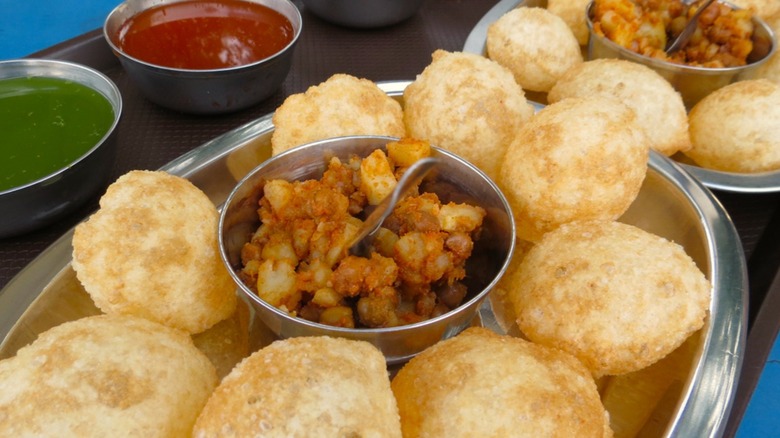 Let's chat about chaat, that delectable street food from India. Namely, pani puri, also spelled panipuri and pani poori, a dish best eaten in one bite, lest that often minty or spicy liquid you pour over it turns the morsel into mush. "You have to eat them fast," says Arun Mirchandani, owner of Drunken Munkey in New York City. "I have seen people take a knife and fork to it and I am like, 'No no, you have to pick it up and eat it.' It's fun to watch their faces when they get that burst of refreshing flavor with its unexpected radiance."
The puri part of the mix comes in the form a fried crisp with a hole punched in the top, and the pani is the flavored water you pour over said orb. That comes after it's stuffed, usually with onion, whole chickpeas, potato, tamarind chutney and some chili-fueled spice mix. While the contents of this popular dish prove similar to other chaat, it's that interaction with the liquid that makes it special. That, and the danger of not eating it fast enough, a quandary that will only lead to messy hands and clothes and the sadness of having your snack disintegrate before your eyes. You can find pani puri all over India, especially in the south, as well as versions in Pakistan, Bangledash and Nepal. Each region has their own twists to the dish, though in the states it tends to be more like we described above.
Want to try it? We're scoured America to find 10 purveyors with classic tastes — and for old chaat hats, a little more modern interpretation..
San Jose, CA: Chaat Café
As the name suggests, you can find plenty of chaat in this quaint café, including our favorite, pani puri. Here they make the dish in the conventional way, but unlike other Indian restaurants peddling this snack they make sure all the organic ingredients are sourced locally, and that the chicken and lamb are Halal. Plus, they keep out trans fat, so for the once indulgent mix of crispy shells, potatoes, garbanzo beans, spices and spicy tamarind water make you feel like you choose the healthy option. 834 Blossom Hill Rd., San Jose, California, 408-225-2233
Chicago: Uru Swati Vegetarian Restaurant
At this laidback, artsy eatery in Chicago, you can find a version of pani puri that traditionally hales from Bihar, a state in eastern India next to Nepal where this dish comes under the moniker phuchka. What makes their version of this snack different? The use of black chickpeas, or kala chana. The rest of the ingredients are pretty standard: puffy mini puris, potatoes, tamarind chutney and the special spiced water. Though you may be sitting against a wall with a three-dimensional mural of the Chicago skyline, the taste and vibe of this Rogers Park restaurant is purely from the streets of India. 2629 W Devon Ave., Chicago, 773-262-5280
Irving, TX: Taj Chaat House
At this vegetarian fast food spot in Irving, TX, they refer to pani puri as gol gappe, the same way it's done in Northern India. But while the name proves different, the ingredients and basis remain the same, and they serve it in the traditional manner with an option to spruce up your meal even further at their condiment bar. For those eager to learn more about the dish, the open kitchen also gives guests insight on how pani puri is made. 1057 W Rochelle Rd., Irving, TX, 214-596-1133
New York City: Drunken Munkey
The upscale pani puri they serve at this Indian-French bistro arrives on an escargot plate, a platter that tends to throw people off the true nature of the dish, but which fits in perfectly with the Parisian setting. Unlike many pani puri in the States — where you get a plate to share — here they sell them as individual orders complete with empty shells and all the condiments you need to fill them. On the side, you get shot glasses of different-flavored waters, including a housemade tamarind-mint liquid created by owner Arun Mirchandani's mother. 338 E. 92nd St., New York, 646-998-4600; no website
Los Angeles: Bombay Café
Instead of the usual fare, the pani puri served in this large, cafeteria-like Los Angeles eatery gets stuffed with sprouted mung beans and house-made chutneys, and paired with a cumin and mint infused water. This version fits well with the mission statement behind Kamal Jit Singh's 25-year-old eatery, a doctrine that pushes a healthier take and a California twist on Indian staples. 12021 W Pico Blvd., Los Angeles; 310-473-3388
Philadelphia: Indeblue
Even though owner Rakesh Ramola graduated top of his class in Mumbai, worked in London, Cypress and Kuwait, he still has a soft spot for Indian street food. This is where his quaint café in Philadelphia's Midtown Village comes in, where you can see his skill at giving modern takes to Indian classics. Namely, the chilled Dahi Avocado Chaat, his version of the pani puri. True, it does look similar as it's served in a puffed puri and stuffed with chickpeas. But the difference comes through the addition of fresh avocado, red onions, tangy yogurt and house made chutney, which gives it a unique flavor. 205 S 13th St., Philadelphia, 215-545-4633
Cambridge, MA: Hit Wicket
For a truly distinctive take on this dish, the cricket-loving bar Hit Wicket in Cambridge, MA serves their pani puri as part-snack, part-cocktail. How do they do it? It's simple, instead of mixing up flavored water, they add lime and a spiced honey mix to vodka, pour it in a martini glass and serve it beside a do-it-yourself puri plate. "We serve all the key ingredients that are used in a typical pani puri," said Hit Wicket co-owner Shubha Ramesh Kumar. "But, we have the shot of vodka separate and leave it to our patrons to mix everything into a cocktail, just like how you eat a pani puri." At least, it's sort of how you eat a pani puri but either way, definitely an fun rendition. 1172 Cambridge St., Cambridge, MA 617-945-9259
San Francisco: Dosa
Though they don't serve the same chaat every night, head to this intimate eatery in San Francisco's Mission District on Mondays for their take on pani puri. Yes, they use the same type of small, hollow crispy rounds for the puri, but for the pani they make a spicy and sour mix of mint and cilantro. This gets poured over the fresh mesh of tamarind chutney, roasted black chickpeas, mung bean sprouts, spiced potatoes and roasted butternut squash. It's like a little bit of India, with a California kick. 995 Valencia St., San Fransisco, 415-643-8823
Houston: Kiran's Restaurant & Bar
At this chic, French-influenced Indian joint in Houston, TX, chef and owner Kiran Verma displays a knack for taking something as inelegant as street food, and gives it an upscale twist. Take her version of pani puri, or pani poori, here Verma uses puffed wheat crisps, fills them with a tender potato and garbanzo medley, and pairs a homemade tamarind and mint water on the side. She still refers to the dish as street food, but for some reason, when combined with the Kama Sutra cocktail, it just feels sexier. 4100 Westheimer, Houston, 713-960-8472
Chicago: Vermilion
The upscale restaurant Vermilion in Chicago's North Side dishes up their own version of Indian staples — think blackened tamarind-glazed ribs, duck vindaloo arepas and artichoke pakoras. Yet, though they offer a modern, Latin American twist on characteristic dishes, like their Juhu Ki Pani Puri, which remains a classic rendition with spiced potato and chickpea chaat, chili-mint water, and crispy shells. However, they also have a Pani Puri Margarita, an interesting cocktail made with the pani, and topped with one of the fried puri shells. 10 W Hubbard St., 312-527-4060, Chicago; no website\
More street eats on Food Republic:
KF Seetoh's Singaporean Street Food Revolution
Play The Thai Street Food Guru Game!
Watch Spicy, Buttery Dosa Porn Straight From A Mumbai Streetside