If You're Bored With Zucchini Bread, Upgrade To Green Tomatoes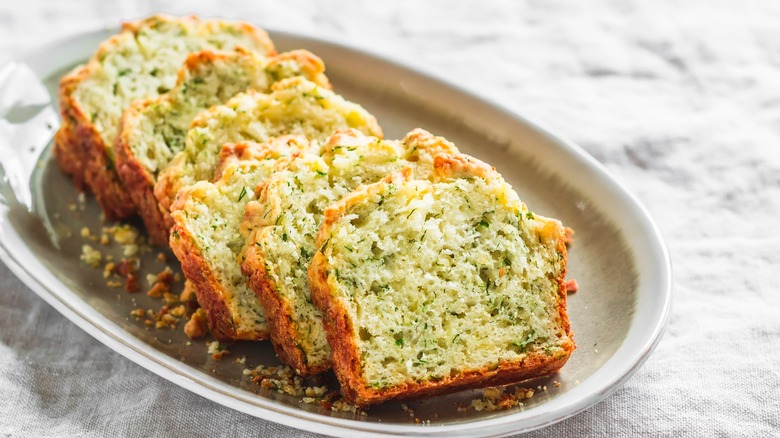 Kiian Oksana/Shutterstock
Whoever invented produce-infused quick breads was a culinary genius — or at least an adventurous chef with loads of extra vegetables and fruits. Regardless, we owe that person some delicious gratitude when whipping up luscious banana, zucchini, pumpkin, or the well-loved German Christmas stollen bread. But there's a new kid on the culinary bread block, and its rising claim-to-fame centers on an unlikely vine fruit: the green tomato. Similar in composition to zucchini bread, green tomato bread falls into the "quick breads" category, also known as "sweet breads." 
These prized home-kitchen breads require no yeast, no rising time, and they're easily adaptable as breakfast bread, sweet dessert, or a savory snack. Like the now-staple zucchini bread, green tomato bread is easy to make and bake using a simple loaf pan and is open to interpretation by any chef. It's both sweet and savory, soft in the middle, crunchy on the outside, and complements many spices and nuts. Green tomatoes liven things up because of a tangy tomato taste that turns sweet as the bread bakes. 
Making green tomato bread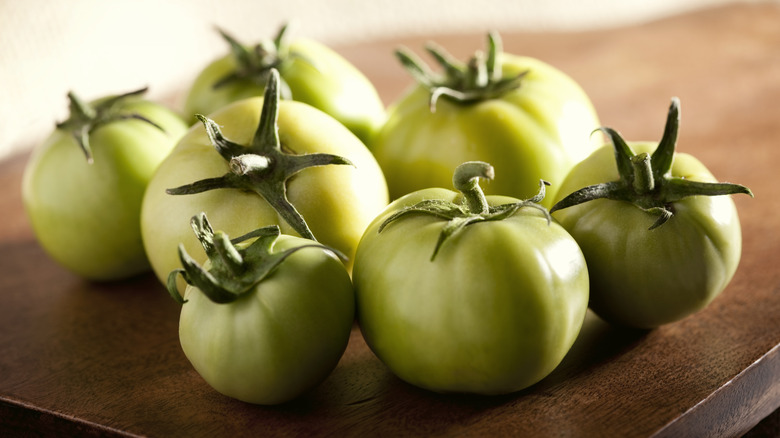 Duckycards/Getty Images
Green tomatoes can be any variety, grown anywhere — they're just picked before they're ripe. That's the essential secret of green tomato bread and what gives it that bright, tangy-turned-sweet flavor. 
With genuine unripe green tomatoes in hand, you're ready to give it a go. For your first loaf of green tomato bread, try adapting your favorite zucchini bread recipe. The two breads have a similar consistency and require the same heat levels (325 to 350 degrees Fahrenheit) and cook times (45 minutes to an hour). The main ingredient in each bread, the zucchini and the green tomato, is firm and generally retains its shape while baking. By comparison, if the tomatoes where ripe and red, they'd likely turn mushy. 
Like most quick breads, the primary ingredients, apart from the green tomatoes, are flour, sugar, oil, eggs, vanilla, baking powder, and baking soda. From there, personalization is up to you. Good additions could be any combination of raisins, cranberries, cinnamon, nutmeg, cloves, or toasted pecans or walnuts. The tasty and nutritious green tomatoes can be diced or grated, with the skins or seeds included. You could even try using a mix of zucchini and green tomatoes in the same recipe. 
How to enjoy green tomato bread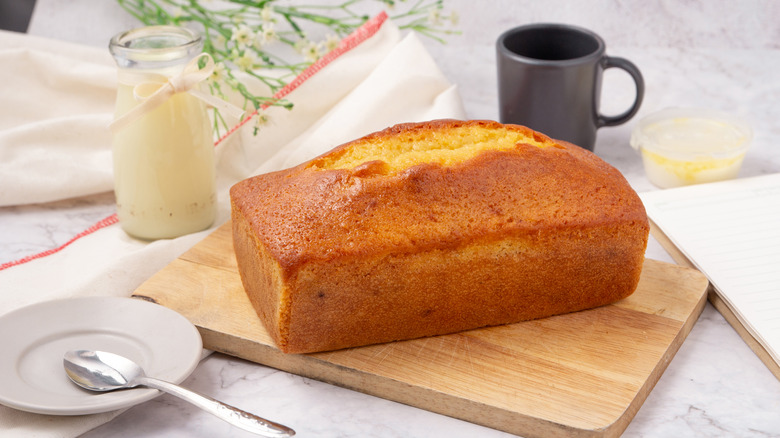 Photour.1904/Shutterstock
Since it's a quick bread, green tomato bread comes out of the oven ready to devour. For a slightly sweet, savory brunch or afternoon snack, eat a slice as-is or spread with a layer of butter, whipped cream cheese, or jam. Try melting some cheese over the bread and serve with eggs for a creamy, hearty breakfast. You can crisp the bread under the broiler or toaster oven, though a standard bread toaster isn't the best idea –– because the soft, pliable bread could crumble into the heating elements. 
Whether it's high tea or after-school snack time, slice green tomato bread into squares for the perfect finger food. Then there's the option to rev up the sweetness factor for a tasty dessert by creating a cream cheese frosting or drizzling the entire loaf with chocolate sauce. You could also infuse some chocolate directly into the bread batter before baking, and top it with vanilla ice cream.   
Regardless of how you incorporate this tangy sweet bread into your culinary repertoire, a few tips could make things easier. Tender quick breads, including this green tomato bread, hold up better during slicing if you refrigerate the loaf first. For eating, let the slices come back to room temperature. Make two loaves at a time and freeze the second one for easy access on busy days. To keep the loaf tasty for a couple of months, be sure to use airtight freezer bags or appropriate alternatives.