Ina Garten's Favorite Cutting Board Is A Versatile Luxury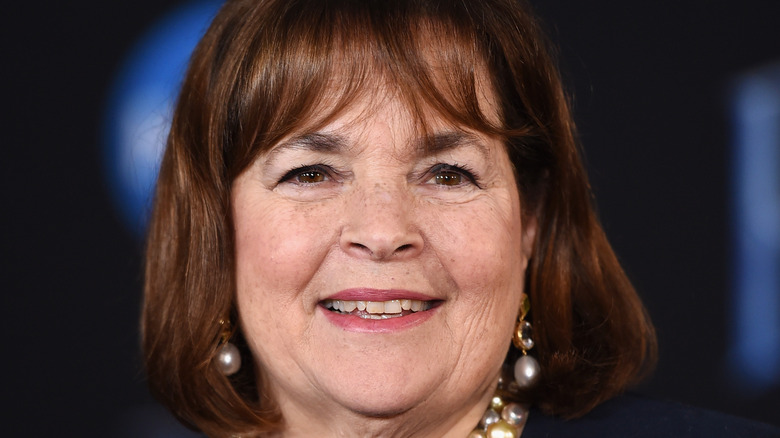 Amanda Edwards/Getty Images
Ina Garten is famous for loving her "good vanilla" and other high-quality ingredients, and these ideals extend to her cooking tools as well. The celebrity chef's recipes are extremely precise, so she has a few go-to brands she relies on to craft consistently delicious and aesthetically pleasing dishes. 
One of those kitchen essentials, and arguably the most-used of them all, is a good cutting board. For Garten, a cutting board isn't something she stashes away in a cabinet somewhere; it's a permanent fixture in the kitchen that's used each and every time she prepares a meal — and it goes far beyond slicing and dicing.
So when you take a peek inside that beautiful, country-style East Hamptons kitchen we all know so well from her hit Food Network shows, there's one cutting board you'll always find on the Barefoot Contessa's counter: a large, thick, durable Boos Block.
Why Barefoot Contessa loves her Boos Block
Garten's specific go-to is the Maple Wood Cutting Board from the John Boos R-Board Series. You'll see it all over her Instagram, and she's included the block in her top 12 product picks for Williams Sonoma. It's touted as the "#1 cutting board choice of culinary professionals worldwide", which has been proven by several other celeb chefs proclaiming their love for the board as well, from Alton Brown to Giada de Laurentiis.
So what makes this Boos Block so great? First of all, its wood is sustainably sourced, and it offers a solid, stable surface that's thick, heavy, and durable enough to handle any kind of chopping, slicing, or pounding. This particular cutting board is also reversible, which means an already long-lasting product will last essentially twice as long.
Because this board is so durable and stays in good shape regardless of frequent use, it offers a lot of versatility. And versatility is certainly something a pro-entertainer like Ina Garten values — whether she's using the block to cut and chop, arrange appetizers and charcuterie boards, or present and serve one of her beautifully crafted meals.
Maple wood: a superior cutting board choice
The key to the Boos Block's durability and versatility lies in the type of wood it's made with: North American hard rock maple. There are several reasons why maple in particular is the industry standard for reliable, high-quality wooden cutting boards, and loved by culinary professionals everywhere.
First, because maple is a type of hardwood tree, it grows slower and becomes dense in the process, which is why it provides such a durable, long-lasting surface. Because this heavy, hardwood can withstand a lot of force, it holds up well against continual cutting and chopping, all while protecting your knife's blade.
And while some wood isn't necessarily safe for food handling because it can be toxic, maple is a closed-grain wood with small pores, which means it's more resistant to absorbing food and moisture and thus prohibits bacteria growth. That's why you'll notice that the Maple Boos Block is NSF-certified and meets professional-level safety standards.