The Most Decadent French Toast Is Actually A Sandwich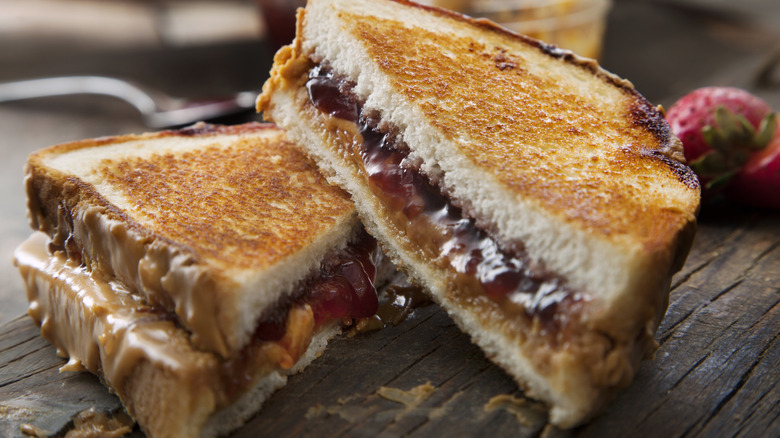 Lauripatterson/Getty Images
French toast is one of those delectable breakfast staples that breathes the most wonderful new life into day-old or stale bread. By dunking the bread into an egg custard and then pan-frying it, you get something that is crispy on the outside and silky-soft on the inside. Making good use of bread that's just sitting around is always a win. And every time we manage to prevent food waste, it feels like a cause for celebration.
If your bread has gone moldy, just toss it out. Stale bread, however, is fair game for French toast, as you'll rehydrate it when you soak it in your egg custard mixture. Traditionally, you'd spread your favorite syrup or cinnamon sugar on top of your French toast, but who made the rule that the sweetener should only be a topping? And why are individual slices of bread the only way to go? Why not coat and fry two slices of bread with something delicious in between them? 
You might not typically associate peanut butter and jelly with breakfast. But once these familiar companions are dunked in custard and fried, they transform your French toast into a dish that will become the talk of your breakfast table, likely for days or even years to come.
A sweet offering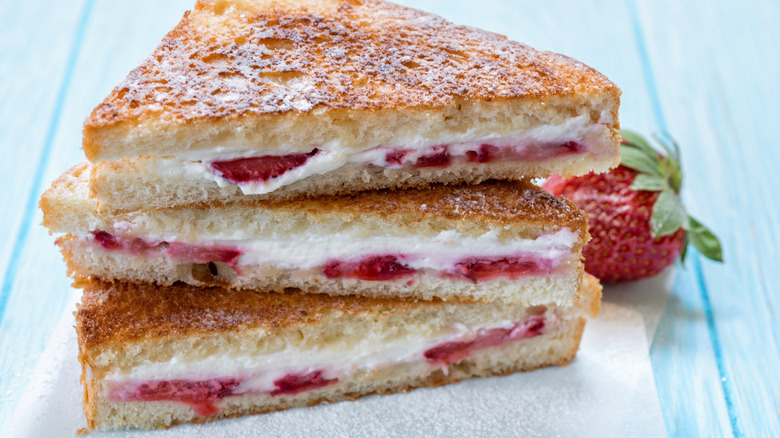 Elena Shashkina/Shutterstock
Stuffed French toast is pretty common. Chefs will cut thick slices of bread and then stuff the middle with cream cheese or fruit preserves, such as jam and marmalades. But if all you've got is sliced bread, you're absolutely equipped to whip up something divine. 
If you happen to have nut butters taking up space in your pantry and you're not sure what to do with them, try adding them to the breakfast menu by turning them into a French toast version of a peanut butter and jelly sandwich. Spreading your preferred preserves and nut butters between two slices of bread before they take a dip in your French toast custard not only adds a new layer of flavor but introduces a delightful texture contrast. Just ensure you're mindful with your jam, jelly, or preserves, as an excess can lead to burning when it meets the hot pan.
Stale bread works well for French toast, but so does leftover banana bread, zucchini bread, and pumpkin loaf. What would be more appealing during the fall than a mixture of honey and cream cheese spread between two slices of pumpkin bread that then becomes French toast? Just cook the sandwiches as you normally would with French toast. Soak them in the egg custard before frying them in a bit of butter, or your favorite cooking spray, and flip them once the bottom side has a nice golden color. Since you're adding a sweetener inside, taste them before dousing them with syrup. That way, you can get the balance of sweet and savory just right.
Try a savory version
Lauripatterson/Getty Images
While it's most common to think of French toast as a sweet offering, there's no one telling you that you can't do a savory version. If you don't sweeten your egg custard at all, then you're all set to make a savory French toast sandwich for breakfast. 
The reason the nut butter and jam work well is because they hold the bread together before it's dipped in the custard and then laid on the pan. So as long as you use ingredients that will help the whole thing stay in place, you can make a savory version. If you don't have a béchamel, cheese spread, or mayonnaise to hold your savory ingredients together, try using toothpicks.
Given the relatively brief cook time of French toast, avoid ingredients that need a long while to cook, like uncooked bacon or sausage. If you're going to use meat, try cooked bacon (including variants like Canadian bacon), sausage, or ham. As for what kind of savory sandwich you should make, the possibilities are truly endless. Anything that goes with eggs and bread can work with this technique. A play on a croque monsieur works well as the béchamel would keep the ham and cheese in place between the bread. You could also create a savory French toast dish with bacon, eggs, and cheese, or even an eggs benedict-inspired version, topped with a poached egg and some hollandaise sauce. Just let that creativity flow!