The Best Cheeses To Give Avocado Toast A Creamy Boost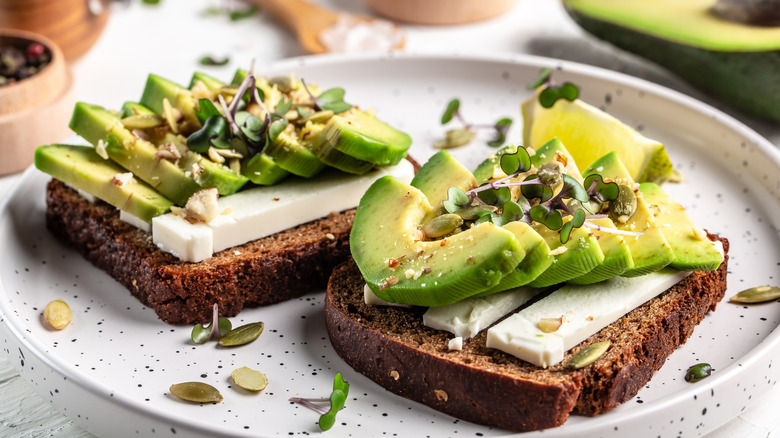 sweet marshmallow/Shutterstock
Avocado toast is the culinary Wild West, meaning that just about anything goes. The array of potential toppings is vast, ranging from poached eggs and smoked salmon to mozzarella balls, mushrooms, sautéed greens, prosciutto, pine nuts, and even curly cucumbers packed with dill, among other delicious options. Avocados are a given, but they could be sliced, mashed, minced, or mixed with spices and herbs. Whatever direction your whims dictate, save some experimental energy for creamy cheese options. 
A nice, smooth, spreadable cheese such as goat cheese, brie, burrata, mascarpone, and cream or cottage cheese can boost the somewhat neutral flavor of avocados while also providing a balance for the crunchy texture of the toast. The soft cheese beneath the avocado can serve as a cradle base, keeping slices or piles from sliding off. A dab of creamy cheese between layers lets you pile up the toppings to form an artful culinary crescendo.
There is an abundance of soft and pliable cheeses to choose from, each one capable of being transformed into the perfect complement for your avocado toast masterpiece.
Creative cheesy options for avocado toast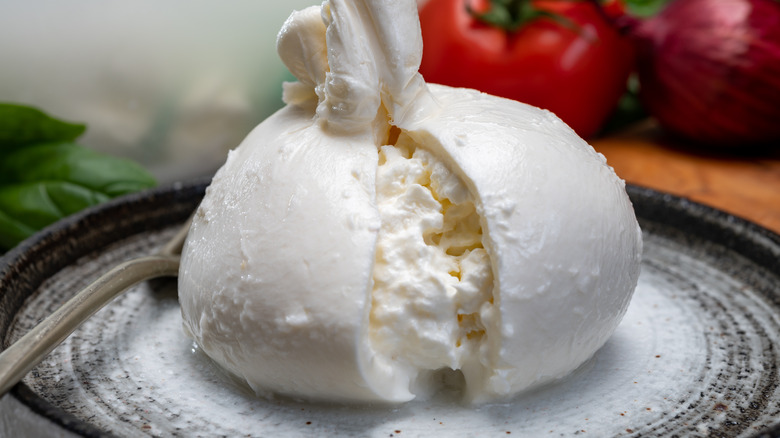 barmalini/Shutterstock
Crumbly cheeses such as feta, blue, ricotta, and asiago quickly become avocado-toast options after tossing them in a blender to smooth and lighten their consistency. You can also add some nutty or sweet flavor to your toasty treat with a dollop of crème fraîche, either plain or lightly sweetened with a tinge of honey or brown sugar. Just be careful not to overpower the natural deliciousness of the avocados.
For example, goat cheese has a somewhat strong taste that's not for everyone, and it can quickly define the flavor of your layered creation. Unless you really love the earthy and somewhat tangy taste of goat cheese, also known as chèvre, it's probably best to try small samples of the avocado and chèvre combo before going all in. Meanwhile, fresh berries can be effortlessly mashed into most types of soft cheese, instantly bringing them to life. Fresh blueberries in particular are compatible with the taste and texture of avocados, but frozen ones work just as well when thawed and blended into ricotta or cream cheese. 
Blueberries have the added benefit of splashing rich color into your avocado toast concoction. But other natural food dyes could do the same thing, so you can also use turmeric, paprika, tomatoes, or beetroot.
Premade cheese spreads for creamy avocado toast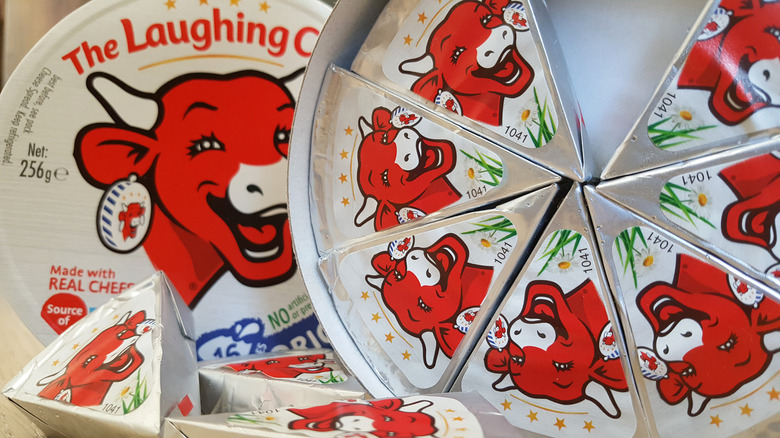 haireena/Shutterstock
By utilizing premade cheese spreads, you can broaden your options for avocado toast and even incorporate cheeses that are not typically available in a soft form. Cheddar spreads incorporate everything from port wine to horseradish, toasted onions, and smoky bacon or beer flavors. Cheese spreads are also an easy way to spice things up with habanero or even ghost pepper infusions. 
You can find readily available French-style herbal spreads, such as Boursin, Laughing Cow, and Alouette, which maintain a light and elegant taste. Additionally, Trader Joe's offers an Unexpected Cheddar Cheese Spread that can introduce a savory complexity to the typically mild flavor profile of avocados.
If you prefer homemade spreads, such as Southern pimento cheese, just use your favorite family recipe, smear it onto the crunchy toast, and top it with avocados and more. Any number of cheese spread recipes are available online to add velvety texture, flavor, and piquancy to your avocado toast. Soft cheeses and avocados live in the creamy realm of the food kingdom, so you might want to crunch things up a bit. Try tossing in some finely chopped cashews or almonds for extra texture and flavor, or dice up some celery to liven up the cheese spread.