When Life Gives You Lemons? Make Pimento Cheese.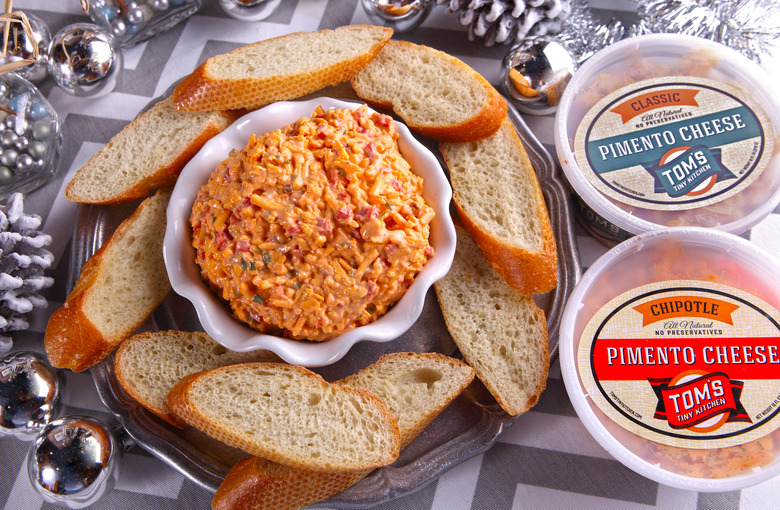 Welcome to What's Your Story?, our feature about innovative entrepreneurs in the food industry. Find out what goes into the making of a new and innovative food brand, how the product is made, who designs the packaging. All these questions, answered...
A layoff in 2009 left Georgia native Tom Flournoy jobless for the first time in his life. After two years of hunting for work during the height of the recession, the 61-year-old MBA decided to direct his search to the confines of his own — tiny — Memphis kitchen. "I first started making cookies, but everybody makes cookies," he explains. "Thank goodness my sweet wife reminded me of pimento cheese."
Flournoy was no stranger to the Southern specialty: He had grown up on his mom's rendition of the cheese, mayo and pimento recipe, which would serve as the archetype for his own batching. Still, he did his homework, taste-testing his way through every other pimento cheese available in the Memphis metro area. He noticed the compromises producers were making, in terms of quality, in order to satisfy high quantity demands. He saw an opportunity.
He sought out quality ingredients — Wisconsin sharp cheddar cheese aged nine months and Salinas, California-grown pimento peppers — for his own riff, which debuted at farmers' markets in 2011. After a year, the team encountered great reception, including their first retail landing, and only one unanimous request: a product with more kick. Flournoy swiftly obliged. "Jalapeños didn't add the right flavor, so in order to get a little heat, we tried chipotle," he recalls. "It has a little heat, a smoky flavor and it's different."
Since then, the company has far outgrown Flournoy's kitchen, and its current production of 5,000 units per week requires all hands on deck. Flournoy oversees production and deliveries, his wife Jill manages bookkeeping and product development, and his son Ross handles all web orders and media inquiries. Their collaborative efforts have paid off: The Original and Chipotle offerings are now available in independent and major grocery stores (including Kroger and Whole Foods) in five Southern states, and Flournoy plans to expand to the rest of the country soon. Until you see it at a store near you, take advantage of the company's online store.
With the planned national expansion, Flournoy hopes to dispel the notion of the dish's strictly Southern appreciation. "We know instinctively that this isn't just a Southern product. This is a product that tastes good," affirms Flournoy. Still, there's no doubt about where the specialty started — in the South, and in sandwiches, just like the ones Flournoy's mom used to make.
Social media confirms it. "A few months ago, some friends from my hometown had seen our Facebook page and commented that the best pimento cheese sandwich they'd ever had was the grilled pimento cheese sandwich my mom used to make for them at the soda fountain," Flournoy says. However, he argues that the preparation lovingly dubbed by many as "the caviar of the South" extends far beyond bread filler. "Essentially, it works anywhere you would consider putting cheddar cheese on a dish, from hamburgers and hot dogs to chili and steamed vegetables." Room temperature is the way to go to experience the full flavor of the recipe, but a quick nuke never hurts, either, especially for the dip-inclined.
Ultimately, Flournoy doesn't care how his fans enjoy it — just as long as it tastes good. It's the positive feedback he's garnered over the years that has served as validation for the initial lightbulb moment. "It's never too late to try to start your own business," he says. "It can be tremendously rewarding."
Previously on What's Your Story?: