Get More Sensation Out Of Spicy Foods With A Strategic Red Wine Pairing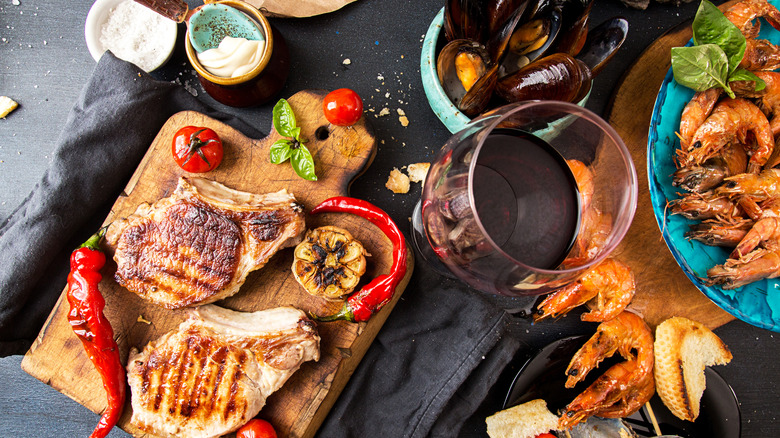 two_meerkats/Shutterstock
Even the biggest fans of spicy food will tell you that with every spicy dish, there is a perfect drink pairing to balance or enhance the heat. Chicken vindaloo, for example, might be served alongside a mango lassi, and al pastor tacos might be accompanied by a light Mexican beer. But of all the possible pairings, it's rare to see a glass of red wine served alongside a fiery plate of hot wings.
Many people have experienced the burn that comes from drinking red wine after eating something spicy, and there's a reason for that — red wine can act as an irritant when eating spicy food because the tongue is already sensitive to the heat from a spicy dish.
But if you're looking to bring out the spice in a dish (without feeling like you've scraped your tongue with sandpaper), a glass of red might be the perfect thing — as long as it's selected correctly.
Wines to avoid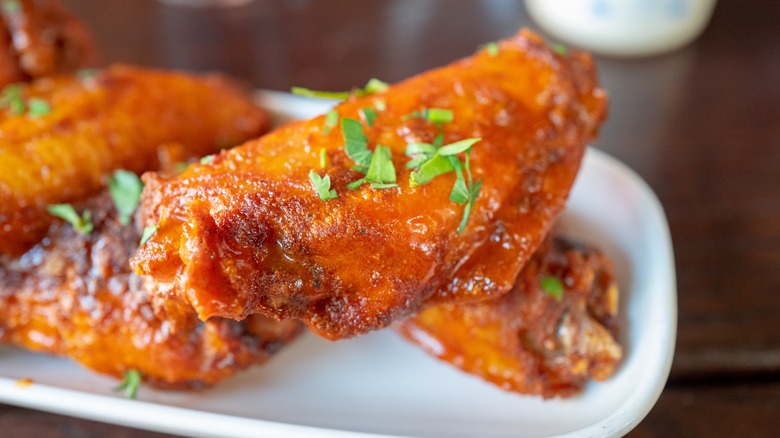 Smith Collection/gado/Getty Images
While sweet wines or mineral white wines like Riesling or Albariño might seem like the intuitive match for spicy food, a light red wine is not to be underestimated in these situations.
You want to steer clear of full-bodied tannic red wines. Tannins can make your food taste more bitter, which tends to be overwhelming when it comes to spicy food. Anything oaky is also to be avoided, since oak-forward wines overshadow most other flavors, confusing the palate. Another important factor to consider is alcohol content. Since alcohol can irritate the taste buds, low-ABV wines will sit easier with your ghost pepper curry, while strong California-style reds will bring the wrong kind of tears to your eyes.
While sparkling wines are a common pairing with spicy food (the heat makes the tongue extra sensitive to carbonation, creating a pleasant pop rocks-like sensation), anything that is too carbonated may prove painful.
How to pair red wine with spicy food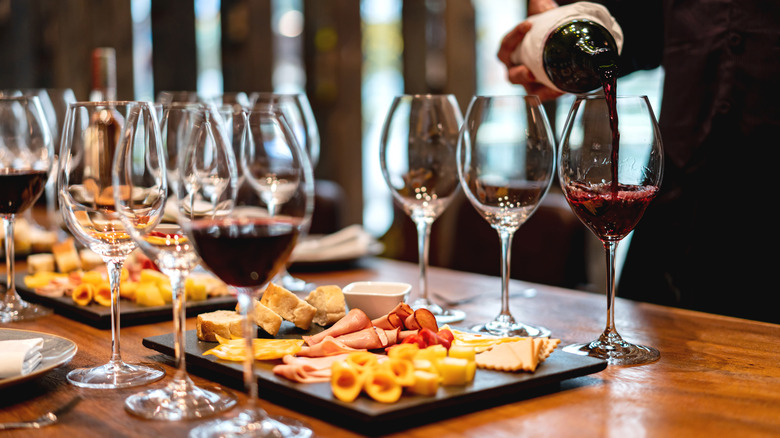 Andresr/Getty Images
A crisp, low-alcohol red wine with a lot of fruitiness and acidity is your best bet if you want to avoid breaking out into a sweat at dinner. Bonus points if you can find a wine with spicy notes — like a peppery Syrah — that will only be accentuated by your food. Light red wines like Beaujolais, Pinot Noir, Schiava, Zinfandel, or Barbera are all great choices.
Jammy reds like Zinfandel will also offer a certain amount of relief while eating hot dishes, with the fruitiness bringing out other spices in the meal that might otherwise be overpowered by the spicy elements of the sauce or marinade.
Try a sparkling red wine like a Lambrusco, especially if chilled. Pecking House in Brooklyn, for example, serves a spicy fried chicken sandwich that can be paired with a can of Frico Lambrusco. (You can also chill some of your other light reds for added refreshment, such as a Schiava, Gamay, or Pinot Noir.)