Xuixo Is The Croissant-Like Pastry That Was Named After A Sneeze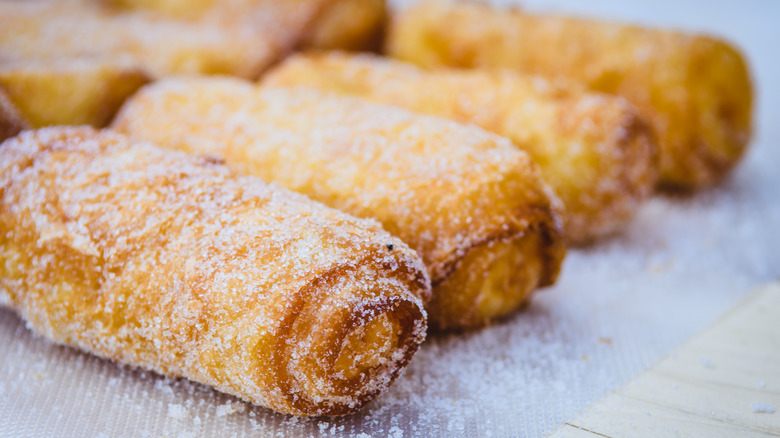 CRISTIAN IONUT ZAHARIA/Shutterstock
There has never been a better time to eat a croissant. With the cronut, cruffin, cragel, and cube croissant all drawing long lines of hungry snackers to trendy bakeries around the world, it is time to revisit a local Catalan version of the croissant known as the Xuixo. Found in Girona, Spain, and elsewhere in Catalunya, this crunchy croissant-like pastry filled with spiced and citrusy sweet cream is a regional favorite that would be rare to come across elsewhere in the world.
The Xuixo is so beloved in Catalunya that the Catalan government designated it as a Producte de la Terra, or "protected regional dish." Every year in the Catalan city of Girona, where the pastry originated, the city puts together a march called the Marxa del Xuixo; which is used as a fundraiser for supporting cancer patients ... but it's also an excuse to eat these delicious pastries by the dozen.
How is Xuixo made?
Xuixo is a viennoiserie, or laminated pastry similar to a croissant — only instead of being baked, it is deep fried, coated in sugar, and filled with crema catalana. Crema catalana is a type of custard similar to crème brûlée, but flavored with citrus and cinnamon. 
The final product is cylindrical, crispy on the outside, and filled to the brim with gooey custard with elements of both a churro and a croissant. It is often eaten for breakfast or afternoon tea, often called "berenar," which takes place around 4 or 5 p.m. as children go for their post-school snack.
Every year since 2018, the Fòrum Gastronòmic de Girona has held a contest for the Best Xuixo in the World — which was won by pastry chef Agustí Gardella's Juhe pastry shop in L'Escala, Spain, who beat out thirty other bakeries for the prize. Other winners have included Pa Artesà del Vallès bakery in Santa Perpetua de la Mogoda, and Padrés bakery in Banyoles.
History of Xuixo
While the timeline of Xuixo's invention is murky, there is a common legend about how the pastry got its name. According to Gastro Obsucra, an acrobat by the name of "el Tarlà" fell in love with the daughter of a pastry chef while he was in town performing as a way to cheer up victims of a plague. Which plague in particular is never specified, but the tale supposedly takes place in the 1920s. 
While hiding in the pastry chef's bakery to catch a stolen moment with his lover, Tarlà gave himself away with a sneeze. He was caught by his beloved's angry father, and offered a marriage proposal and a pastry recipe in order to appease the chef. The pastry was named Xuixo, pronounced "shoo-shoo" or "chucho," in order to sound like the sneeze that got the acrobat caught. 
Other stories claim that the Xuixo was actually invented by Gironda pastry chef Emili Puig in the 1920s, named after the French choux à la crème, but that's perhaps a less interesting origin story than star-crossed lovers.