Everything You Need To Know About Nigella Seeds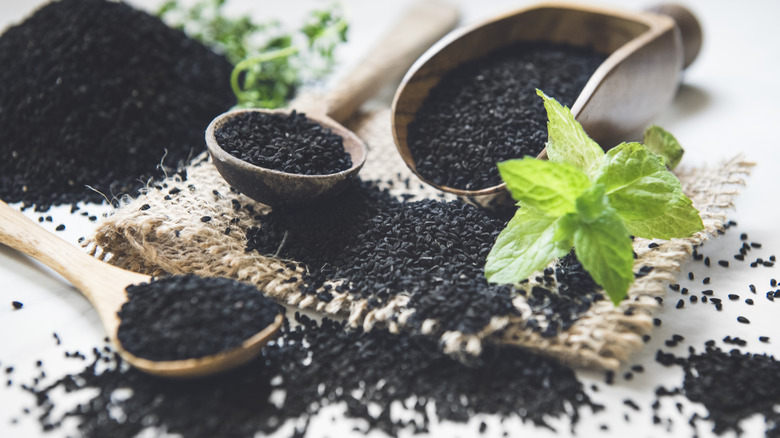 Rouzes/Getty Images
Lior Lev Sercarz is a classically trained chef and founder of La Boîte, a haven for spices in New York City. His new book, "The Spice Companion," is a comprehensive schooling on the origins, history, harvesting and drying techniques, uses, and recipes associated with the world's most important spices. Whether you're brushing up on your knowledge of peppercorns or learning about your culinary repertoire's new secret weapon, this is the book for you.
Flavor and aroma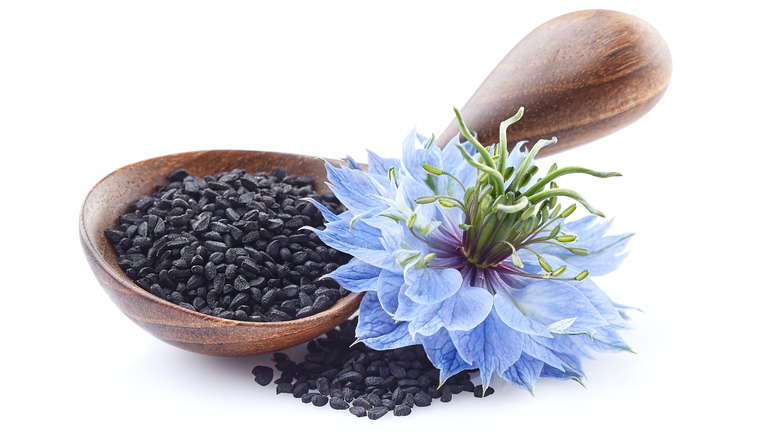 Dionisvera/Shutterstock
Nigella seeds are probably one of the most confusing spices. Over the years I've heard nigella referred to as onion seeds, black cumin, black caraway, and fennel flower, among others. Let's just simply call them nigella or kalonji (from Hindi). However you choose to name this spice, what it lacks in aroma — it has just a hint of a savory scent — it makes up for in taste. Nigella seeds have an oregano-like quality with herbaceous notes, a slight bitterness, and a warm, toasted-onion flavor. I like to add them whole to salads, sauces, and even soups at the last minute just before serving. They are a great replacement for sesame seeds without the sweet element.
ORIGIN Native to the Mediterranean region. Cultivated and found wild mainly in Egypt and India, but also in other parts of North Africa, western and southern Asia, Southern Europe, and the Middle East
HARVEST SEASON Nigella is an annual plant with delicate blue or white flowers that bloom in July. The fruit is a large seed capsule with up to seven follicles that contain small, pear-shaped white seeds — they only turn black when exposed to air. When the fruit matures in September, the capsules are gathered before they burst and are then dried and gently crushed for the seeds to be collected.
PARTS USED Seeds
ABOUT Nigella is a member of the buttercup (Ranunculaceae) family with about 1,700 other species of flowering plants. With all the names these seeds are called, it's no wonder they are so easily confused. In particular, the crescent-shaped kala jeera (Bunium persicum), more commonly known as black cumin, also goes by the same name. Its near cousin, Nigella damascena, or love-in-the-mist, often tries to take credit for this spice, but its flowers and seeds are merely decorative.
Nigella sativa seeds were said to have been found in King Tut's tomb and have been used for thousands of years as a preservative, a spice, and as the Prophet Muhammad claimed, a seed with healing powers. Whatever ability nigella may have to mend the ill, it certainly does wonders in savory pastries, pilafs, curries, vegetable dishes, and pickles. Nigella seeds also add great texture when sprinkled whole over baked goods or when added to the dough. I like to call it the "Middle Eastern poppy seed" since it is used so much on the bread back home.
In Asia, nigella seeds are sometimes ground into a powder or left whole and mixed into spice blends. Most notably, nigella seeds add a welcome crunch and herbaceous character when substituted for me in Bengali I, joining equal parts fenugreek, cumin, black mustard seeds, and fennel seeds.
TRADITIONAL USES
String cheese — Middle East
Potato stir-fry — Bengal
Naan bread — India
Korma (braised meat or vegetable dish) — India
Preserved lemons — Morocco
NOTE
Toasting not recommended
RECOMMENDED PAIRINGS
Spinach omelet
Red onion salad
Barley risotto
Grilled calamari
Yogurt pound cake
SPICE PAIRINGS
caraway, lemon peel, mustard seeds, paprika, thyme
RECIPE IDEAS
Mix whole nigella seeds with whipped feta cheese, yogurt, chopped capers, and lemon juice, and use them as a condiment for crudités.
Sprinkle nigella seeds on cooked fava beans and season with olive oil and lemon juice for a bright, satisfying side dish.
Coat small cubes of raw tuna with olive oil, lemon, and nigella seeds and serve as an hors d'oeuvre.
QUICK BLEND Ketazh
This savory, warm blend is great for seasoning lemon-roasted broccoli rabe. It also gives a wonderful texture to tuna salad when mixed with fresh mayonnaise.
Makes about 3 tablespoons
1½ tablespoons nigella seeds
1½ tablespoons dried savory leaves, ground
1 teaspoon crushed dried mint leaves
Scant ½ teaspoon dried fennel pollen
Reprinted with permission from The Spice Companion: A Guide to the World of Spices