Salmon En Papillote With Persillade Recipe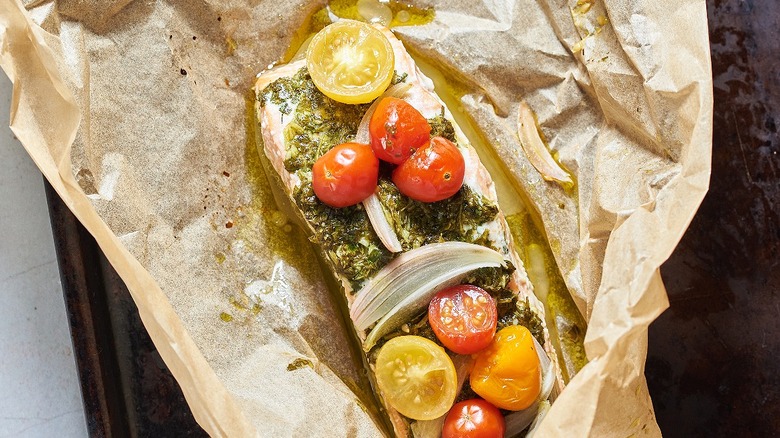 Michelle McGlinn/Tasting Table
The French technique en papillote simply translates to in paper and refers to food (usually fish) cooked in a pouch made of parchment paper or foil. This simple pouch cooks the fish gently with steam, leading to a soft, flaky fish within the parchment. In this recipe, the salmon is folded into a pouch with persillade, a parsley-forward sauce not dissimilar to Argentina's chimichurri. Flavors of fresh parsley, dill, lemon, and garlic incense the salmon, which cooks to a perfect tenderness in less than 15 minutes.
This method works beautifully on vegetables, too, which can be added to the same pouch as the salmon for an all-in-one meal. It's easy, flavorful, and makes for a beautiful presentation as guests unwrap steaming, fresh fish right from the oven. Enjoy this recipe from developer Michelle McGlinn with a glass of wine and a side of potatoes for a perfectly effortless summertime dinner.
Gather the ingredients for salmon en papillote with persillade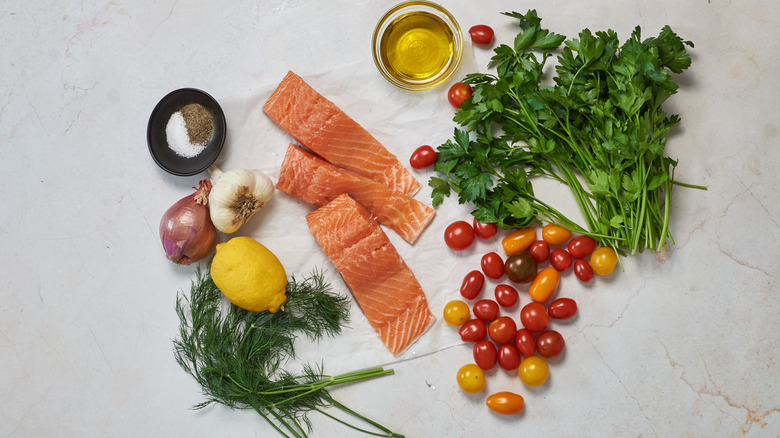 Michelle McGlinn/Tasting Table
To make the persillade, you'll need about one bunch of parsley, a few large garlic cloves, fresh dill, lemon juice, and olive oil. Grab some salt and pepper for seasoning the persillade, then get 4 filets of soft, pink Atlantic salmon. We don't recommend using Coho or Sockeye here, which do better in hot, direct heat. If you don't like salmon, this recipe also works well with soft white fish like cod. To add to the pouch, grab some cherry tomatoes and shallots. If you'd like to switch it up, you can also use asparagus, zucchini, or green beans, which all cook in about the same amount of time.
Blend the persillade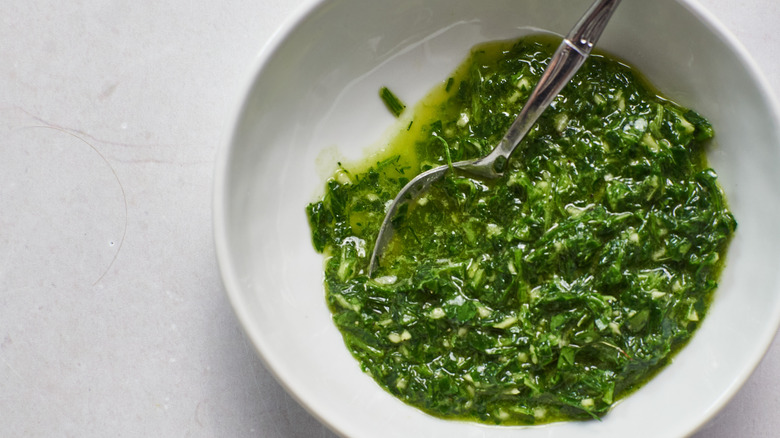 Michelle McGlinn/Tasting Table
To make the persillade, fill a blender or food processor with parsley, garlic, lemon juice, dill, olive oil, salt, and pepper. Pulse, then blend until the solids are finely chopped and the mixture is sauce-like. The olive oil and lemon juice emulsify similarly to a pesto or salad dressing, so the sauce will start to look almost creamy. Do not over-blend; you still want some texture in the sauce. A food processor is best for this.
Dressing the salmon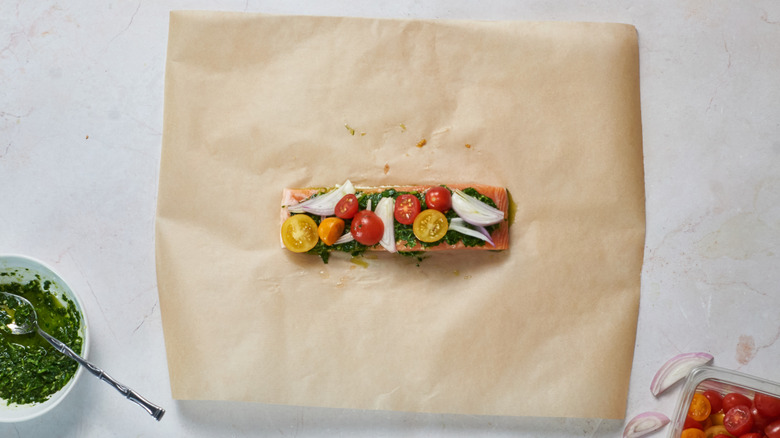 Michelle McGlinn/Tasting Table
Before you wrap the salmon in the parchment, add the sauce and veggies. Spoon the persillade onto the salmon and spread across the filet, then add the shallot and tomato on top. You can add as many vegetables as you like here, just make sure you have enough parchment to wrap the contents neatly together.
Folding the parchment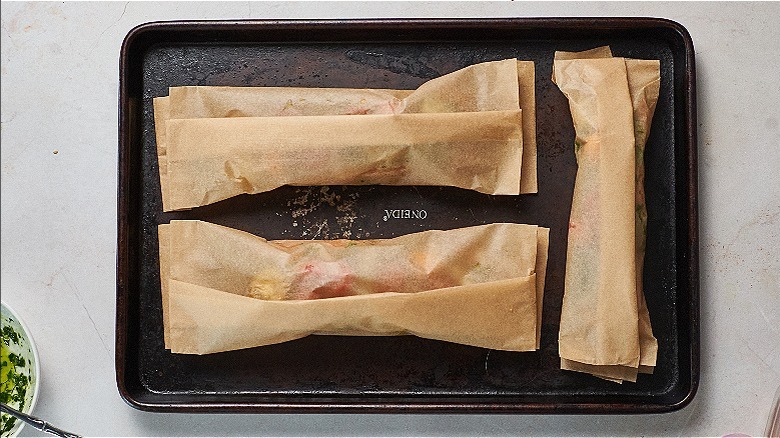 Michelle McGlinn/Tasting Table
There are many ways to fold parchment to make a pouch for en papillote. You can start with a circle and fold it into a half-moon to hold the salmon and vegetables inside, or you can start with a rectangle and fold the sides together like a present (it's actually easier than gift wrapping, so don't worry). In this method, start with a rectangle about double the length of the salmon filet — typically about 10 inches — and place the filet in the center. Align the longest sides up, then fold them together, folding over until the salmon is snugly enclosed. Repeat the folding technique on either side so that the salmon is enclosed on each side, then gently place it on a baking sheet. The parchment doesn't have to be tightly folded or closed, it just has to be sealed enough that steam is trapped inside. Repeat with each filet, placing the pouches on a sheet tray when finished.
Roast and serve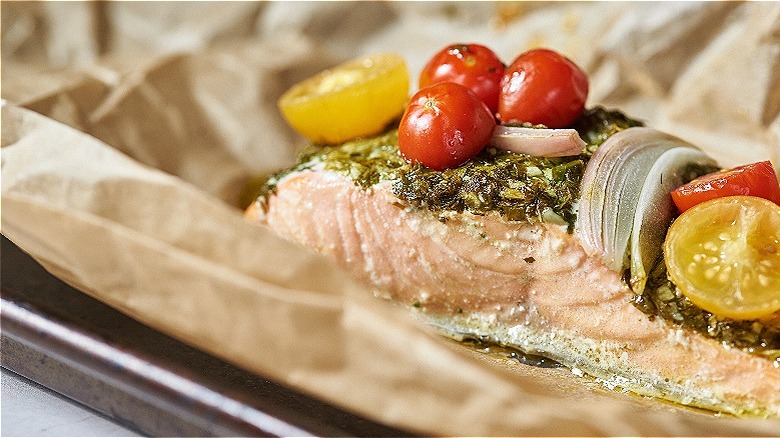 Michelle McGlinn/Tasting Table
Roast the salmon for about 10 minutes. To check doneness, you can use a kitchen thermometer or simply unwrap and check for a pale pink color and soft, tender texture that flakes away easily with a fork. Underdone salmon will still be quite firm and colorful, so leave it in a few minutes longer if this is the case.
The salmon en papillote is delicious with both rice and potatoes, which can be cooked while the salmon is in the oven. A tip? If you have extra persillade sauce, mix it with roasted potatoes for a really delicious side dish.
The salmon saves easily for up to a week in the refrigerator. For more composed sides, try buttered green beans, cheesy mashed potatoes, or Caesar salad and serve with extra persillade sauce on the side.
Salmon En Papillote With Persillade Recipe
Learn how to make this salmon flavored with herby persillade using the en papillote cooking method.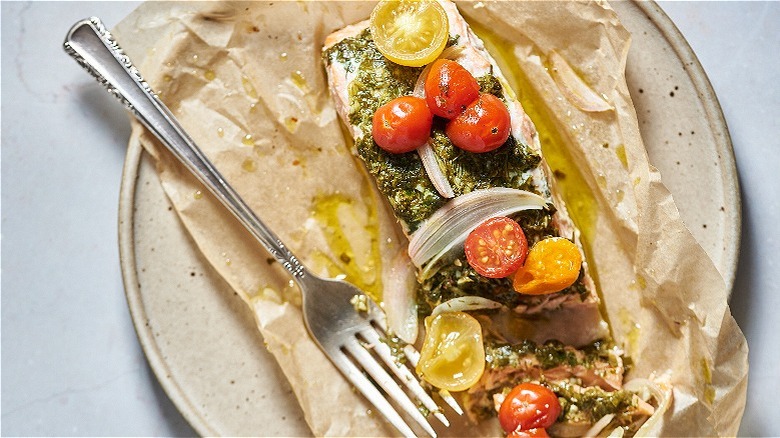 Ingredients
4 salmon filets
2 cups packed parsley
5 garlic cloves
¼ cup loosely packed dill
¼ cup extra virgin olive oil
Juice from ½ lemon
¼ teaspoon salt
¼ teaspoon pepper
1 small shallot, sliced
10 ounces cherry tomatoes, halved
Directions
Preheat the oven to 375 F.
Pack parsley, garlic, dill, olive oil, lemon juice, salt, and pepper into a food processor. Pulse until finely chopped, then blend for a few seconds until mixture begins to look creamy. Season to taste with salt and pepper, if needed.
Place a filet of salmon on a 10 by 12-inch piece of parchment paper. Add 2 tablespoons of persillade to the salmon, spreading in a thin layer across the top of the filet.
Add cherry tomatoes and shallot on top of the persillade. To wrap the salmon in the parchment, first bring the long ends together and fold to seal. Fold again, making a neat crease across the top of the salmon.
To seal the parchment, fold the sides, first folding over one inch, then folding again in the other direction to seal. Salmon should be tightly sealed into the parchment, with some room to steam in the middle.
Repeat the process with the remaining filets, then place them on a baking sheet. Bake in preheated oven for 10 minutes, or until cooked through and flaky.
To serve, unwrap the salmon from the parchment pouch.
Nutrition
| | |
| --- | --- |
| Calories per Serving | 983 |
| Total Fat | 67.0 g |
| Saturated Fat | 14.0 g |
| Trans Fat | 0.0 g |
| Cholesterol | 217.8 mg |
| | |
| --- | --- |
| Total Carbohydrates | 8.7 g |
| Dietary Fiber | 2.6 g |
| Total Sugars | 3.2 g |
| Sodium | 402.2 mg |
| Protein | 82.9 g |