100 Italian Food/Drink Words And Phrases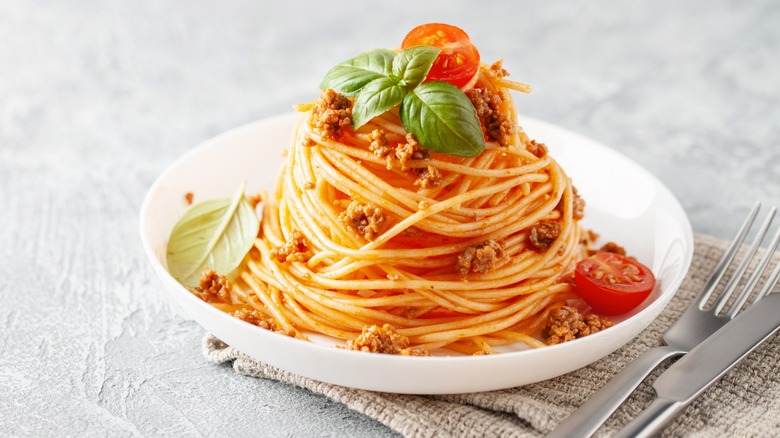 NatalyaBond/Shutterstock
If you haven't eaten your way across Italy yet, consider the advice of someone who has. Italian food varies dramatically from region to region, but you can rest assured that you will find pasta, wine, espresso, and gelato wherever you go.
I, however, suggest stepping out of your culinary comfort zone to try all (or almost all) the country has to offer. Here is a guide to the basics. When it fails, your best bet is to order what the guy next to you is having – "prendo quello che ha preso lui."
At the coffee bar:
Caffè – an espresso
Cappuccino – a breakfast beverage not to be ordered after lunch or dinner
Macchiato – an espresso "stained" with milk foam
Caffè shakerato – an espresso shaken over ice forming a fothy summer treat
Caffè corretto – an espresso "corrected" with a shot of liquor, often grappa
Grappa – distillate made from grape pomace, the leftovers from wine-making
Caffè americano – an espresso served in a cappuccino cup with hot water on the side not to be mistaken with...
Un americano – an aperitivo of Campari, sweet vermouth, and club soda
Cornetto – an Italian croissant also referred to as a "brioche" in Northern Italy
Succo di frutta – fruit juice
Spremuta d'arancia – fresh-squeezed orange juice
Un bicchiere d'acqua – a glass of water
At the pizzeria:
Pizza – a flatbread, often circular in shape, baked with or without toppings
Mozzarella – cow's milk cheese made by pulling or stretching the warm curd
Mozzarella di bufala – mozzarella made with buffalo's milk
Pomodoro fresco – fresh tomato
Salsa di pomodoro – tomato sauce
Basilico – basil
Origano – oregano
Acciughe – anchovies
Capperi – capers
Cipolle – onions
Peperonicni – red chilis, often dried and in flakes
Peperoni – bell peppers
Salame picante – pepperoni or spicy, cured sausage
Salsiccia – sausage
Ananas – pineapple, an unacceptable Italian pizza topping
Wurstel – hot dog, a passable Italian pizza topping
At the gelateria:
Fiordilatte  – "the flower of milk," theoretically made with the best part of the milk, meaning the cream
Panna – cream made without egg yolk
Crema – cream made with egg yolk
Cioccolato – chocolate
Cioccolato fondente – dark chocolate
Nocciola – hazelnut
Gianduja – chocolate hazelnut
Bacio – also chocolate hazelnut, but easier to pronounce
Stracciatella – chocolate chip, but with chocolate flakes rather than chocolate chunks
Fragola – strawberry
Lampone – raspberry
More – blackberry
At the paninoteca:
Panino – an Italian sandwich
Panini – more than one Italian sandwich. Panini is plural.
At the salumeria:
Prosciutto di Parma – salt-cured, air-dried ham, aged in or around Parma for months.
Prosciutto San Daniele – salt-cured, air-dried ham from San Daniele in the Friuli region of Northeastern Italy
Speck – dry-cured, smoked ham from Northern Italy
Coppa (in Lombardy and Emilia Romagna) – cured sausage made of pork shoulder
Coppa (in central Italy) – cured sausage made of pork head
Finocchiona – fennel-flavored cured pork sausage
Guanciale – cured pork jowl
Pancetta – pork belly, cured but not smoked. It's bacon with an Italian accent.
Pancetta affumicata – smoked pancetta
Porchetta – spit-roasted stuffed pig
Ingredients/dishes to look for:
Bottarga – salt-cured fish roe often from Sardinia or Sicily
Bruscandoli – hop shoots
Foccacia di Recco – a very thin flat bread filled with cheese. Arguably the most delicious thing you are likely to eat in Italy. Look for it in select parts of the Ligurian coast.
Frico – fried cheese served in Friuli
Granita – Sicilian shaved ice
Mascarpone – Italian cream cheese
Moeche – soft-shelled crabs from the Venetian lagoon
'nduja – spicy, spreadable pork sausage from Calabria
Ricci di mare – sea urchins, served seasonally in Puglia and Sicily
Funghi porcini – mushrooms with a big brown cap
Tartufo nero – black truffle, found year-round
Tartufo bianco – white truffles, available late fall to early winter
Good to know:
Colazione – breakfast
Pranzo – lunch
Cena – dinner
Merenda – snack, normally acceptable only if you are under the age of ten
Pane – bread
Olio extra vergine di oliva – EVOO
Formaggio – cheese
Carne – meat
Pesce – fish
Pollo – chicken
Maiale – pork
Maiale – pork
Cinghiale – wild boar
Di stagione – in season
Fuori stagione – out of season
Andato a male – gone bad
Vino – wine
Rosso/biano – red/white
Vino della casa – house wine
Vino della zona – wine produced nearby
Il conto – the check
Coperto – service charge, normally included in the check
Compreso – included
Escluso – excluded
Un'altra grappa, per favore – another grappa, please
Even better to know:
"Conosco i miei polli."
Literally – I know my chicken.
What it means – I know what I am talking about
"Sei come il prezzemolo."
Literally – You are like parsley
What it means – You pop up everywhere.
"Non fare il salame."
Literally – Don't act like salame.
What it means – Don't be a ham, you idiot.
"Non tutte le ciambelle riescono col buco."
Literally – Not all donuts come out with a hole.
What it means – Things don't always turn out as expected.
"Non puoi avere la botte piena e la moglie ubriaca."
Literally – You can't have a full wine barrel and a drunk wife.
What it means – You can't have your cake and eat it too.