Cajun-Style Corn Chowder Recipe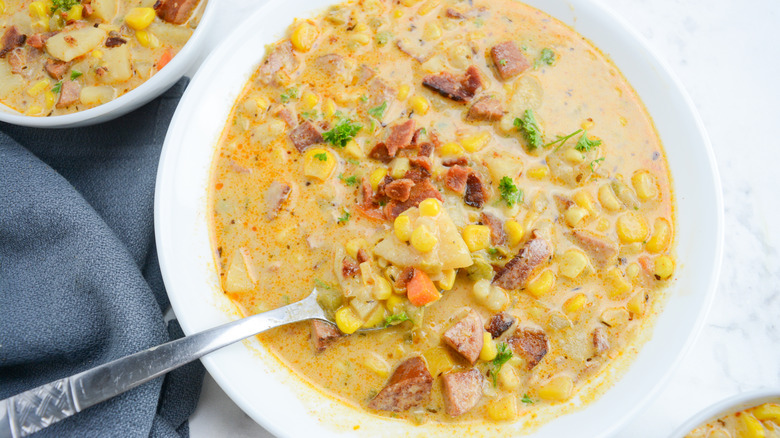 Joe Dillard/Food Republic
Corn chowder is delicious enough on its own, but Cajun-style corn chowder really amps up the flavors while staying true to the classic flavors of the dish. "Corn chowder is a thick and creamy dish that highlights fresh corn as the main ingredient," recipe developer Joe Dillard describes. "This twist on the classic adds a subtle heat and plenty of spice for a Cajun-style corn chowder." While a blend of spices helps influence the Cajun aspect of this dish, Dillard also adds, "Both andouille sausage and bacon to create a hearty dish with bold flavors throughout."
Between the corn, potatoes, sausage, and creamy broth, this chowder is as comforting as it is filling. Naturally, one might associate chowder with wintertime, seeing as the warm, comforting aspect comes in handy during colder months. Dillard assures us that this chowder definitely has a place in warmer months too, explaining, "Its bright flavors make it perfect for enjoying during the summer when fresh corn is easy to find and at its peak flavor." You really can't go wrong with such a classic, timeless recipe, so put those fresh ears of corn to good use and whip up this Cajun-style delight.
Gather the ingredients for Cajun-style corn chowder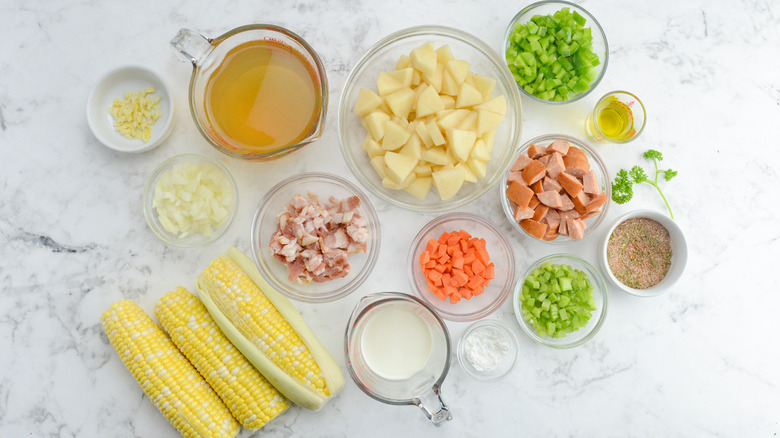 Joe Dillard/Food Republic
Naturally, corn plays a pretty vital role in this recipe, and Dillard uses three ears of fresh corn — both the kernels and cobs. "Fresh corn is ideal for this recipe, but if you cannot find it or it's not in season, both canned and frozen will work," he explains. "If using canned corn, you may want to add a can of creamed corn to replicate the creamy consistency that boiling the fresh cobs adds to the chowder."
Aside from the corn, you'll need bacon, andouille sausage, russet potatoes, a yellow onion, a green bell pepper, a carrot, and some celery. And don't forget those spices: a blend of smoked paprika, dried oregano, garlic powder, onion powder, dried thyme, cayenne pepper, salt, and black pepper. "Instead of making your own spice blend, feel free to use a cajun seasoning blend," says Dillard. "Some of those tend to have more salt and taste stronger, so start with 1 tablespoon and increase per your taste." 
To round out your ingredients list, you'll also need olive oil, garlic, chicken broth, heavy cream, and cornstarch. And, before diving into the recipe, Dillard stresses the importance of making sure that all of your slicing and dicing is done before any burners go aflame. "Once the recipe begins, it can move quickly, so it's best to have everything prepared so it's ready to grab when you need it," he explains.
Sauté the bacon, andouille sausage, and vegetables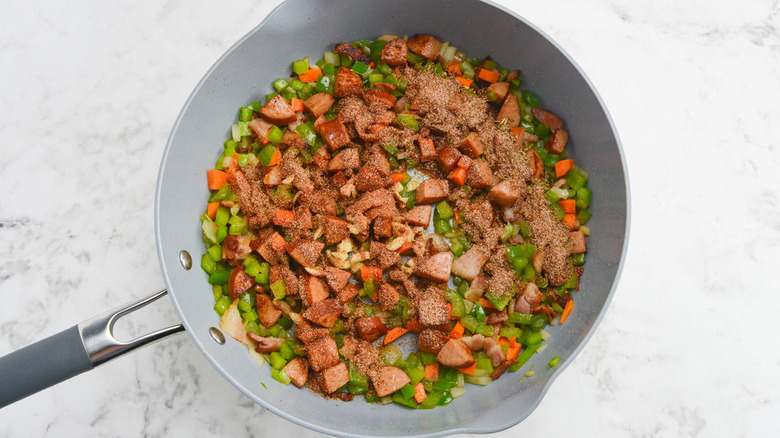 Joe Dillard/Food Republic
Kick things off by adding both the chopped bacon and andouille sausage to a large pot over medium heat. Cook the meats until they begin to brown, which should take 7 to 10 minutes. Next up, add in the diced onion, bell pepper, carrot, celery, and olive oil, giving the vegetables about 10 minutes to soften up. "Don't skip sautéing the vegetables," Dillard advises. "It allows the flavors to develop before they're boiled, which seals in their natural taste." 
Once the vegetables have softened, you can add in the minced garlic and all of the seasonings. Stir to equally distribute the seasoning then cook for another 2 minutes. Keep in mind that you can adjust the spices to your liking, a perk of making your own blend as opposed to using a premade one. "For a milder version, omit the cayenne. To kick things up a notch, add more cayenne, red pepper flakes, or a dash of hot sauce to your liking," Dillard suggests. 
Add the potatoes and corn then simmer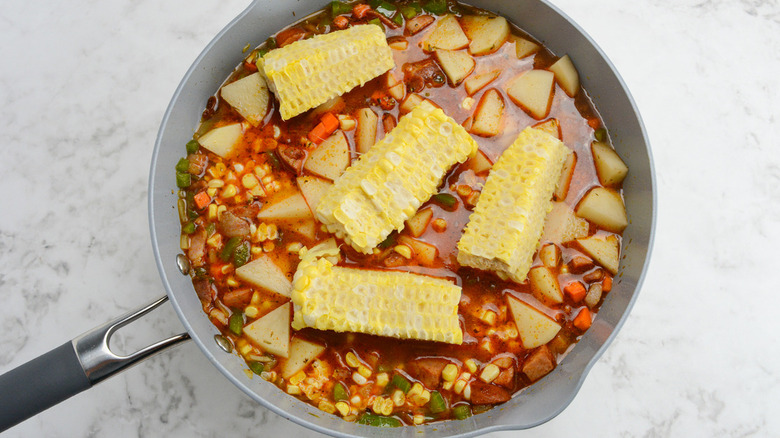 Joe Dillard/Food Republic
Both the potatoes and corn can go into the pot at this point, followed by the chicken broth. Then break the corn cobs in half and add those to the pot, too. It may seem a bit odd, but Dillard assures us that the pulp left in the cobs will help provide that milky texture that is oh-so-desired in a chowder. Place the lid on the pot then bring the chowder to a boil for 2 minutes, before reducing to a simmer for 18 minutes. 
After the 18 minutes is up, remove the lid from the pot and cook for another 10 minutes. Then, remove the corn cobs from the pot. If you know that you enjoy chowder on the thicker side, there are a few options to ensure that consistency. "For an extra thick chowder, you can use an immersion blender to break down some of the potatoes and naturally thicken the chowder," Dillard suggests. "Alternatively, you can simmer with the lid off for more time until it's cooked down to your liking."
Stir in the heavy cream, simmer some more, then serve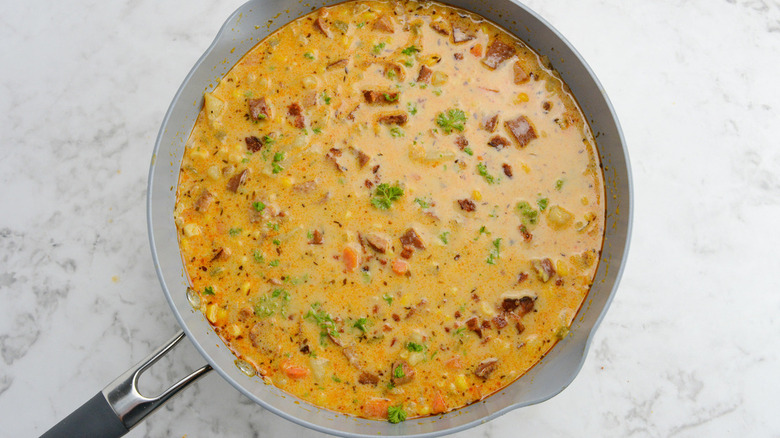 Joe Dillard/Food Republic
Add both the cornstarch and heavy cream to the pot, stir them into the mix, then reduce the heat to low. Continue cooking the chowder for 10 to 15 more minutes, until the soup has thickened up considerably. At that point, you can cut the heat and ladle some of the creamy Cajun goodness into a bowl. Top off your serving with fresh parsley or extra bacon if desired, otherwise dive right in. "Turn this dish into a meal by serving it with a side of French Bread, or a hearty loaded baked potato," Dillard suggests. "You can also finish off your summer meal with a light and fresh melon fruit salad."
This recipe does yield six servings, and if you're lucky enough to have leftovers, Dillard says that they'll keep in an airtight container for up to four days. "To reheat, warm in the microwave for 2 minutes until heated through or over medium on the stovetop until warmed, about 7 to 10 minutes," he advises.
Cajun-Style Corn Chowder Recipe
For a hearty meal, try making this savory corn chowder with bacon, andouille sausage, potatoes, and a homemade Cajun seasoning blend.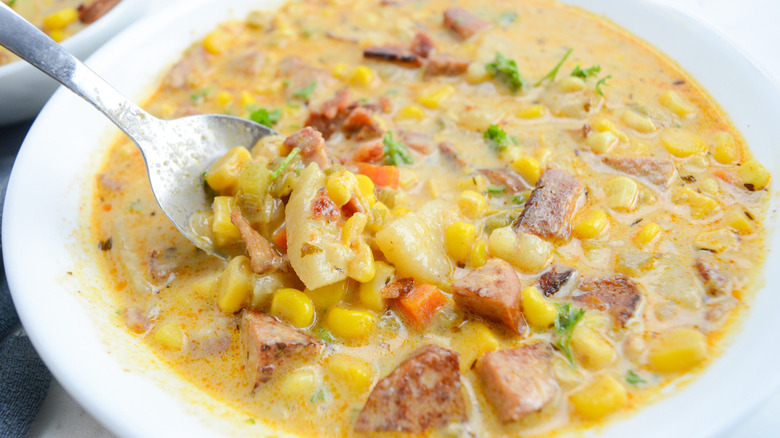 Total time: 1 hour, 15 minutes
Ingredients
4 slices bacon, chopped
6 ounces andouille sausage, cut into bite-sized pieces
1 small yellow onion, chopped
1 green bell pepper, chopped
½ medium carrot, chopped
½ medium celery stalk, chopped
1 tablespoon olive oil
2 cloves garlic, minced
½ tablespoon smoked paprika
1 ½ teaspoons salt
1 teaspoon dried oregano
1 teaspoon garlic powder
1 teaspoon onion powder
½ teaspoon ground black pepper
½ teaspoon dried thyme
¼ teaspoon cayenne powder
3 ears corn, husked with kernels and cobs reserved (about 3 cups corn)
2 small russet potatoes, cut into bite-sized pieces
3 cups chicken broth
¾ cup heavy cream
1 tablespoon cornstarch
Optional Ingredients
fresh parsley, for garnish
Directions
Place the bacon and andouille sausage in a large pot over medium heat. Cook until browned, about 7 to 10 minutes.
Add the onion, green bell pepper, carrot, celery, and olive oil to the pot and mix. Sauté for 10 minutes until the vegetables become fragrant and begin to soften.
Add the garlic and sprinkle the paprika, salt, oregano, garlic powder, onion powder, pepper, thyme, and cayenne on top of the sautéed vegetables. Stir to combine and sauté for additional 2 minutes.
Place the corn and potatoes into the pot then pour in the broth. Stir to combine. Break the reserved corn cobs in half and place them on top of the chowder and place the lid on. The corn cobs give the chowder that milky corn flavor. This comes from the pulp that's left behind rather than the kernels.
Bring the chowder to a boil for 2 minutes then reduce the heat to a simmer for 18 minutes, stirring occasionally.
Remove the lid and allow to cook for an additional 10 minutes. Then, remove the corn cobs from the chowder.
Whisk the cornstarch with the heavy cream and pour the mixture into the pot. Stir to combine. Continue cooking over low heat for 10 to 15 minutes until the chowder thickens and becomes creamy.
Garnish with chopped parsley and additional bacon if desired. Serve warm.
Nutrition
| | |
| --- | --- |
| Calories per Serving | 443 |
| Total Fat | 30.7 g |
| Saturated Fat | 13.0 g |
| Trans Fat | 0.4 g |
| Cholesterol | 66.4 mg |
| | |
| --- | --- |
| Total Carbohydrates | 31.0 g |
| Dietary Fiber | 3.0 g |
| Total Sugars | 7.7 g |
| Sodium | 816.6 mg |
| Protein | 13.5 g |