The Best Size Pan For Lasagna, According To Michael Symon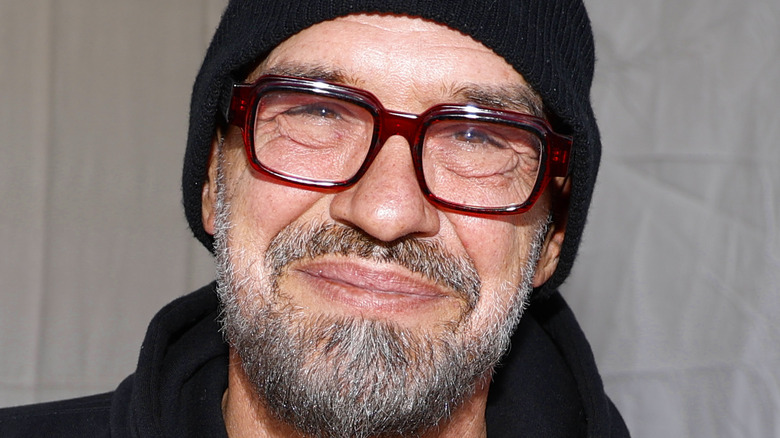 John Lamparski/Getty Images
Lasagna is a dish rich in tradition and made with love. Nonnas have been preparing lasagna for centuries, creating regional variations that are passed on for generations. While the popular Italian-American version comprises layers of pasta, marinara sauce, and ricotta cheese, order the dish in Naples and it will contain little meatballs and hard-boiled eggs. In Genoa, the red sauce is often substituted with basil pesto.
At the end of the day, no matter what variation you're making, this humble baked Italian pasta dish is nothing more than a fancy casserole. However, that doesn't mean haphazardly throwing together the ingredients in any old pan will do. There's a right and a wrong way to bake it, according to the experts. One of which happens to be chef Michael Symon. And after more than 30 years in the kitchen, Symon still reveres his mother's cooking as the best, especially her 30-layer lasagna, which Symon has already requested for his last meal.
And when he's making lasagna his mom's way, there's only one size dish that gets the job done. Regardless of its filling, Symon says lasagna should be baked in a 9 x 13-inch casserole pan so the dish cooks evenly and each serving looks as good as it tastes.
The right sized baking dish makes for thick and hearty lasagna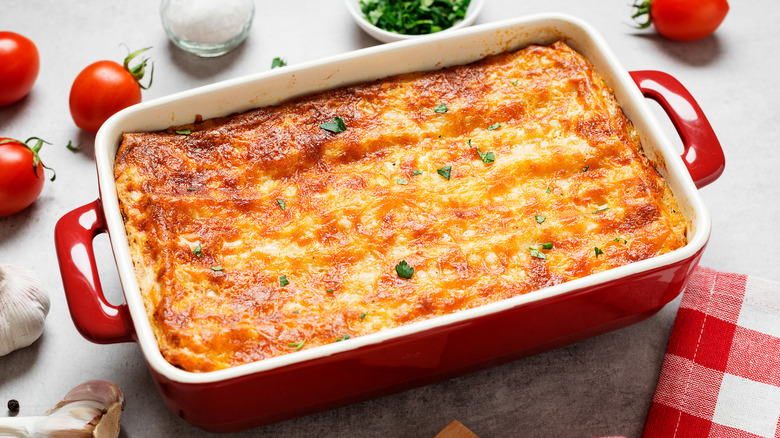 nelea33/Shutterstock
In an interview with Food and Wine, Symon stated that a 9 x 13-inch baking dish, which feeds six to eight people, is the best size for lasagna because, "it keeps the ingredients condensed so the final product is nice and thick, versus each layer being spread thinly in a larger pan." Properly balancing the components is one way a great lasagna sets itself apart. Even layers of alternating ingredients create a more pleasing mouthfeel and cook evenly. And stacking them up in a deep 9 x 13-inch dish will ensure that each and every serving is packed with layer after layer of flavor.
And if you're committing to making a lasagna, you want to get it right from start to finish. So in addition to the proper pan size, Symon shared some of his mom's other tips for constructing the perfect lasagna, which begins with using quality ingredients. While many of us have gotten in the habit of using no-bake noodles to save time, Symon warns that the shortcut "compromises the texture" and suggests making the pasta sheets from scratch or boiling the traditional, ruffle-edged lasagna noodles of our childhood.
When it comes to lasagna, there's no such thing as too much cheese
On an episode of Rachael Ray's daytime talk show, Symon prepared his mom's lasagna and demonstrated her technique for constructing all the layers. And we're happy to report it involves a whole lot of cheese. While creamy ricotta runs throughout the dish adding silky texture and great flavor, most people crave the crispy top layer of cheese on any lasagna, especially in the corners. To achieve this, chef Symon recommends topping your lasagna with lots of grated fresh mozzarella and Parmesan cheese. To easily shred fresh mozzarella, which is softer and wetter than processed varieties, throw it in the freezer for 30 minutes before grating. The cheese will firm up enough to shred without falling apart. 
Cover your assembled lasagna with aluminum foil for most of the cooking process, allowing the dish to cook evenly without burning the top layer of cheese. Once the lasagna is heated through and bubbling, remove the foil for the last ten minutes and allow the mozzarella and Parmesan to caramelize to a golden brown, crispy layer of perfection.