8 Fresh Ways To Use Parmesan Cheese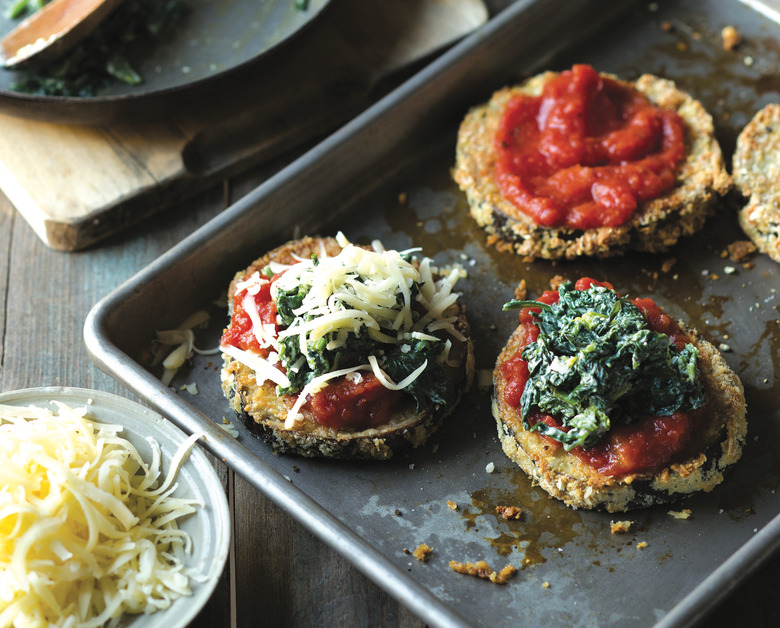 Chances are, you've got Parmesan cheese in the fridge. This culinary wunderkind performs a multitude of recipe tasks — umami, salt and yes, even cheesiness. It adds a depth of flavor that's unrivaled, and a worthy addition to your meal. Whether it's grated or shredded or still awaiting its fate, it's perfect for this list of eight fresh ways to use Parmesan cheese.
Recipe: Eggplant Parmesan With Creamed Spinach
Colorful creamed spinach replaces some of the ooey-gooey factor of the excess cheese that usually goes on top of this Italian classic.
Recipe: Creamed Parmesan Collard Greens
My nanny, whom I called RoRo, was more of a family member than anything and was at every holiday gathering when I was a kid. She was known for her cooking, especially her amazing and deeply soulful collard greens. They were so good, in fact, that she grew tired of people asking for the recipe. Every time I make any type of collard greens, I can only hope to make them as good as she did.
Recipe: Deep-Fried Garlic Bombs
You know the smell instantly when it hits you: ballpark garlic fries. Hell, you can smell them from the parking lot. And no matter what, they always smell so damn good. But let's get real — they never quite taste as good as they smell. The solution? Well, we need to kick things up a notch. WARNING: the following recipe is for serious garlic lovers. We're going to roast some whole cloves of garlic, wrap them in a cheesy garlic dough, and then deep-fry them. It's some serious garlic-on-garlic action that will play out on your taste buds. And if you're not prepared, there will be casualties. But we think you're ready. Check out this garlic-bombing technique video, with the easy recipe below.
Recipe: Spinach, Soft Egg And Parmesan Pizzetta
I don't know the first incidence of a runny egg on top of a pizza but whoever had the idea deserves a medal. It's a glorious moment when you cut into the center of the pizza and the yolk breaks and oozes yellow onto the plate. The base for this pizzetta needs a bit of practice – you want the dough and filling to be slightly thicker at the edges to prevent the egg from running over the sides.
Recipe: Chicken Alfredo Tortellini
Chicken Alfredo tortellini is rather decadent as an everyday dinner, but for special occasions, it's an indulgent and easy-to-make treat. This recipe combines chunks of juicy chicken and tender cheese tortellini in a creamy, Parmesan-loaded, parsley-flecked Alfredo sauce. But the best part is that it pretty much makes itself! I always keep frozen tortellini on hand for convenience, but refrigerated tortellini will work just as well in this recipe if that's what you have available.
Recipe: Peruvian Clams À La Parmesan
While I was in Lima, I learned how to make conchitas à la parmesana, which are scallops on the half shell with aji amarillo, buttery Parmesan, and bread crumbs. When I came back, I thought local, littleneck clams would make the perfect substitute, and these little guys have quickly moved into my favorite spot for an easy and light hors d'oeuvre. Tasty and addictive, you can prep these ahead of time and throw them under the broiler for a few minutes once guests arrive.
Recipe: Three-Cheese Lasagna With Porcini Mushrooms And Spinach
We layer a lasagna the same way we top a pizza — with a light hand. Forget about over­stuffed layers and an overflowing casserole dish. You want to scatter just enough cheese and vegetables on the layers to flavor, but not overwhelm. If you use fresh pasta that's rolled very thin, you can even form eight or ten layers. With dried or thicker pasta sheets, you'll want fewer layers.
Recipe: Asparagus, Prosciutto And Egg Salad
Shaved egg and Parmesan crisps are a revelation.