11 Uncommon Spices That Will Impress Everyone You Cook For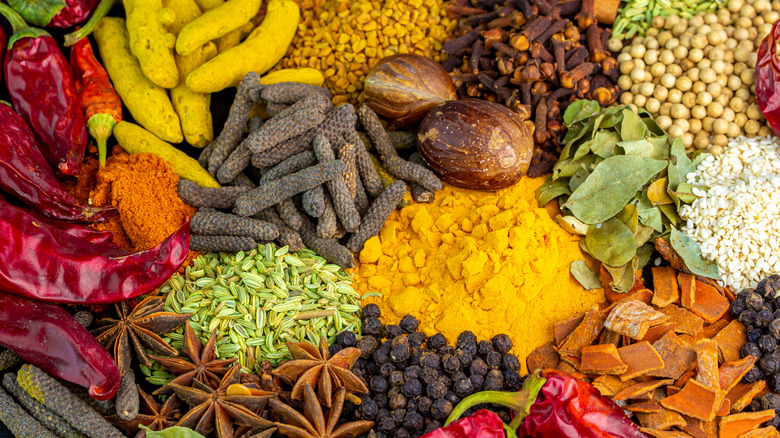 Vera Larina/Shutterstock
Food was pretty bland thousands of years ago. Large chunks of meat cooked over a campfire. Hunks of squash or carrot, maybe roasted but more likely eaten plain, fresh from wherever they were harvested. But then, thankfully, somebody somewhere accidentally dropped a few flakes of black pepper on their plate and realized: Wow, this tastes great! Voila, the use of spices was born.
Flash forward to today and — thanks to centuries of culinary tradition — there are now literally hundreds of herbs and spices that we can all use to flavor anything we're cooking. Of course, you probably know the basics — classics like garlic powder, paprika, chili powder, basil, cumin, oregano, and maybe you add a little cinnamon or cayenne pepper if you're fancy. But there's also a world of spices beyond those flavors. And each can add an incredible, unique, or unexpected flavor profile to even your most tried-and-true favorite recipes. 
For example, ever toss some turmeric in your mac and cheese for a subtle earthy ginger-like kick? How about sprinkling cardamom in your pancakes to give them a citrusy twist? Allspice in your meatloaf? Mustard seed in your baked beans? Don't stop there! 
Every dish you cook can benefit from the use of some under-appreciated spice — flavors that are sure to bring your meal to life and impress anyone you're cooking for. So what are you waiting for? Here are 11 of our favorite uncommon spices to help get your culinary juices started! 
Add tang to your menu with some sumac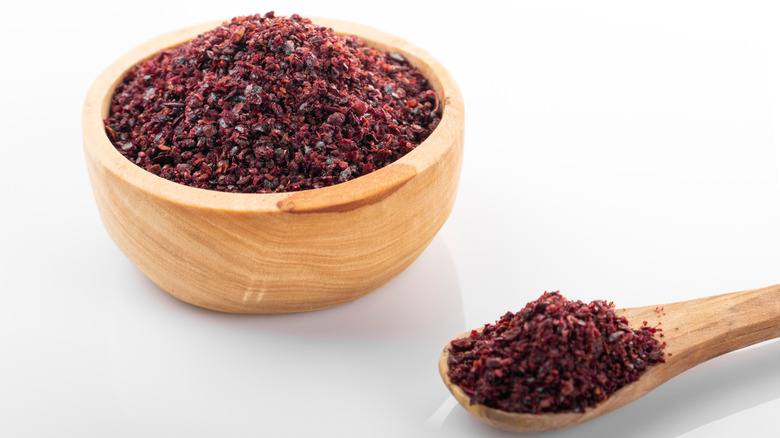 camberson/Shutterstock
When it comes to under-utilized or little known spices that are sure to make a big impression, sumac is a great place to start! A coarse ground reddish-brown spice, sumac is native to the Mediterranean region and is widely used in Middle Eastern and North African dishes. The spice is made from dried berries harvested from the sumac plant (which is a small subtropical flowering bush related to the cashew plant).
Once dried and ground, sumac can be used in a number of ways. It has a tangy, slightly fruity flavor with a hint of lemon tartness that is ideal for adding a rich, sour taste to dishes. Since the spice comes from dried berries, it also adds a great crunchy texture to any food it's used in. And because of its versatility, those uses are almost innumerable.
Sumac is a key ingredient in a Lebanese and Syrian dish known as fattoush which combines lettuce, cucumbers, tomatoes, scallions, and fresh mint — plus chunks of pita that have been broken up and toasted to become crouton-like bites. But you don't have to be making fattoush in order to use sumac. Just add it to your own favorite fresh garden salad for a delicious, exotic twist.
You can also sprinkle sumac on meats like pork, chicken, or beef before you cook them — it's great with kebabs — or add it to roasted cauliflower, potatoes, or eggplant for a bit of citrus-like bite.
Get spicy with za'atar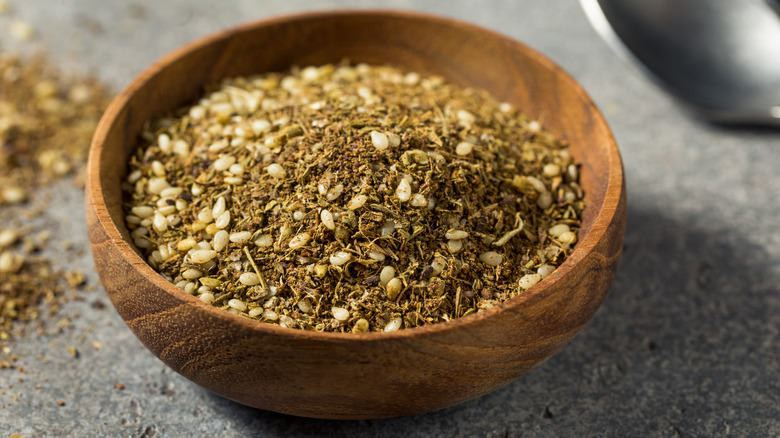 Bhofack2/Getty Images
Love sumac and want to try it another way? Consider picking up some za'atar on your next trip to any large grocery store. This spice blend originates from the same regions of the world as sumac — Lebanon, Syria, Jordan, and Palestine — but has a completely different flavor profile. In addition to sumac, za'atar typically includes dried thyme, dried oregano, marjoram, and sesame seeds. The grainy brownish mixture is equal parts savory, earthy, and nutty with just a hint of unexpected tang.
Za'atar can be used in many ways: It's great on grilled meats and vegetables, and in salads, but it's also an incredible component to add to your own homemade dips. Just mix the spice blend to taste with plain unflavored yogurt — Greek yogurt typically works best. It's perfect with chips, crackers, or fresh veggies. Or make a spread for fresh bread or pitas by combining za'atar with olive oil. 
Za'atar is particularly nice on homemade flatbread pizza! Just spread the spicy olive oil mixture over the flatbread, top with sliced Roma tomatoes and crumbled Feta cheese, and bake until golden brown. Or add it to rice — just stir in some za'atar for a fragrant, unexpected new flavor twist.
It's worth noting that while za'atar is most widely known in its spice blend form, there is also a fresh herb known by the same name. This za'atar is a member of the mint family and is sometimes used in za'atar spice blends!
Warm up your meals with grains of paradise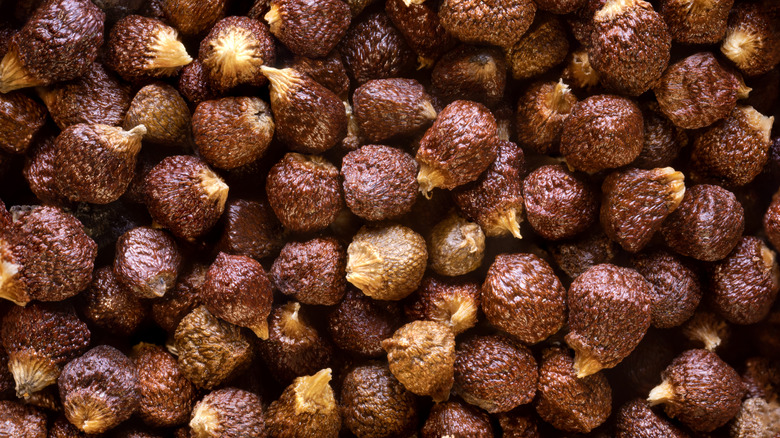 Elen Marlen/Shutterstock
A spicy, pungent cousin to ginger, grains of paradise — or melegueta pepper or guinea pepper as the spice is sometimes known — is a seed harvested from a lush, leafy green plant called the Aframomum melegueta which grows in swampy regions through western Africa. The bamboo-like plant is known for its beautiful purple flowers that gradually turn into pods containing peppercorn-like seeds which we call grains of paradise.
Used as a spice throughout the region for hundreds of years, grains of paradise has a complex flavor profile that combines hints of citrus, black pepper, and cardamom. The seeds can be used whole and added to hearty stews where they create a subtle warming flavor. You can add whole seeds to your favorite olive oil to create a flavorful base for marinades or salad dressing. And guess what? Gin can also be infused with it. In fact, grains of paradise is one of the key ingredients in Bombay Sapphire!
In addition to using grains of paradise "au naturel," you can also grind the seeds with a mortar and pestle. Once ground, the spice tastes amazing on grilled meats where it adds a peppery, aromatic touch. For a low-sodium alternative to salt, try using some on freshly popped popcorn. Or add a spicy note to your favorite desserts and sprinkle some ground grains of paradise into your next batch of homemade cookies and pie filling — or stir a dash into hot chocolate!
Go nutty with nigella seeds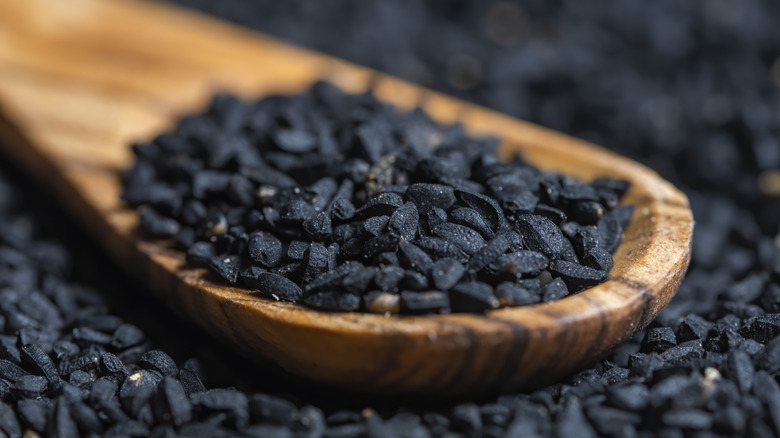 Omar Halawi/Getty Images
The next uncommon but incredibly impressive spice we'd recommend everyone add to their cooking repertoire is the small, crunchy wonder known as the nigella seed — it's native to Western Asia and grown widely throughout the Mediterranean. Loved for their mild nutty and slightly peppery flavor (including hints of oregano and roasted onion) nigella seeds are just what they claim to be — seeds from a tall, delicate flowering plant known as the nigella sativa.
These small, elongated matte black seeds are crunchy and slightly chewy if eaten whole. But add them to some of your favorite foods and that's where they really shine. Nigella seeds are excellent when paired with sautéed or roasted veggies, including carrots, squash, and potatoes. They also add a nutty crunch to salads and are perfect when you tire of standard croutons or sunflower seeds. You can sprinkle nigella seeds on toasted bread or bagels or — even better — add them to any fresh bread dough or pastry dough you might be making.
Another way to really impress your dinner guests: Add some nigella seeds to a homemade Indian side dish or dip known as raita. Similar to Greek tzatziki, raita is a yogurt-based blend of plain yogurt, peeled and grated cucumber, cumin, salt and pepper to taste plus toasted nigella seeds. Just combine your ingredients in a bowl, whisk them together, let chill, and then serve with fresh bread or grilled kebabs. Delicious!
Epazote can kickstart the fiesta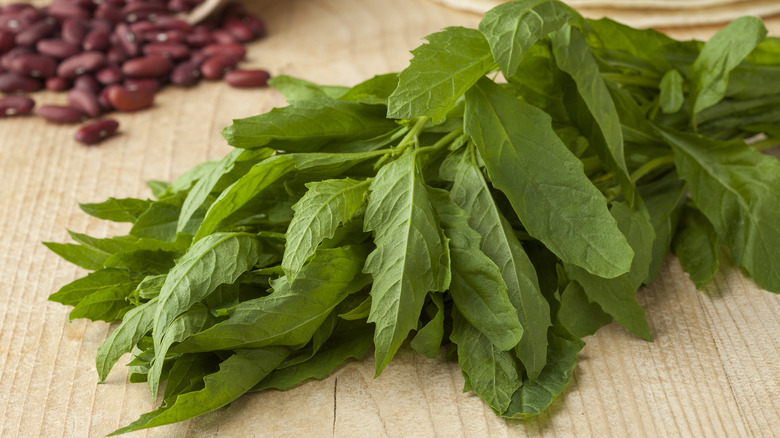 Picture Partners/Shutterstock
Dipping down into Central and South America, it's time to meet an amazing herb known as epazote. Commonly used in a number of Mexican and Latin American dishes, epazote is a potent and slightly pungent plant that tastes a bit like what you would get if you threw some mint, fresh orange slices, and a handful of pine sawdust into a blender and hit pulverize.
While it's a strong and slightly acquired taste, when used with a seasoned hand, the herb is ideal for adding just the right hint of spicy zest to a number of dishes. For example, epazote pairs perfectly with hearty tomato-based sauces and soups, where it adds a bit of acidic punch. The spice is also a classic in many black bean dishes and bean-based soups and is even said to aid in digestion and reduce potential gassiness. Because of its digestion-enhancing prowess, epazote is also commonly used in a variety of hot infused herbal teas.
And its uses don't stop there! One impressive method for using epazote is to whisk a small amount into scrambled eggs or an omelet just as the dish is close to being done — the flavor of epazote can fade the longer it cooks. Or, blend some with half a stick of softened butter, add a dash of lime, a pinch of salt and you've got an instant topping for fresh corn on the cob!
Wake up your taste buds with star anise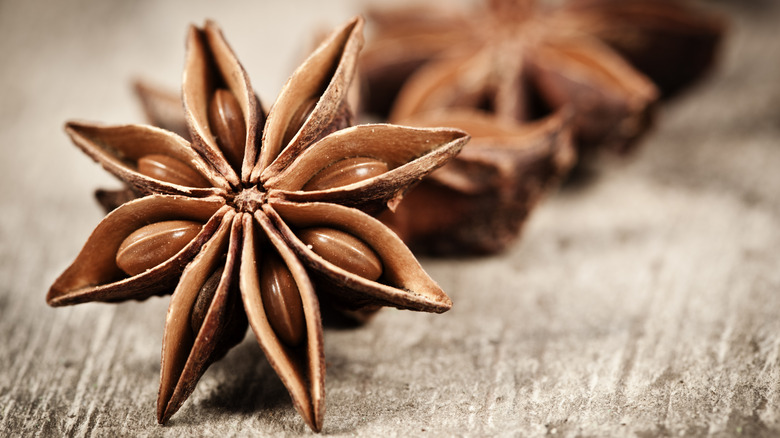 Gmvozd/Getty Images
Lots of spices deliver unique flavor combinations, but few do it in as visually an attractive package as the wonder spice known as star anise. Famed for its eight-point star-shaped pods which are harvested from a type of small flowering evergreen shrub known as the Illicium verum tree, star anise has a strong, distinct flavor that is sweet, licorice-like, and slightly spicy.
Star anise can be used in two different ways — either whole or ground into a powder. To use the spice whole, consider adding it to a favorite warm drink like hot chocolate, hot tea, coffee or even spiced cider. Star anise is also a key ingredient in many holiday mulled wines. 
In powder form, the uses for star anise are even more varied. Sprinkle it over pork chops, pork belly or even a roast or steak before putting the meat on to cook — it tastes especially mouthwatering on smokey, charred and grilled meats. Braising some chicken or salmon? Add a little star anise powder to your spice blend to give the meat a delicate licorice-like twist.
Prefer baking instead? Star anise is a perfect addition to cookie doughs, spice cakes, and fruit pies. Just add it with any other spices you're including in your dessert — it pairs perfectly with warm flavors like cinnamon or nutmeg.
Or, use it as part of a spice blend. Star anise is a common ingredient in both Chinese five spice and garam masala.
Create smoke without fire with a dash of urfa biber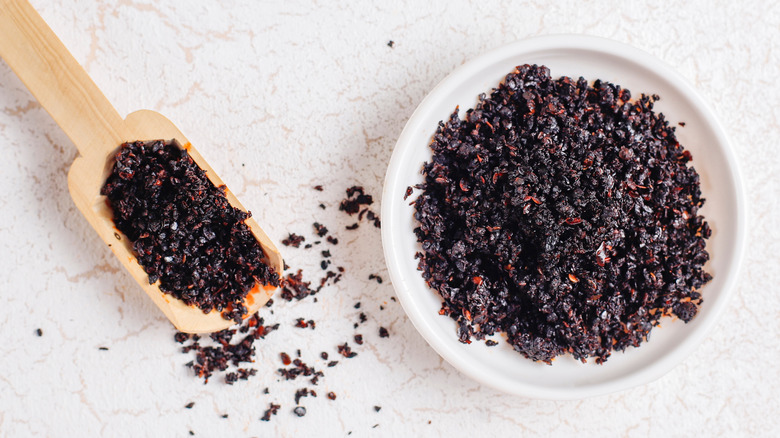 usmee/Shutterstock
Like the combination of sweet, tangy, and earthy? Think a smoky, mildly spicy raisin sounds like an incredible treat? Then you're bound to like the Turkish spice known as Urfa biber. Known for its distinctive deep red appearance, the exotic spice comes from a type of Middle eastern chili pepper which is harvested, sun-dried for weeks, and then ground into a coarse powder. Urfa biber gets its name from a combination of the location where it's most commonly grown — the city of Urfa in southwestern Turkey — plus the Turkish word for pepper, which is "biber." 
In Turkey, Urfa biber is used in a number of dishes. It's a popular add-on to a type of thin crust pizza-like dish known as Lahmacun which is typically served with ground meat and vegetables. It's also widely used in a number of dips and spreads including muhammara and hummus. But Urfa biber is easy to include in more popular American dishes as well. For example, it can be a perfect addition to any tomato-based sauce or stew, adding a rich smoky flavor you might not get from other spices. You can also add it to your favorite lentil and bean-based soups.
Turkish chefs may use Urfa biber in their kebabs, and it can be a head-turning addition to meatloafs, meatballs and even classic homestyle hamburgers that will have everyone asking about your secret ingredient.
Freshen up your plate with juniper berries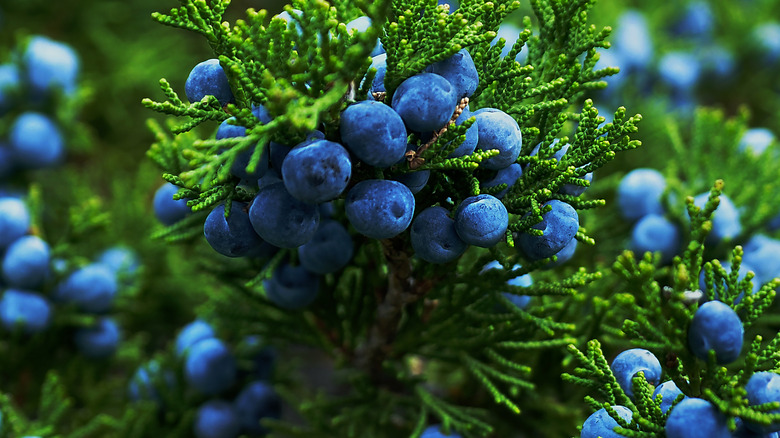 Yevgeniy Drobotenko/Getty Images
Prefer the taste of tart pine over smoky pepper? Then it's time to add some juniper berries to your shopping list.
Famed for their distinctive flavor, which combines notes of pine, citrus, and a slight sweet bitterness, juniper berries are a classic spice that's been used throughout parts of Europe, North America, and Asia for thousands of years. The berries, which resemble a cross between a small grape and a blueberry, are harvested from the juniper tree, a type of common evergreen shrub you may have seen growing in forests or wilderness areas. 
Like grains of paradise, juniper berries are a common ingredient in many types of gin. The spice is also commonly used in a number of hot teas. But its culinary reach also extends far outside the world of beverages. One ideal way to use the spice is as a flavoring for game meats like venison or wild boar — the piney forest-like notes of the spice pair exceptionally well with the grassy, gamey qualities of these types of wild meat.
Cooking poultry, beef, or pork instead? Add some juniper berries to your favorite marinade and let the meat soak up that incredible woodland flavor before you cook it. Or, add juniper berries (to taste) to your favorite sauce or gravy to serve over your meat once it has finished cooking.
Juniper berries are also great with savory sides including roast vegetables, potato gratin and even stuffing!
Create deeper richer flavors with ajwain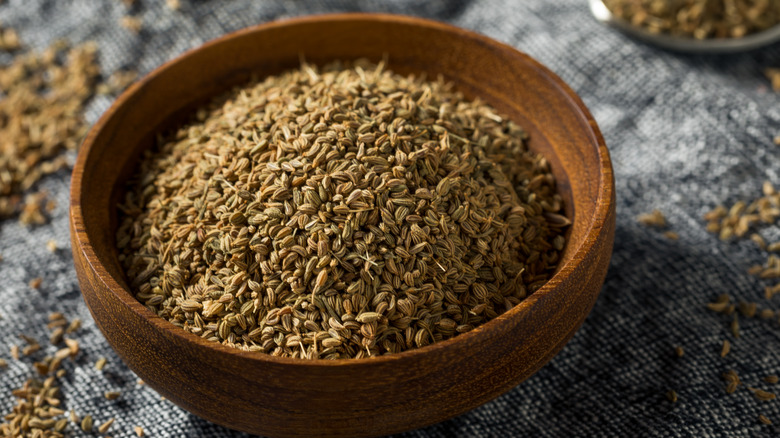 Brent Hofacker/Shutterstock
In the alternative healing practice known as Ayurvedic medicine, the seeds from a small annual herb with feathery leaves and tiny white flowers called Trachyspermum ammi are said to possess great power. Some call these seeds carom, some call it bishop's weed, but for most it's known as ajwain. 
Whether you believe in the powers of Ayurvedic medicine or not, there's one thing no one can dispute: Ajwain is also an incredible spice, underutilized in the culinary world and capable of impressing almost all who try it!
With a bright, sharp flavor that lands somewhere between thyme and oregano, the small, ridged, oval-shaped ajwain seeds have a number of incredible uses than almost any home chef can benefit from trying. For example, if you're looking to add a unique twist to any flatbread or pizza you are making (or reheating), sprinkling on some ajwain seeds is one quick and easy way to ramp up that classic Italian flavor. Making a stir fry or roasting some potatoes? Toss in 1 tablespoon of ajwain for added flavor and crunch! Frying some chicken or fresh fish fillets? Crush some ajwain seeds and add them to your flour and spice dredge.
You can also add ajwain to stuffed peppers, tomatoes chutneys, or creamy dips like raita. You can even eat it like a snack! Just drain some canned chickpeas, toss them with salt and pepper, olive oil, cumin, and crushed ajwain seeds, and roast until crispy.
Annatto seeds will have you seeing red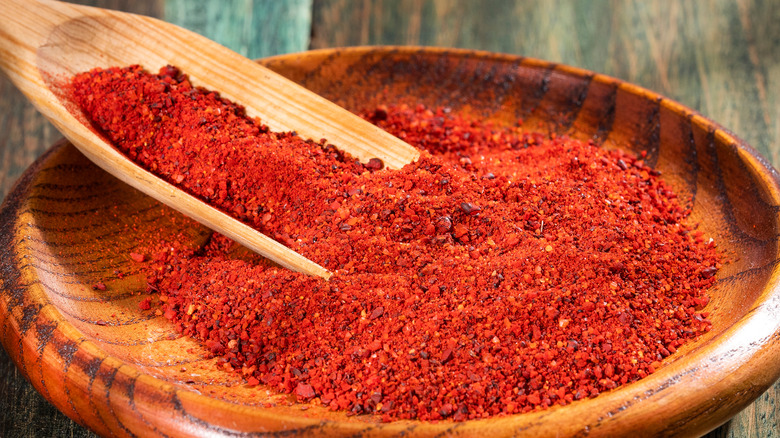 Luis Echeverri Urrea/Shutterstock
If the brilliant red shade of the annatto seed looks familiar, it might be because you see it in the mirror every morning! Harvested from spiky, alien-looking seed pods that are also brilliant red and that grow on a tree called the Achiote, annatto seeds are one of the most common natural food dyes around and are also used in numerous cosmetic products.
But annatto seeds aren't just good for painting your lips or fingernails red. They're also a mild, sweet, slightly peppery spice used widely in Latin American and Caribbean cuisine. Adored for their unexpected and unique flavor as well as the bright color they can bring to everything from rice to soup to empanada filling, annatto seeds offer a world of possibility for improving and enhancing classic dishes and recipes we already know and love.
For example, consider adding a dash of annatto to your next mac and cheese to turn it fiery orange and add a bit of sweet pepper heat. Or toss a 1/2 teaspoon or more of annatto into mashed potatoes or homemade biscuit dough to completely change the color and flavor of these classic American sides. Don't let your imagination stop you there! Imagine what a dash of annatto could do to the color and flavor of fried chicken, meatloaf, cornbread, or even something as simple as deviled eggs. Your dinner guests — and palate — will be in awe of the results!
Bring together all your favorite flavors with Ras el Hanout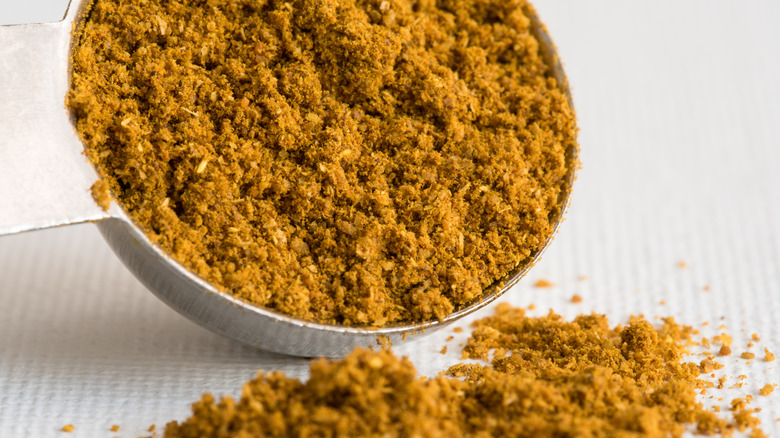 Michelle Lee Photography/Shutterstock
Finally, saving what some might call the best uncommon spice for last, here's a potent and incredibly special Moroccan spice blend known as Ras el Hanout. With a name that literally translates to "top of the shelf," Ras el Hanout is just that — the "top shelf," best of the best, highest quality spices a spice merchant has to offer. Although there is no fixed recipe for what goes into Ras el Hanout, the list of what is most commonly included reads like a who's who of the spice world: cumin, coriander, turmeric, ginger, cinnamon, cardamom, nutmeg, cloves, black pepper, paprika, chili powder and more — all mixed together and ground into a super-fine, highly aromatic, reddish-brown powder.
Because of its flavorful punch, Ras el Hanout is an ideal rub for grilled beef, pork, or chicken. It's also perfect for adding depth and complexity to your favorite soups and stews. The ideal complement to a number of classic side dishes, try adding Ras el Hanout to couscous, rice pilaf, and roast vegetables — you can even sprinkle it on mashed or freshly baked potatoes. And of course, it's also uber tasty mixed into a favorite hummus or creamy yogurt-based dip.
Whatever spice you decide to go with on your next culinary adventure, be bold with the amount you use, be adventurous with your choices, and have fun! Follow those essentials and any dish you dream up will be sure to impress!