The Soufflé Mistake Jacques Pépin Turned Into A Gourmet Dish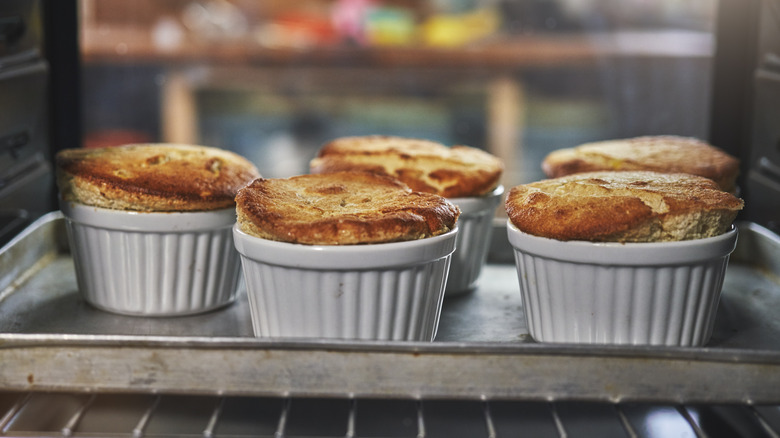 Gmvozd/Getty Images
A soufflé isn't necessarily a go-to dish for many people — it can seem fussy and just plain difficult. Made to be savory or sweet, the billowy dish is aesthetically pleasing, versatile, and a mainstay of French cooking, if not a bit of a challenge for the average cook. 
Jacques Pépin, the famous French chef, author, and cooking show host, made the soufflé one of his signature dishes. But his was concocted with a bit of a spin on the classic dish, thanks to a mistake made by his mother before he was even born. Maman's Cheese Soufflé, as he calls it, has one distinct difference that sets it apart.
A soufflé is actually a pretty simple dish, with its name derived from the French verb "souffler," meaning "to blow" or "to inflate." Whipped egg whites combine with either a savory or sweet egg yolk base (think creamy cheese sauce or sweet chocolate sauce), and the mixture puffs up as it bakes in a gratin or soufflé dish in the oven. (You can also bake individual servings in ramekins.) The result is a cloud-like dish that will impress any dinner guest.
The story behind the Pépin family soufflé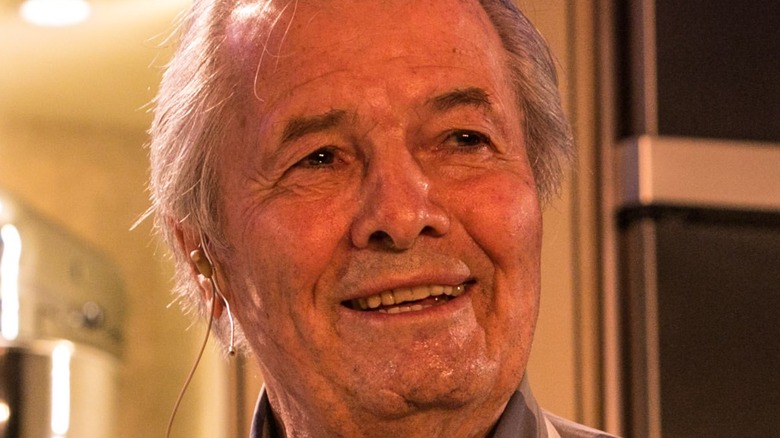 George Rose/Getty Images
Before Jacques Pépin's mother married his father, she wasn't very skilled in the kitchen, according to the Jacques Pépin Foundation. She knew a handful of simple dishes, but otherwise didn't really know how to cook. Once they got married, she found out that Pépin's father loved cheese soufflé, and she became determined to learn how to make it. 
She gathered her ingredients and began cooking. First, she made a creamy sauce known as a Béchamel, then grated in some cheese, then mixed in whole eggs. But she didn't know that in a soufflé, the egg whites need to be separated from the yolks. Mixing the whites until they form stiff peaks, and later folding this into the yolk mixture, is what allows the soufflé to rise to great heights when it's baked.
Nevertheless, Pépin's maman cracked the eggs right into the mixture and stirred away. However, the dish still rose beautifully. While it was less airy than a standard soufflé, she ended up with a deliciously rich dish for her husband.
How to make Maman's Cheese Soufflé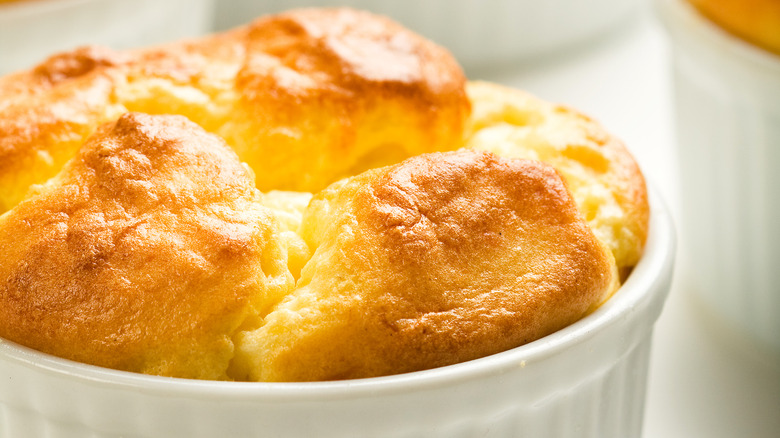 Msheldrake/Getty Images
To make Maman's Cheese Soufflé, first make your Béchamel. Melt 6 tablespoons of butter in a saucepan and whisk in 6 tablespoons of flour. Then slowly whisk in 2 cups of whole milk until it's all combined. Continue whisking constantly for 3 to 4 minutes, letting the mixture come to a boil and thicken. Remove it from the heat and season with salt and freshly ground pepper.
Next, you'll whisk together 5 whole eggs in a separate bowl. Fold the beaten eggs into the Béchamel along with 3 tablespoons of minced chives and 2 ½ cups of grated cheese. (Chef Jacques Pépin likes to use Gruyère, which lends a nutty taste to the dish.) Butter a 6-cup dish and coat it with Parmesan cheese, then line the bottom with wilted spinach. Pour the mixture in and bake it in a 400-degree oven for 30 to 40 minutes, or until it's puffy and browned on top.
You can also make this dish ahead of time by preparing the mixture and letting it stand at room temperature for 2 to 3 hours before baking. You can also make it a full day in advance, covering and refrigerating the dish for up to 24 hours before baking (but let it come to room temperature before putting it in the oven).