The Lasagna Shortcut Pro Chefs Won't Touch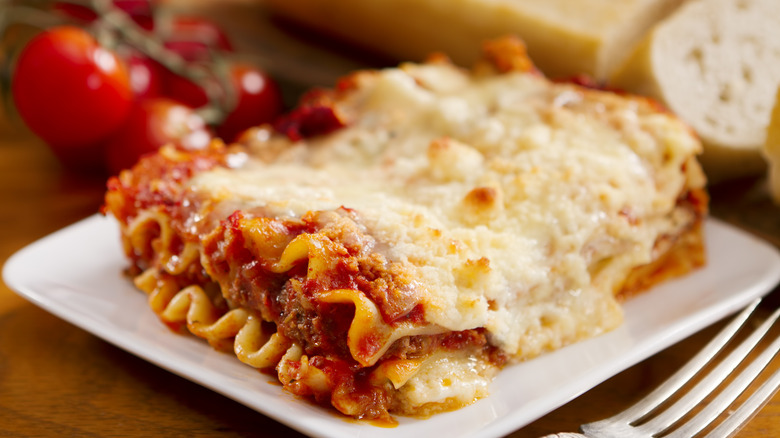 Getty Images
Lasagna requires time, effort, and determination. But when it's done right, the results are out of this world. Zesty tomato sauce, succulent noodles, creamy cheeses, maybe rich ground meat or sausage ... it's a symphony for the tastebuds. 
And there are plenty of substitutions you can apply to lasagna that won't harm the dish. You can ground turkey instead of ground beef or pork. You can leave out the béchamel to make the dish simpler. You can even nix the eggs and use dairy-free cheese to make the dish vegan-friendly. But one thing you absolutely don't want to do, according to the pros, is use oven-ready or no-boil lasagna noodles.  
While no-boil lasagna sheets do erase a step from the cooking process, many professional chefs agree that it's not worth the time you save to compromise the integrity of the dish. While you can put almost anything into a lasagna, the star of the show — the constant throughout all variations of lasagna — is the pasta.
Texture is key with lasagna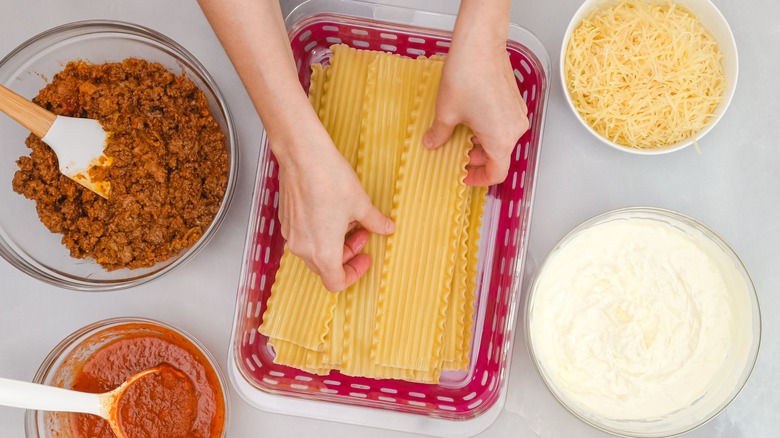 HannaTor - Shutterstock
As with any casserole dish, lasagna is most enchanting because of its texture. While much of the dish's texture is soft and warm, the noodles serve as the foundation of the dish. Thus, you'll want that ideal al dente pasta texture. With oven-ready lasagna sheets, the integrity is lost. Michael Symon told Food & Wine in 2017 that he doesn't touch oven-ready lasagna noodles, especially when making his mother's lasagna recipe. Symon cautions that no-boil noodles ruin the texture of the lasagna.
The chef isn't the only one who prefers to pre-boil lasagna noodles before the layering begins. In her classic lasagna recipe, Giada De Laurentiis calls for one pound of pasta sheets cooked al dente. Alton Brown, meanwhile, uses regular lasagna noodles in his "final lasagna" recipe. Dave Pearson, who worked as the chef for the Los Angeles Dodgers for decades, uses proper lasagna noodles in his famous recipe.
If you don't have pasta-making prowess, that's okay. Store-bought dried lasagna noodles will work just fine. And if you're confused about the difference between proper lasagna sheets and oven-ready ones, check the instructions on the box. Certain brands that offer both will also differentiate them in texture so shoppers won't get confused. Oven-ready noodles are often flat, while lasagna sheets that are meant to be boiled have ridged edges.
Tips for cooking the noodles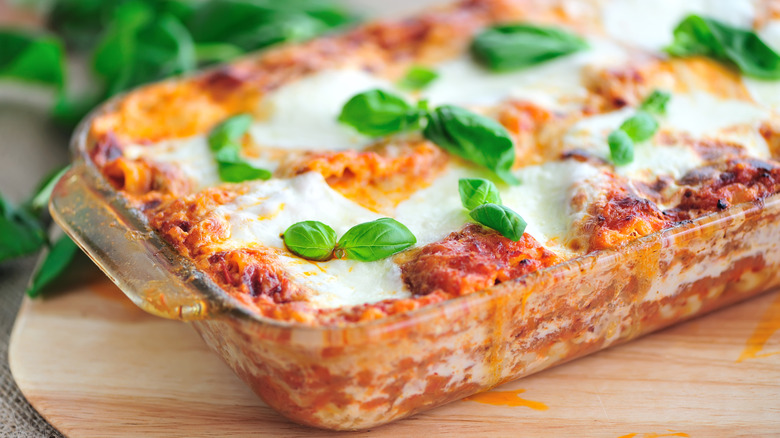 Getty Images
One reason some people prefer oven-ready noodles is that there's no risk of undercooking or over-cooking them. Because you'll be layering your lasagna and baking it for a while after, the pasta will continue cooking in the oven. If you're newer to cooking this dish, or to cooking in general, there could be some anxiety around wanting to nail it. (After all, making lasagna from scratch is a big undertaking, any way you slice it.) Over-cooked lasagna sheets make for a mushy lasagna; undercooked ones make for a hard lasagna. And if the casserole comes out of the oven with underdone noodles but perfectly melted cheese, you run the risk of over-browning or burning your cheese if you put the dish back in the oven.
If this leaves you scratching your head, don't panic. When boiling traditional lasagna noodles, it's better to err on the side of undercooking them — but this comes with a word of caution. While it's wise to follow package instructions, try cooking the noodles for about four to five minutes once the water has come to a boil. And salt the heck out of your pasta water. 
Not all lasagna noodles are created equal. If you're nervous, try making a smaller lasagna as a test before making a huge pan for your next dinner gathering.