Classic Pumpkin Spice Macarons Recipe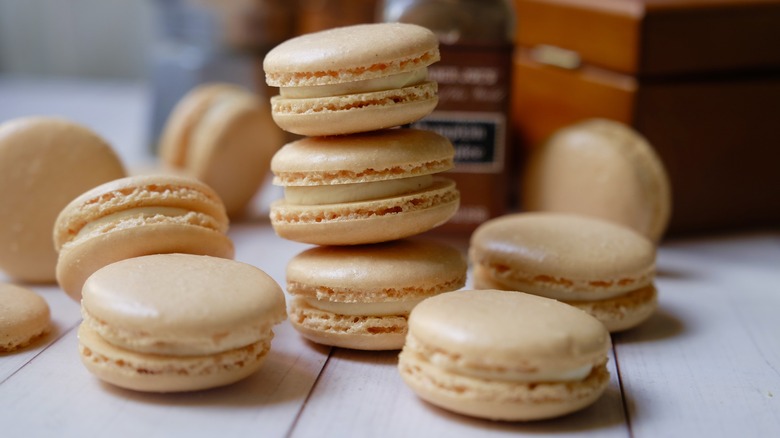 Eric Ngo/Food Republic
If the idea of making macarons seems like one best left to the expert pastry chefs, think again. With a series of methodical steps and a bit of patience, you'll soon be able to show off your skills as a gourmet chef too. Food Republic recipe developer Eric Ngo isn't just making any ordinary macarons; his recipe for pumpkin spice macarons is the perfect way to take your love for pumpkin spice to the next level. 
Ngo shares, "I like how versatile macarons can be," and describes that there are "Infinite amounts of color and flavor combinations." Pastel orange with a perfect hint of spice, this delicious macaron recipe is sure to be a hit. Whether you serve these to guests, package them up as gifts, or gobble down the batch yourself, chances are you'll soon be experimenting with other variations. Until then, read on to learn how to make your very own pumpkin spice macarons.
Gather the ingredients for these pumpkin spice macarons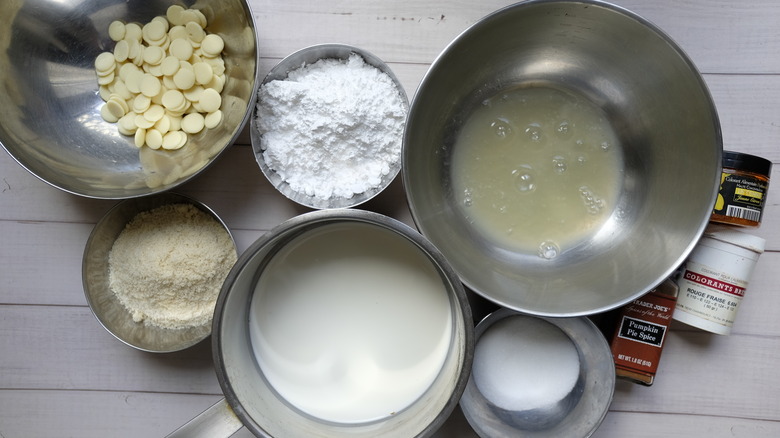 Eric Ngo/Food Republic
For the ganache, you will need white chocolate (chopped or chips), heavy whipping cream, and pumpkin spice. For the macaron shells, start by separating two large egg whites. Then, you'll need granulated sugar, orange food coloring (Ngo uses both orange and red food coloring to get the right hue, but any shade of orange will work here), powdered sugar, and almond flour.
Ngo uses powdered food coloring but says that a liquid format is also fine. As for the almond flour, he specifies that the recipe calls for "blanched almonds [ground] into a flour/powder texture." You'll want to avoid almond meal which is far too grainy for this delicate treat.
Start by making the ganache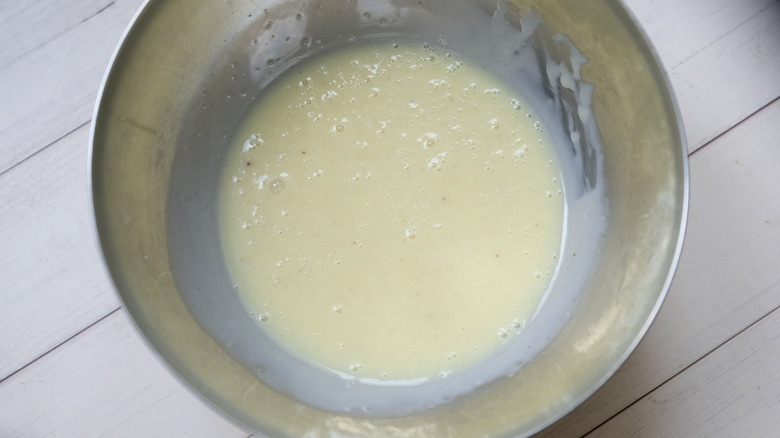 Eric Ngo/Food Republic
Make the ganache first so it has time to chill while you prepare the other components. Add the white chocolate and pumpkin spice to a medium-sized bowl. In a saucepan, heat the heavy cream to a boil. Then, pour the cream into the bowl with the chocolate and stir the contents until smooth. Cover the container with plastic wrap and transfer it to the freezer for around 1 hour to thicken. 
Next, whisk the egg whites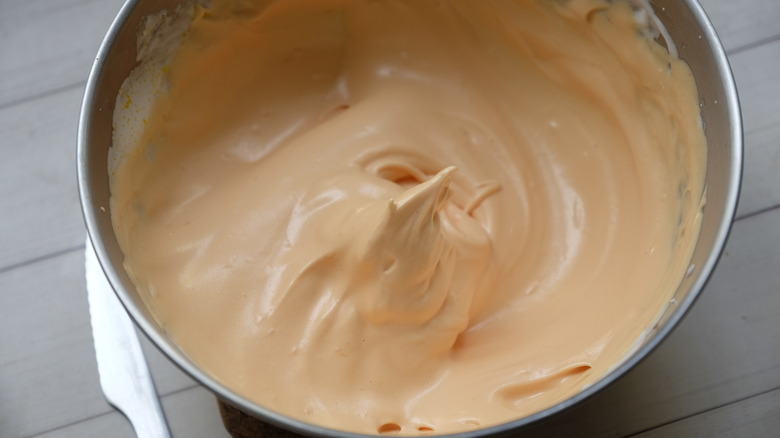 Eric Ngo/Food Republic
In the meantime, add the egg whites to a large bowl and whisk them to form medium peaks. Pour in half of the granulated sugar and stir it in with the eggs, then add the rest and keep whipping until stiff peaks form. Carefully mix in the food coloring until you have a uniform orange color. 
Ngo uses a powdered form and notes, "To properly dose, I recommend using the tip of a knife," or "If you use liquid food coloring, add one drop at a time to get the shade desired." Whatever type you use, he points out, "It is always better to add too little than too much."
Add the almond flour and sugar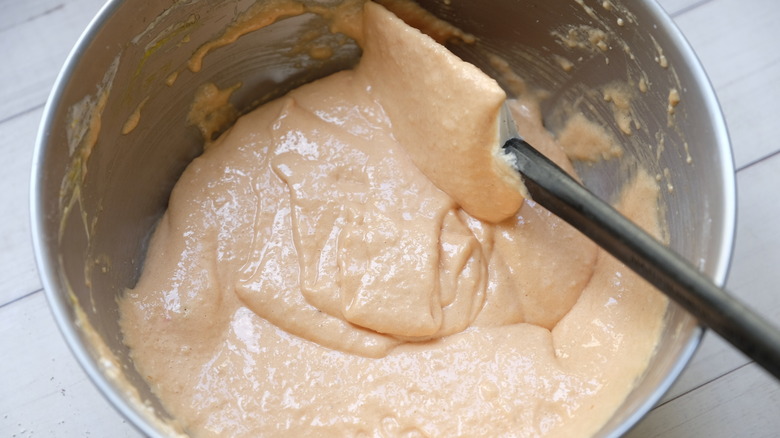 Eric Ngo/Food Republic
Pass the powdered sugar and almond powder through a sieve to eliminate any lumps. Then, fold the dry ingredients into the egg white and sugar mixture, until a smooth thicker texture comes together. 
Bake the macaron shells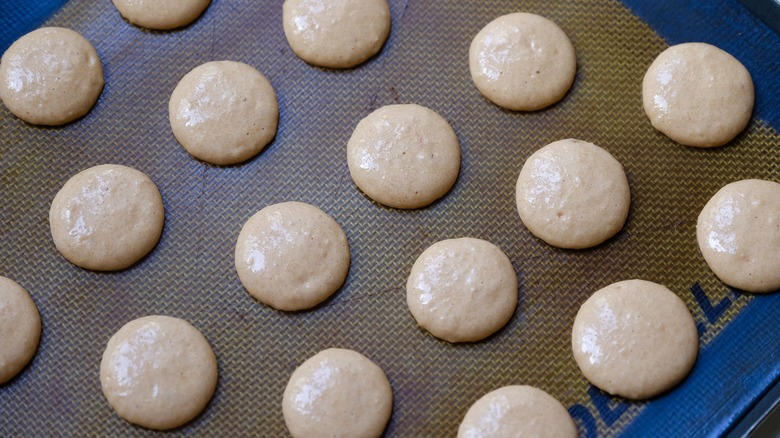 Eric Ngo/Food Republic
Preheat the oven to 300 F and line a baking sheet or two with parchment paper. Then carefully pour the batter into a piping bag fitted with a small round piping tip. Pipe the macarons directly onto the baking sheet — you can work in batches or use two sheets. Ngo makes 30 macarons or 60 shells with this recipe but notes that the exact amount will vary depending on the size you make. 
Once the oven is hot, bake the macarons for 12 to 15 minutes. Smaller macarons will be ready more quickly whereas larger ones may require a bit more time. To determine doneness, Ngo uses the very official "shake/wiggle test." He instructs: "Carefully shake the shell to see if the shell wiggles," and specifies that "if it does it means that it is still raw on the inside." Meanwhile, "If it only wiggles a little or not at all, you can take them out of the oven."
Let the macarons cool down for 10 minutes before removing them from the parchment paper to a flat work surface.
Assemble the macarons and serve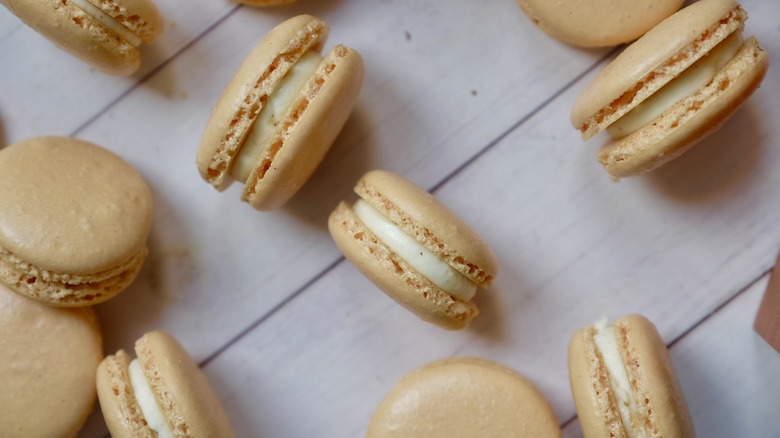 Eric Ngo/Food Republic
After the ganache has been chilling for an hour, check its firmness. If it is still a bit liquidy, Ngo recommends using a stand mixer fitted with the whisk attachment to thicken it up. Then, spoon some ganache onto one macaron shell and layer a second shell on top to make a sandwich. Repeat the process until you use up all the filling and shells.
Serve these airy treats with a hot cup of tea or coffee in the afternoon, or dish them out at the dinner table for an impressive dessert. "They should always be stored in the refrigerator and can be kept for up to one week in the fridge," Ngo says.
Classic Pumpkin Spice Macarons Recipe
Get into a festive fall spirit no matter the season with these classic pumpkin spice macarons.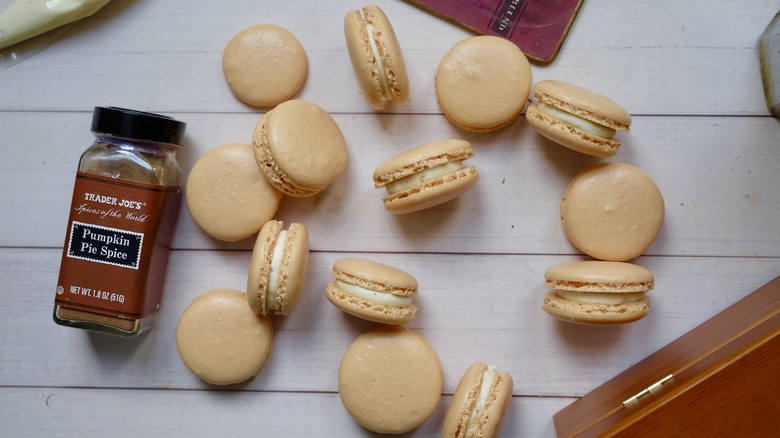 Ingredients
½ cup heavy whipping cream
1 cup white chocolate, chopped
½ teaspoon pumpkin pie spice
2 large egg whites
¼ cup granulated sugar
4 drops orange food coloring (more or less to desired shade)
1 cup powdered sugar
¾ cup almond powder
Directions
Bring the heavy cream to a boil and pour it over the white chocolate chunks and pumpkin spice in a bowl.
Stir until smooth, then cover the ganache with plastic wrap and store it in the freezer for 1 hour.
Add the egg whites to a medium bowl and use a whisk to form medium peaks.
Add the granulated sugar in two parts and whip the egg whites to a stiff peak.
Add the food coloring and mix until the color is uniform.
Sieve the powdered sugar and almond powder together into a bowl to remove lumps.
Carefully fold the almond-sugar mixture into the meringue to create a smooth semi-thick texture.
Preheat the oven to 300 F.
Pour the batter into a piping bag with a small round piping tip.
Pipe the macarons onto a baking sheet lined with parchment paper. You should be able to make up to 60 shells.
Bake the macarons for 12-15 minutes depending on the size.
Let the macarons cool for 10 minutes before removing them from the parchment paper.
Check the ganache to see if it is cold and firm. If it is not firm enough, use a stand mixer with a whisk and beat until it becomes firm.
Sandwich the pumpkin spice ganache between two macaron shells.
Repeat until all the macarons are filled then serve.
Nutrition
| | |
| --- | --- |
| Calories per Serving | 88 |
| Total Fat | 5.0 g |
| Saturated Fat | 2.1 g |
| Trans Fat | 0.0 g |
| Cholesterol | 5.7 mg |
| | |
| --- | --- |
| Total Carbohydrates | 9.9 g |
| Dietary Fiber | 0.5 g |
| Total Sugars | 9.2 g |
| Sodium | 10.0 mg |
| Protein | 1.4 g |