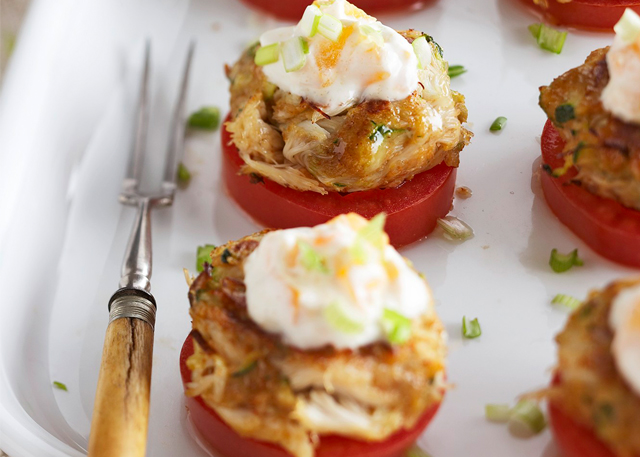 (Almost) everyone loves a good crab cake. But let's face it: A lot of crab cakes are made with the same crab, breadcrumb, spice mixture. You wanna win points next time you're making apps or hors d'oeuvres? Stuff those puppies with fresh-from-the-garden (or farm stand) summer squash or zucchini. It'll add texture and a cool contrast to the spices, and you'll be that cool person who made the memorable crab cakes.
Ingredients
2

teaspoons

cooking oil

1

cup

zucchini, coarsely shredded

1/4

cup

green onion, thinly sliced

1

egg, lightly beaten

1/3

cup

seasoned fine dry breadcrumbs

1

tablespoon

Dijon-style mustard

1

teaspoon

snipped fresh lemon thyme or thyme

1/8

to 1/4 teaspoon

cayenne pepper

6

ounces

cooked lump crabmeat, flaked, or one 6-ounce can crabmeat, drained, flaked, and cartilage removed (about 1 cup)

cooking oil

8

(1/4-inch thick)

slices, red and/or yellow tomatoes

green onion, thinly sliced (optional)
Tomato-Sour Cream Sauce
1/2

cup

dairy sour cream

3

tablespoons

yellow tomato, finely chopped

1

-2 tablespoons

lemon juice or lime juice

1/8

teaspoon

seasoned salt
Directions
In a medium skillet heat the 2 teaspoons oil over medium-high heat. Cook zucchini and the 1/4 cup green onion in hot oil for 3 to 5 minutes or just until vegetables are tender and liquid evaporates. Cool slightly.
In a medium bowl combine egg, breadcrumbs, mustard, thyme, and cayenne pepper. Add zucchini mixture and crabmeat; mix well. Using moistened hands, shape crab mixture into eight 1/2-inch-thick patties.
Lightly brush a grill pan with additional oil; heat over medium heat. Cook crab cakes for about 6 minutes or until golden brown and heated through, turning once. If cakes brown too quickly, reduce heat to medium low.
To serve, arrange crab cakes on top of tomato slices. Top with Tomato–Sour Cream Sauce and, if desired, sprinkle with additional green onion.
Tomato–Sour Cream Sauce:
In a small bowl stir together 1/2 cup dairy sour cream, 3 tablespoons finely chopped yellow tomato, 1 to 2 tablespoons lemon juice or lime juice, and 1/8 teaspoon seasoned salt. Makes 3/4 cup.