Zakary Pelaccio's Pork Fries Recipe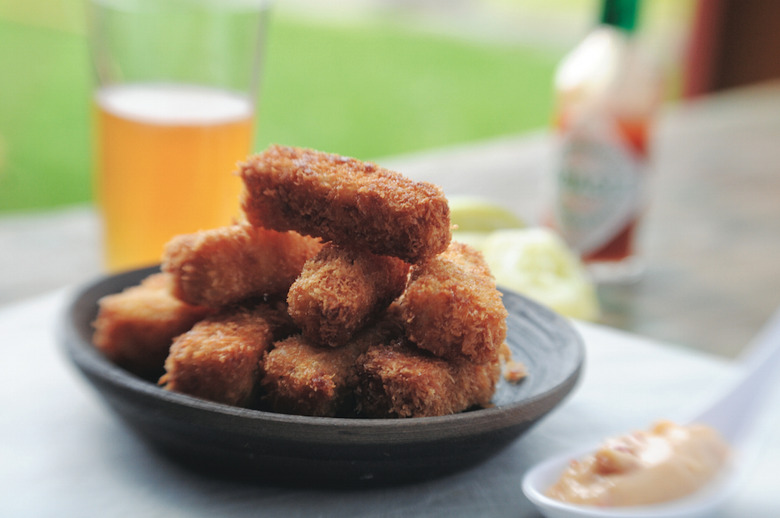 Photo: Michael Schrom
Ryan Skeen has made quite a name for himself as a champion of charcuterie and delicious things affiliated with animal fat. In 2004, when we were kids, he was my sous-chef at 5 Ninth, and we came up with the pork fry (braised pork belly cut like thick-cut French fries, breaded and fried) after an impassioned discussion about how best to get a swift, clean kick-in-the-face of pork fat from a finger food. It quickly became a favorite, particularly with the staff. Over time, we've served pork fries with a ton of different condiments, but I think my favorite is an egg-white aïoli, with a Bone Shot alongside.
Zakary Pelaccio's Pork Fries Recipe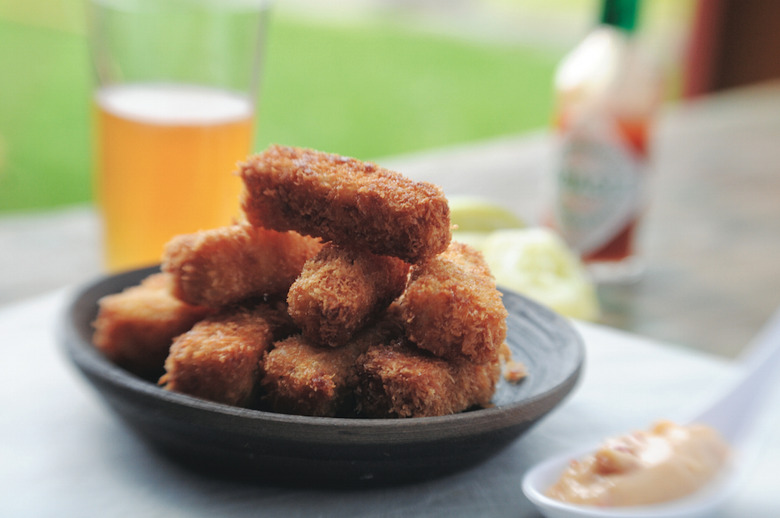 Ingredients
2 egg whites
3 cloves garlic
sea salt
1 cup olive oil (the best you can afford)
fresh lemon juice
1/4 cup coriander seeds
2 tablespoons fennel seeds
4 cups sea salt
2 cups sugar
10 cloves garlic
10 whole fresh red chilies such as Anaheim or Hungarian Wax
5 medium shallots
3 tablespoons black peppercorns
1 cup packed daun salam (Indonesian bay leaves)
2 to 3 pounds fresh pork belly
2 tablespoons olive oil (the best you can afford)
1 yellow onion
1 head garlic
2 shallots
2 1/2 cups chicken stock
2 cups all-purpose flour
3 eggs
2 cups panko breadcrumbs
5 cups neutral oil
Directions
In a stand mixer or food processor, whip the egg whites with the garlic and a generous pinch of salt. Once they begin to take on volume, slowly add the oil. 
Once the oil has been incorporated and you have a white cloud of mayo, add lemon juice and salt to taste.
Pour the aïoli into a bowl and set it aside in a cool place.
Toast the coriander and fennel seeds in a dry pan over medium heat, swirling and shaking them until they crackle lightly and release their aroma, about 3 minutes. Set aside.
Combine the toasted seeds with the salt, sugar, garlic, chilies, shallots, peppercorns, daun salam, and 3 gallons water in a stockpot and bring to a boil over high heat.
Reduce the heat and allow the brine to simmer for about 20 minutes. Remove the brine from the heat and let it come to room temperature, then refrigerate it.
When it's completely cool, pour it over the belly and refrigerate, covered, for at least 24 and up to 48 hours.
Preheat the oven to 225°F. Cut a piece of parchment paper to fit your roasting pan.
Remove the belly from the brine, rinse with cold water, and pat dry. Set aside.
In the roasting pan straddling two burners over medium-high, heat the olive oil until hot but not smoking. Add the onion, garlic, and shallots, and cook, stirring occasionally, until golden and tender, 5 to 6 minutes. Add the stock to the pan and deglaze, scraping up any bits with a wooden spoon.
When the stock comes to a boil, add the belly to the roasting pan and remove it from the heat. Top the pan with the parchment paper and cover with a tight lid or foil.
Braise the belly in the oven until it is tender (when you press the tip of a paring knife into it, there should be no resistance). Start checking it after 21/2 hours, though it could take up to 4 hours.
Remove the pan from the oven and let it sit at room temperature for 30 minutes. Using two big spatulas or your hands, transfer the belly from the pan to a large plate or sheet tray and let it cool to room temperature. Strain the braising liquid and reserve for future use. The liquid can be stored in the fridge for up to 5 days or in the freezer for up to 3 months.
Wrap the belly tightly in plastic wrap. Press it between two flat pans (such as sheet trays) and put a weight on the top (a few cans of tomatoes will do the trick). Refrigerate, pressed, for at least 12 hours and up to 2 days.
Cut the skin from the belly and reserve it for another use. Cut the belly crosswise into 1/2-inch-thick strips. From those strips, cut 2-inch-long pieces that resemble thick-cut French fries.
Put the flour in a shallow bowl and season it well with salt and pepper. Put the beaten eggs and panko each in separate bowls. Dredge the pork rectangles in the flour, then dip them into the egg, letting the excess drip off, and finally, gently toss them in the panko. Bread all the pork pieces before cooking. Try to designate one hand as the "egg hand"—this will make your life easier and a lot less goopy.
Heat enough oil (about 5 cups) to reach 2 inches high in a medium shallow saucepan to 350°F.
Working in batches of about six pieces, delicately add the breaded pork and fry, turning occasionally, until golden brown on all sides, 3 to 5 minutes total.
Transfer the pork as it's done to a paper-towel-lined plate to drain and salt.
Serve this ascetic snack with the aïoli.