Zahav At Home: Michael Solomonov's Fried Kibbe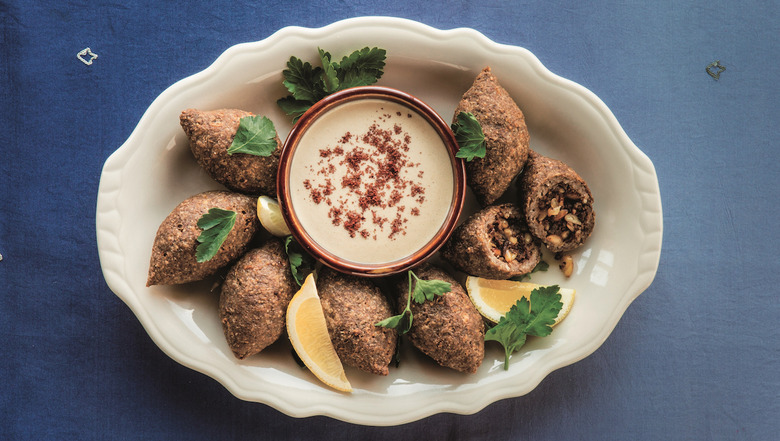 We may receive a commission on purchases made from links.
Look no further than James Beard Award winner Michael Solomonov for a modern take on classic Israeli food. His new cookbook, Zahav, is packed with your new favorite ways to consume all things Middle Eastern/Mediterranean/North African. Particularly those delicious extra-lamby fried meat dumplings known as kibbe.
Zahav At Home: Michael Solomonov's Fried Kibbe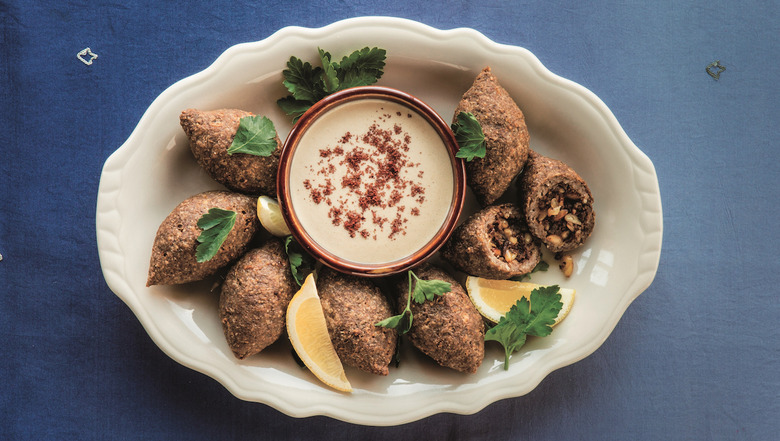 Ingredients
1 tablespoon canola oil
1/2 onion
2 garlic cloves
1/2 pound ground lamb
1/2 cup pine nuts
1/2 teaspoon ground allspice
1 teaspoon kosher salt
1 1/2 cups bulgur wheat
1 pound ground lamb
kosher salt
canola oil
basic Tehina sauce
lemon wedges
Directions
:::filling:::
Warm the oil in a large skillet over medium-high heat and add the onion and garlic. Cook, stirring, until the onion has begun to soften but not brown, about 8 minutes.
Add the lamb and continue cooking, stirring to break up the meat, until it begins to brown, about 8 more minutes.
Add the pine nuts, allspice, and salt and continue to cook, stirring, until the meat is well browned and the nuts begin to toast, about 3 more minutes. Transfer the mixture to a plate and refrigerate until cool.
:::shells:::
Soak the bulgur in cold water for 1 hour. Drain, squeeze out the excess water, and refrigerate until chilled, about 1 hour.
Combine the soaked bulgur and lamb in a large bowl, season well with salt, and stir until well blended.
:::kibbe:::
Shape about ¼ cup of the shell mixture around your thumb. Fill the cavity with about 2 teaspoons of the filling, press the open end closed, and shape into a little football. Repeat until all the kibbe are formed. Refrigerate until ready to cook.
Heat about 2 inches oil in a heavy-bottomed pot over medium-high heat. (You can tell when the oil is hot enough to fry by sticking the handle of a wooden spoon into the oil; if bubbles form around it, it's ready. Or heat until the oil reaches 375°F on a candy thermometer.)
Fry the kibbe, working in batches if needed to avoid crowding the pot, until deep golden brown, about 5 minutes.
Remove with a slotted spoon and drain on paper towels. Serve with the tehina sauce and lemon wedges.