Zahav At Home: Green Beans And Mushrooms With Tehina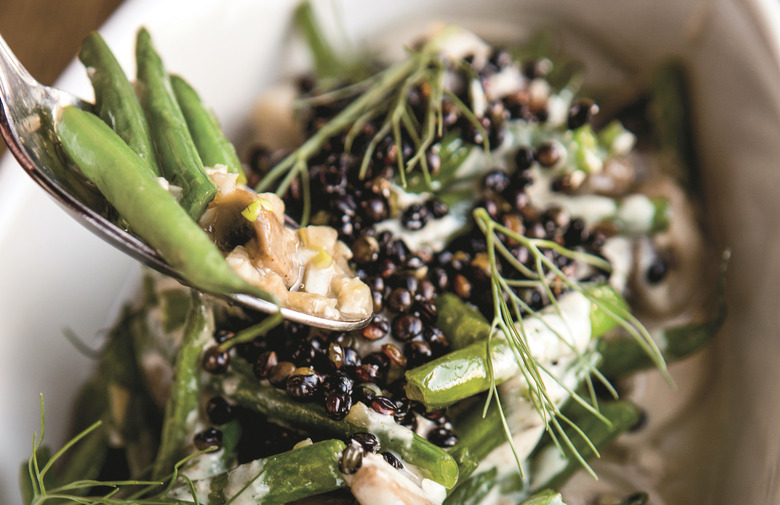 We may receive a commission on purchases made from links.
Look no further than James Beard Award winner Michael Solomonov for a modern take on classic Israeli food. His new cookbook, Zahav, is packed with your new favorite ways to consume all things Middle Eastern/Mediterranean/North African. Looking to put a spin on your holiday green beans? We've got the answer right here. 
I created this dish for a Chanukah meal at Zahav in 2013, the year that the first day of Chanukah coincided with Thanksgiving. Since this hadn't happened in over 100 years (and won't happen again for another 77,000), we decided to have fun and merge some of our Israeli flavors with traditional American Thanksgiving casseroles. This is our riff on the classic green bean casserole, with tehina standing in for the cream of mushroom soup.
Zahav At Home: Green Beans And Mushrooms With Tehina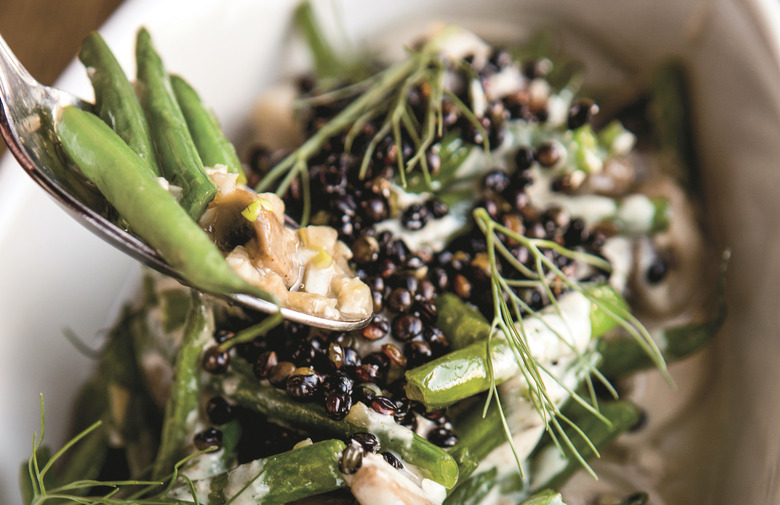 Ingredients
kosher salt
1/4 teaspoon ground cinnamon
1/4 cup beluga lentils
2 shallots
1/4 cup tehina
1/4 cup cider vinegar
Pinch black pepper
Pinch ground fenugreek
1/4 cup olive oil
4 cups green beans
1 1/2 cups quartered button mushrooms
1/4 cup canola oil
4 garlic cloves
2 teaspoons lemon juice
2 tablespoons chopped fresh dill
Directions
Bring 2 cups water to a boil in a medium saucepan. Add a pinch of salt, the cinnamon, and lentils. Partially cover and lower the heat to medium. Simmer until the lentils are tender but not mushy, 17 to 20 minutes. Drain and set aside to cool.
Combine the chopped shallot with the tehina, vinegar, black pepper, fenugreek, and a pinch of salt in a food processor and puree. Be careful not to let the tehina overheat — add ice water, 1 tablespoon at a time, if the mixture seizes up. Season with more salt if you like. Set the tehina sauce aside.
Heat the olive oil in a large skillet over medium heat. Add the green beans and a pinch of salt and cook, stirring, until the beans start to soften, about 3 minutes. Add the sliced shallot and the mushrooms to the skillet and continue cooking until the green beans are tender and lightly browned, about 10 minutes more. Transfer to a bowl with a slotted spoon, discarding any excess oil. Set aside and keep warm.
In a small saucepan over high heat, combine the canola oil, garlic, and reserved lentils. Cook, stirring constantly, until the garlic begins to brown and the lentils start to swell, about 7 minutes. When the garlic and lentils are golden brown, drain them onto a plate lined with paper towels and season well with salt.
To assemble, mix the tehina sauce with the green beans and mushrooms and spoon the mixture onto a serving platter. Drizzle with the lemon juice and top with the crispy garlic and lentils, and then the dill.