Major Beef: Make This Yorkshire Pudding Wrap!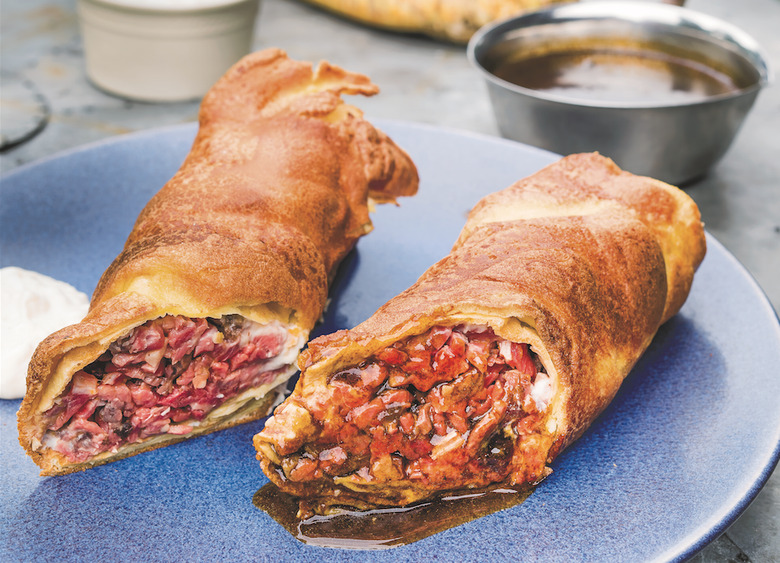 We may receive a commission on purchases made from links.
Richard Turner, author of meat-centric tomes Pitt Cue and Hog, has a new book out dedicated to the art of beef. Craving tartare, Porterhouse or simply the best cheeseburger you can make? This cookbook is your one-stop shop for a treat like Turner's Yorkshire pudding wrap.
"Roast beef wrapped in a flat Yorkshire pudding, served with a dipping pot of gravy" is how this is described on the menu at Long Can Hall in Halifax, Yorkshire. It's a hybrid French dip-burrito-Yorkshire pudding and could easily be dismissed as a gimmick, were it not absolutely bloody delicious! There is a very fine line indeed between madness and genius...
Despite half my family harking from North Yorkshire and growing up eating Yorkshire puddings every weekend, it took me years to master the perfect pudding. Originally they were cooked underneath roasting meats, to catch valuable meat drippings, and consequently they were much stodgier and heavier affairs. Now they are baked in an oven, the result is more crispy and voluminous, but I still like a soggy bottom soaked in drippings...
Major Beef: Make This Yorkshire Pudding Wrap!
Richard Turner's new cookbook is your one-stop shop for a meaty treats like this innovative, juicy Yorkshire pudding wrap.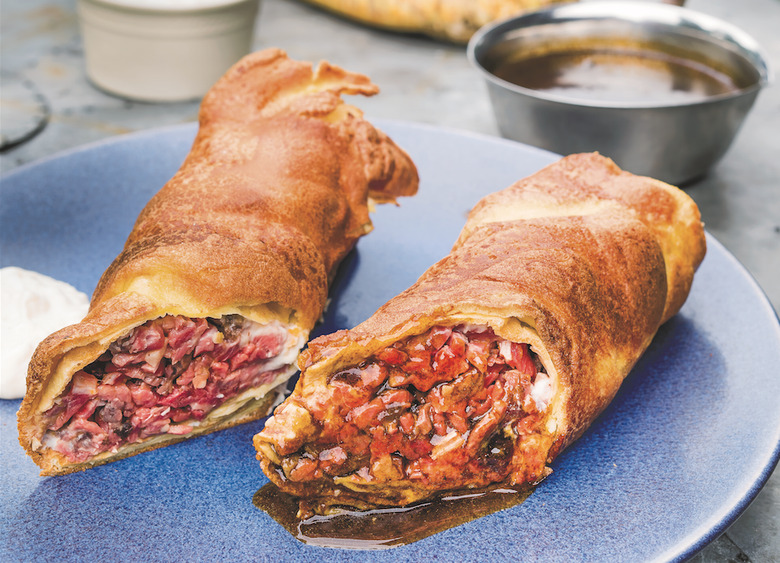 Ingredients
free-range eggs
Semi-skimmed milk
plain flour
Beef drippings
Leftover roasting tray with drippings
Basic beef broth
Creamed horseradish or mustard
2 large yorkshire puddings
Leftover roast beef
Directions
:::pudding:::
Mix equal quantities BY VOLUME of eggs, milk and plain flour (2 eggs, for example, will make 2 large Yorkshire puddings). Store the batter overnight in the fridge.
Heat the beef dripping in Yorkshire pudding tins until smoking hot and pour in a ladle of Yorkshire pudding batter. If using a large baking tin to make a large Yorkshire pudding, fill to about 1½ inches deep.
Bake in a hot oven at 400°F for about 20 minutes or until golden brown and risen, then turn over to color the underneath.
:::wrap:::
Take your leftover roasting tray and pour in the beef broth. Heat gently and stir and scrape to make a jus, then set aside to keep warm.
Spread horseradish or mustard on each Yorkshire pudding and pile the shredded roast beef at one end. Dress with a little of your prepared jus or gravy and roll into a burrito-like shape. Serve with more jus or gravy on the side, for dipping.