Yakko Tofu Bites Recipe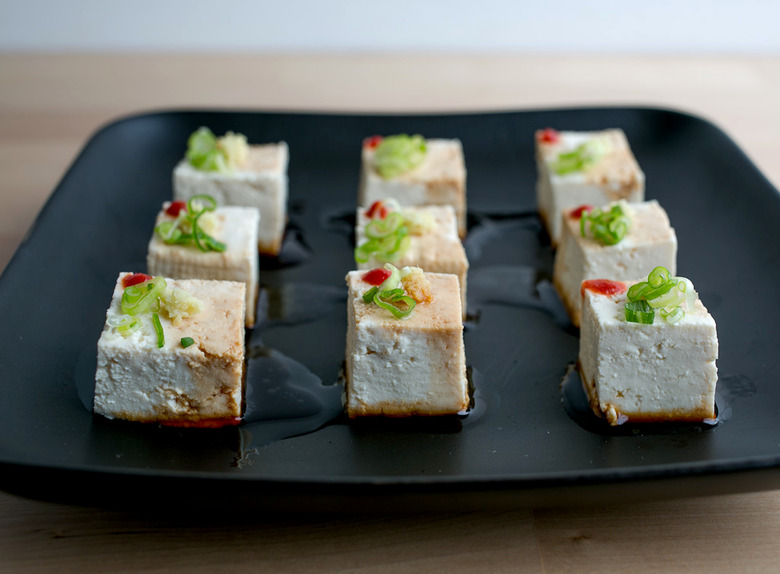 Photo: Sam Horine
I can't help but notice how warm weather food in America consists of as many spoil-prone mayo-laden side salads you can fit on a picnic table. I tend to take a lesson from Japan when it comes to refreshing dishes, and have a particular fondness for chilled tofu with soy sauce, scallions and ginger — hiyayakko tofu. It happens to make a light, delicious vegetarian hors d'oeuvre that's visually stimulating to boot.
Everyone has their favorite consistency of tofu...except maybe me. I like them all, and can attest that this recipe is delicious whether you're a silken man or more of an extra-firm dude. If you're using silken, keep in mind that it's very delicate when draining and can fall apart if you don't handle it tenderly, like a rectangular newborn baby made of bean curd. If you have any left over, just toss them in a stir-fry — they'll be nice and pre-marinated.
Yakko Tofu Bites Recipe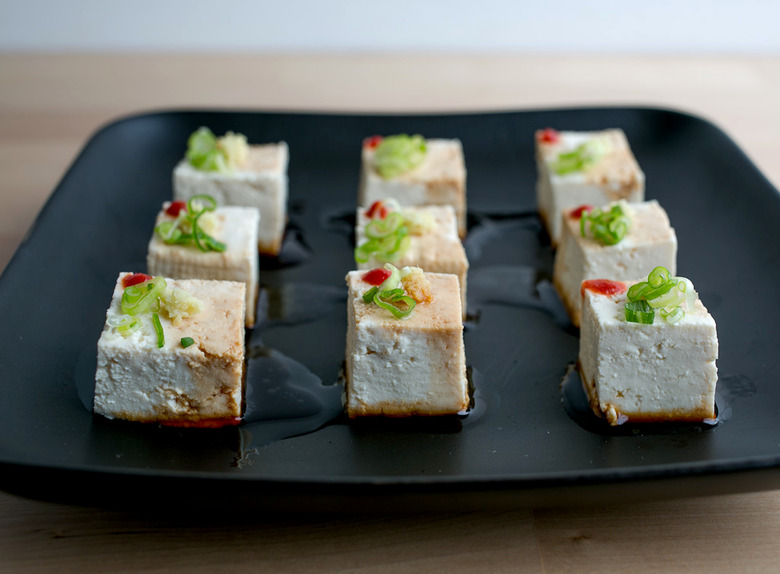 Ingredients
1 pound tofu
2 tablespoons soy sauce
2 teaspoons toasted sesame oil
1 1/2 inch-piece ginger root
2 scallions white and green parts
Sriracha
Directions
Open and drain the tofu, then place in a clean dishtowel to absorb as much liquid as possible.
Cut the tofu into 24 even cubes and arrange on a platter.
Drizzle lightly with the soy sauce and sesame oil.
Add a small pinch of the grated ginger and a few sliced scallions.
Finish with a small squirt of sriracha and allow tofu to sit in the fridge for 20 minutes to re-chill and absorb some of the the soy sauce.
Serve immediately.