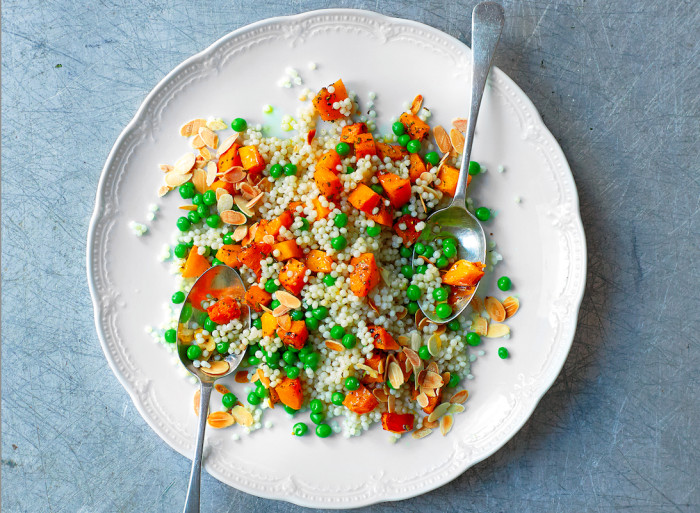 Vegan lifestyle blogger Aine Carlin of Pea Soup Eats released a cookbook any animal product-shunner should add to their library immediately. Not vegan? Pick it up anyway — you know your veggie repertoire needs shaking up. From (vegan) soup to (already vegan) nuts, there's something for everyone in Keep It Vegan. Know anyone who likes couscous? Really? Everyone? Well then right this way to salad bliss. Follow Aine on Twitter and Instagram.
Call me crazy, but I like to think of this as a semi-virtuous winter salad. When you're surrounded by calorie-laden comfort food yet can't face lettuce and dressing, this is the dish to satisfy those cravings without the often ensuing guilt. The sage and rosemary are crucial in making this recipe seasonally apt (I do try!), with the lightly toasted almonds lending some much-needed crunch—for me, texture in vegan food is the key to a winning dish, and this one succeeds on all fronts. As a side or on its own, it's a super-easy option when those early evenings start to creep in, and means you can settle down to your television safe in the knowledge that your couch-potato ways are somewhat negated by this healthy evening meal. Well, sorta.
Ingredients
1

squash (about 1 pound 2 ounces), peeled, halved, seeded and cut into small chunks

2

tablespoons

sunflower oil

1

sprig

rosemary, leaves finely chopped

1

tablespoon

fresh sage, finely chopped

sea salt and freshly ground black pepper

1 1/2

cups

couscous

1 1/2

cups

frozen peas

1/2

cup

sliced almonds, toasted

3

tablespoons

extra virgin olive oil
Directions
Preheat the oven to 400°F.
Place the squash in a roasting pan, drizzle in the sunflower oil, sprinkle with the herbs and season well with salt and pepper.
Roast in the oven for 1 hour or until completely soft.
Turn the oven off but leave the squash in the oven until needed.
Soak the couscous in an equal volume of freshly boiled water, cover and let stand for 10 minutes to absorb the liquid before fluffing with a fork.
Defrost the peas by covering them with freshly boiled water, leave for 5 minutes and then drain.
Remove the roasted squash from the oven and stir in the couscous, peas, almonds and extra virgin olive oil.
Season to taste and serve warm.
Find more vegetarian couscous recipes on Food Republic: