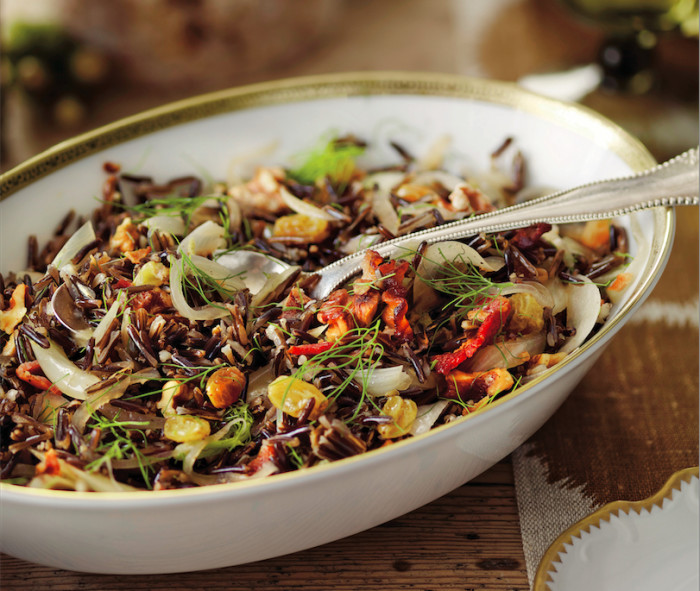 While it may be one of the most wonderful food and booze pairings in the natural world, leave bourbon and bacon cookbooks to the highly experienced folks at Southern Living. Author Morgan Murphy says it's not a diet book, and that's an understatement. As long as this wonderful collection is in your kitchen, you may never diet again. Need a side dish for that non-diet? We recommend this bacon-studded wild rice.
This earthy side dish pairs well with rustic pork roast and has just enough bacon to offset all the healthy fiber!
Reprinted with permission from Southern Living Bourbon & Bacon
Ingredients
1 1/3

cups

wild rice, uncooked

4

slices

bacon

1

large

fennel bulb, thinly sliced

1

large

onion, cut into thin wedges

2

cloves

garlic, minced

1/2

cup

chicken broth

1/3

cup

golden raisins

1/4

teaspoon

table salt

1/8

teaspoon

freshly ground black pepper

1/4

cup

chopped fresh fennel fronds or flat-leaf parsley

1

tablespoon

white wine vinegar

1/2

cup

chopped walnuts, toasted
Directions
Cook wild rice according to package directions; drain.
Meanwhile, cook bacon in a large nonstick skillet over medium-high heat 7 to 8 minutes or until crisp; drain on paper towels, reserving 1 tablespoon drippings in skillet.
Chop bacon.
Sauté fennel bulb and onion in hot drippings over medium-high heat 5 minutes or until softened.
Add garlic; sauté 1 minute.
Add broth and next 3 ingredients; bring to a boil.
Reduce heat to medium-low; cover and simmer 8 minutes or until tender.
Stir in rice and bacon; cook, stirring often, 3 minutes.
Transfer to a large serving bowl.
Stir in fennel fronds and vinegar. Stir in walnuts just before serving.
Find more rice recipes on Food Republic: