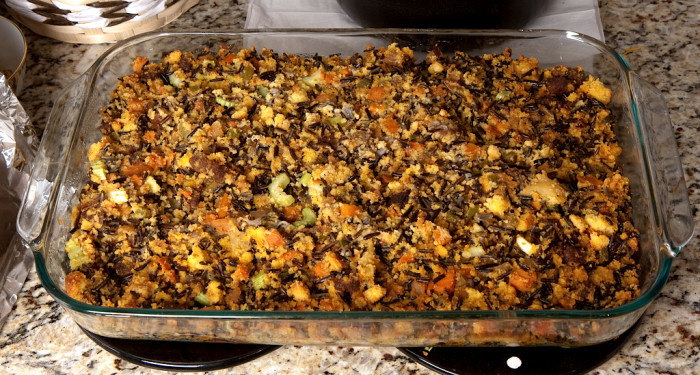 Thanksgiving is a pretty gluten-free-friendly holiday, all things considered — the turkey's safe, as long as you've used a reputable stock to baste it, potatoes are good, veggies are good…aaand we come to the stuffing. So tempting. So moist and chewy, so crisp and savory. So perfect on a perfect bite of turkey, cranberry, veggies and potato all together. And now you can have it.
Bake these in individual muffin tins for an impressive "stuffin' muffin" presentation sure to trump the turkey costume your grandma stuffed her poodle into. This trick works for lots of other beloved dishes, too. The muffin tin thing, not the poodle thing.
Ingredients
For the cornbread
1

cup

gluten-free all purpose flour

1

cup

cornmeal

1/4

cup

sugar

1

tablespoon

baking powder

3/4

teaspoon

salt

2

eggs, beaten

1

cup

milk, at room temperature
For the stuffing
1

pound

sweet Italian sausage, removed from casing

1

cup

onion, diced

4

stalks

celery, diced

3

cloves

garlic, minced

1 1/2

cups

cooked wild rice

2

tablespoons

olive oil

1 1/2

cups

chicken stock

8-10

sage leaves, finely chopped

Salt and pepper, to taste
Directions
For the cornbread:
Preheat oven to 400F.
Combine dry ingredients in a large bowl.
Grease your baking pan using 1 tablespoon of the butter and place in preheated oven.
Whisk 3 tablespoons butter, eggs and milk together in a large bowl, then add wet ingredients to dry ingredients and whisk until fully combined.
Remove heated baking dish from oven and pour batter in evenly.
Return dish to oven and bake for 20-25 minutes or until a toothpick inserted in the middle comes out clean.
Allow to cool completely, then cut into 1-inch cubes and leave out on a baking pan overnight to harden.
For the stuffing:
Preheat oven to 375F.
Combine cooked wild rice with cornbread cubes in a large bowl.
Add 1 cup stock, stir to moisten and set aside.
Heat olive oil in a large pan, and saute onions, garlic and celery until translucent, about 5 minutes.
Transfer vegetables to cornbread mixture and return pan to medium-high heat.
Brown the sausage, then toss with the sage and add to cornbread mixture. Toss all together to combine.
Transfer mixture to a large baking dish, drizzle with remaining 1/2 cup of stock and bake until golden brown on top, about 30 minutes.