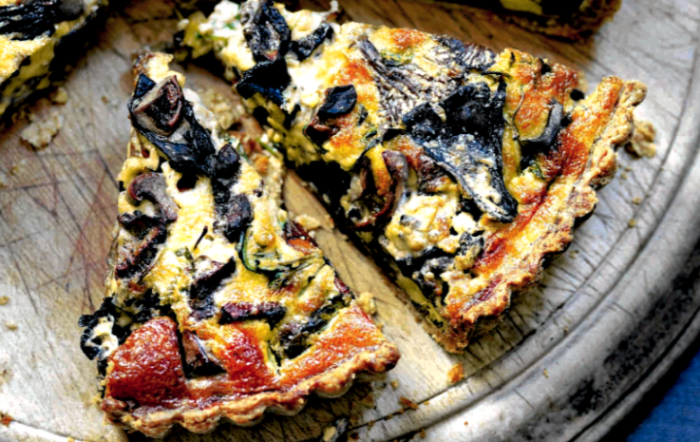 Spanish Flavours is on our list of must-own cookbooks for this spring. London-based chef José Pizarro's volume of regional Spanish dishes from tapas and peasant dishes to restaurant-worthy composed dishes is our latest obsession. Next up: a delicious quiche with add-ins you won't find at your local brunch spot.
The hills and mountains of Spain provide the perfect growing conditions for wild mushrooms and nowhere do the Spanish love to go picking these delicacies more than in the northeastern regions. There you will find chanterelles, pied bleu, pied de mouton, trompette de la mort, oyster, porcini and saffron milk cap. Wild mushrooms go extremely well with blue cheese and walnuts, so this is my recipe for a tart using all three, which is, by the way, an excellent dish for vegetarians. I always make this for my friend Catriona when she comes over to help me with my website.
Ingredients
For the filling
1

pound

mixed wild mushrooms

2

tablespoons

olive oil

1

scant cup

watercress leaves

3 1/2

ounces

Picos blue cheese, crumbled

1 1/4

cups

heavy cream

4

extra large

free-range eggs

sea salt and freshly ground black pepper
For the pastry
1/2

cup

walnut pieces

1 3/4

cups

all-purpose flour, plus extra for dusting

5

tablespoons

chilled butter, cut into pieces

4

tablespoons

chilled lard, cut into pieces
Directions
Preheat the oven to 400°F. For the pastry, spread the walnuts on a baking sheet and roast for 7–8 minutes. Remove and leave to cool. Put them into a food processor and add a heaping 1/3 cup of the flour. Grind together briefly until the nuts are finely chopped. Add the remaining flour and 1/2 teaspoon salt, together with the butter and lard, and process briefly once more, until the mixture resembles fine bread crumbs.
Transfer the mixture into a bowl and stir in 2 tablespoons cold water until the mixture comes together into a ball, then turn out onto a lightly floured surface and knead briefly until smooth. Roll out thinly, adding a little more flour to the surface and use to line a lightly greased loose-based 9-inch 11/2-inch deep tart pan. Chill for 20 minutes.
Put a baking sheet on the middle shelf of the oven, and leave it to get hot. Line the pastry case with foil and a thin layer of baking beans, slide it onto the baking sheet and bake for 20 minutes.
Remove the foil and beans and return to the oven for 5 minutes, until the pastry is lightly golden. Remove and set aside while you make the filling. Reduce the oven temperature to 375°F.
Clean the wild mushrooms thoroughly by brushing away any dirt with a dry pastry brush and wiping them with a damp cloth if necessary. Heat 1 tablespoon of the olive oil in a large frying pan over high heat, add half the mushrooms and some seasoning and fry briskly for 1 minute until they have softened slightly and any excess moisture has evaporated. Transfer to a plate and repeat with the remainder.
Scatter the mushrooms, watercress leaves and blue cheese evenly over the base of the pastry case. Beat together the cream and eggs with some seasoning, pour the mixture into the tart pan and return it to the baking sheet. Bake for 30–35 minutes, until set and lightly golden. Serve warm, cut into wedges.
Try out these tart recipes on Food Republic: