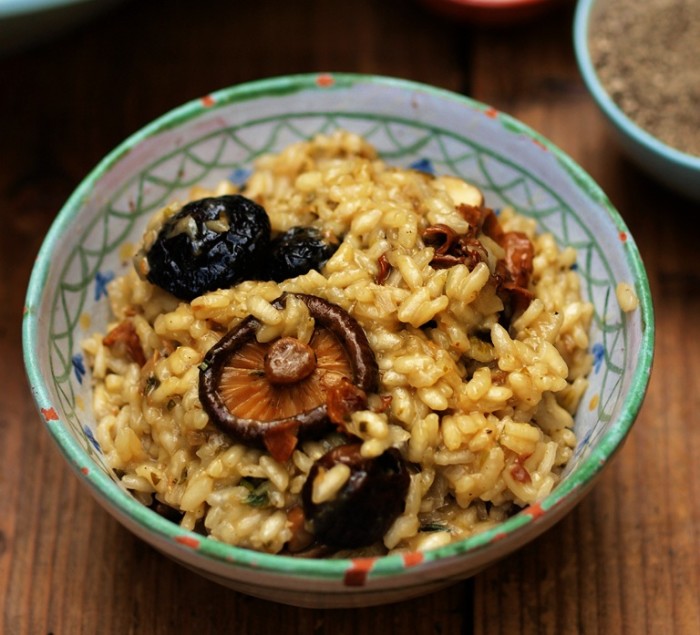 Making risotto is one of those kitchen tasks that is widely reputed to be much more difficult than it actually is. It just requires a little bit of attention. And lots of stirring. Therefore with just a little effort you can serve a dish, like this wild mushroom risotto with red wine, that is a lot impressive. And also tasty.
Yes, we know that you are "supposed" to stir risotto constantly, but the truth is that you just want to keep the grains moving enough that they don't stew in the liquid. Frequently, or slightly more than occasionally, is fine. Just keep an eye on it.
There's two ways to go with the wine* for this mushroom risotto with red wine recipe. You can choose either a big jammy Zinfandel for a fruitier flavor or go for something like a red Burgundy to boost the earthiness of the wild mushrooms. Either way you can't lose.
*Any red wine will work, but these are suggestions to coax the most flavor from the dish.
Ingredients
4 1/2

cups

chicken stock, hot

1/4

cup

olive oil

2

cups

assorted wild mushrooms, such as shiitake, porcini and morels

1

small

onion, finely chopped

1 1/2

cups

arborio rice

1/2

cup

red wine

2

tablespoons

unsalted butter

1/2

cup

Parmesan cheese, freshly grated

2

tablespoons

marjoram, chopped
Directions
In a large, heavy-bottomed pot over medium heat add 2 tablespoons of the olive oil. Add the mushrooms and saute until the mushrooms have release their liquid, 2 to 3 minutes. Remove the mushrooms with a slotted spoon and place in a bowl. Set aside.
Add the remaining 2 tablespoons olive oil to the pot. Add the onion and cook until translucent, about 4 minutes. Add the rice and stir to coat, cooking for about 1 minute to toast.
Add half the red wine and reduce by half. Add 1 cup chicken stock and simmer until the liquid is completely absorbed. Repeat with the remaining chicken stock, 1 cup at a time, adding another cup only when liquid is completely absorbed. Add the remaining red wine and simmer for another 15 minutes or until liquid is absorbed.
Remove from the heat. Fold in the butter, sauteed mushrooms, Parmesan, and marjoram and season with salt and pepper.
*This dish can be made in 20 minutes active cooking time, if you don't include the time in between adding the stock. If it's your first time making risotto you may want to give yourself some leeway and set aside 30 minutes or more to be on the safe side.