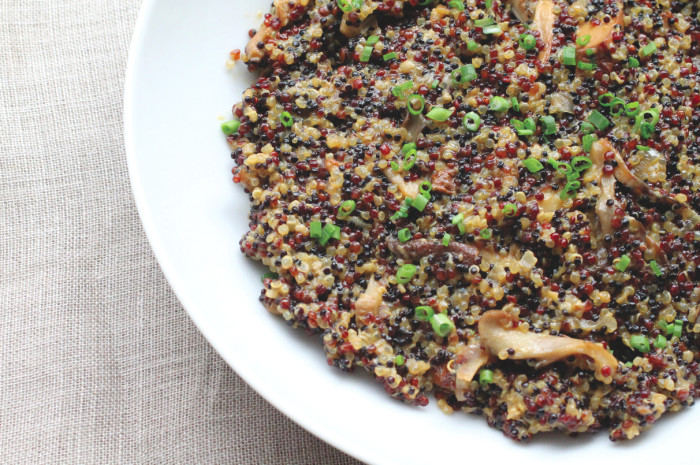 We're super-excited for the brand-new cookbook out this week from one of our favorite chefs out there, Aliya LeeKong, chef and creative culinary director at NYC's Indian fine dining mecca, Junoon. Aptly titled Exotic Table: Flavors, Inspiration, and Recipes From Around The World — To Your Kitchen, this is one volume your kitchen library isn't complete without. And yes, we all have big crushes on her, but also her spectacular cuisine, like this risotto preparation made with quinoa.
When I was traveling in Peru, I came across this truly delicious (and healthy) version of risotto using quinoa in lieu of the traditional arborio or carnaroli rice. Being a huge risotto fan, I played around with this substitution using different seasonal vegetables, but I always tend to come back to this simple mushroom version. The flavor is nuttier with earthiness from the mushrooms, and it has more texture than your traditional risotto. With quinoa's nutritional value, I love that I don't feel guilty when I whip this up on a weeknight.
Ingredients
4-5

cups

vegetable or chicken stock

2-3

tablespoons

olive oil

4

cups

chopped mixed wild mushrooms

2

tablespoons

unsalted butter, divided

2

medium shallots, finely chopped

3-4

garlic cloves, minced

2

cups

raw quinoa

1/2

cup

white wine

1/4

cup

heavy cream

1/2

cup

grated Parmesan, Grana Padano or other grated cheese

Salt and freshly ground black pepper, to taste

chives or cilantro, to garnish
Directions
In a saucepan, bring the stock up to a boil and reduce to a simmer while you are working on the other ingredients.
Heat a large sauté pan with straight sides over high heat. Add the oil and when it starts to shimmer, add about half the mushrooms. You don't want to overcrowd the pan, and the mushrooms should be in a single layer. Leave them for 2 to 3 minutes to develop a nice golden brown. Add 1 tablespoon of butter, season with salt and toss to cook another minute. Remove using a slotted spoon and repeat with the rest of the mushrooms and another tablespoon of butter. Set aside.
Reduce heat to medium-low and add shallots and garlic. Cook for 3 to 4 minutes, until translucent, and then add quinoa. Toast for about a minute and then add the white wine. Let it reduce by half and then stir in about 2 cups of the hot stock. Continue adding stock, a 1/2 cup at a time, stirring in intervals for 15 minutes. You'll need between 4 and 5 cups of stock to achieve a "risotto-like" texture. Cover for the last 5 minutes.
Add in the reserved mushrooms, heavy cream, cheese and season to taste. Serve immediately, garnished with fresh herbs.
Try out these recipes with quinoa on Food Republic: